Customers clamor for secondhand luxury goods
Share - WeChat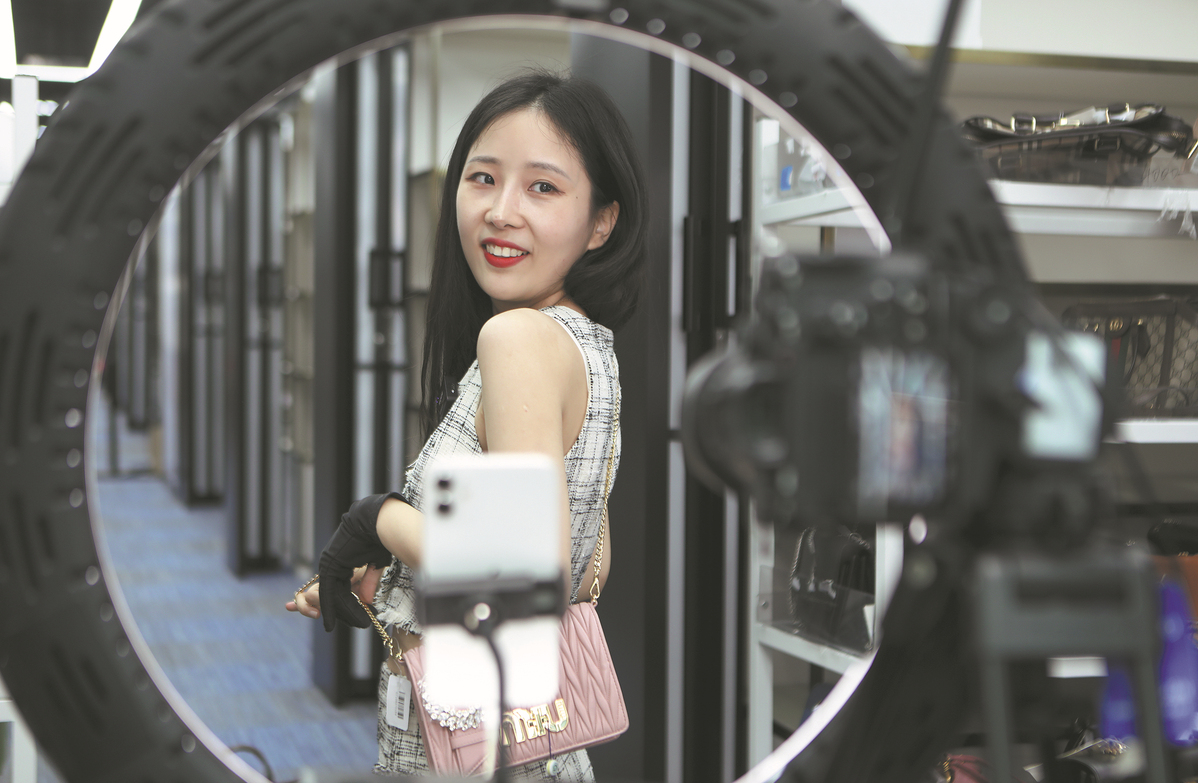 More customers
Plum, an online trading platform for circular fashion goods, which was launched in 2017, is an example of such companies offering comprehensive services for more customers.
Xu Wei, founder of Plum, which aims to make people's lives more comfortable and environmentally friendly, said, "Initially, we were keen to be a lifestyle brand and create a fashion lifestyle platform by allowing users to resell their idle goods or buy other brand items at a lower price anytime in exchange."
Typical users of Plum pursue a new lifestyle of circulation fashion, advocate environmental protection, and seek high-quality goods, Xu said. Circular fashion refers to clothing and personal belongings being produced in a more considered way, in which the production of an item and the end of its life are equally important.
Plum links buyers and sellers by providing users with an integrated trading chain of standardized services.
It offers buyers more cost-effective fashion items, as well as authenticated identification, pre-sales and aftersales services. It also helps sellers with one-stop consignment and recycling services, including warehousing and logistics, enabling all those concerned to make money without leaving home.
Xu said, "The huge domestic luxury goods market with its influx of young consumers is the foundation for active secondhand luxury trading, especially development of the secondhand luxury online business."
Plum is not just an application, but a new lifestyle aimed at forming a "circulation of wardrobes" among millions of users and making the planet more sustainable with a new low-carbon consumption mode, Xu added.
According to the Market Capacity Analysis and Investment Decision Consulting Report of China's Secondhand Luxury Industry (2020-2027) released by Zhiyan Consulting, there were some 4,200 large-scale secondhand luxury stores in China by the end of 2019, with an annual growth rate of more than 10 percent. Goods most frequently traded in these stores include handbags, watches, eyeglasses, jewelry, scarves and perfume.
The market size of China's secondhand luxury goods industry reached 13.5 billion yuan in 2019, up from 11 billion yuan in 2018.
The nation's secondhand luxury goods trade is dominated by handbags and leather goods, for which transactions reached 8.13 billion yuan in 2019, accounting for 60.22 percent of the market. Shoes and hats were also in demand, with their transaction value standing at 2.98 billion yuan, or 22.07 percent of the market.
Wei Mingsheng, who sells secondhand luxury goods, runs a studio in Shanghai, and owns a shop in Shenzhen, Guangdong province, said: "We've made adjustments from time to time in the past three years. These changes include launching livestreaming channels, switching our handbags from vintage-style to fashionable, and expanding our network nationwide to keep up with rapidly changing secondhand luxury trends."
A stand at the China Luxury Exhibition Center is regularly rented by Wei as another outlet for his business.
"The center has helped us further grow our sales volume and profits by organizing regular peer trading events, introducing experienced livestreamers, and offering authorized authenticated services," said Wei, who tried livestreaming in 2019, but failed due to a lack of experience.
Most buyers of secondhand goods in China are mainly looking for luxury items at reasonable prices, or popular products available for resale.
Feng, from the China Luxury Exhibition Center, said: "Our goal is to let more people know about and gradually appreciate secondhand luxury goods. Some of them then become professional buyers or sellers, and overall trust in the industry will increase if more people become involved.
According to the In-depth Research and Future Development Trend Forecast Report of the Luxury Industry 2022-2027 released by China IRN, a domestic industrial think tank, prices for some luxury goods have risen by as much as 95 percent since last year. On average, such prices have gone up by 5 to 20 percent.
However, there is no regulated pricing standard for secondhand luxury goods, which are increasingly in demand, and this difficult task is left to companies specializing in authentication and pricing.