SCO hailed as model for relations
By XU WEIWEI,JAN YUMUL in Hong Kong and REN QI in Samarkand, Uzbekistan | China Daily | Updated: 2022-09-20 07:24




Share - WeChat Grouping's expanded influence drives progress on many fronts, experts say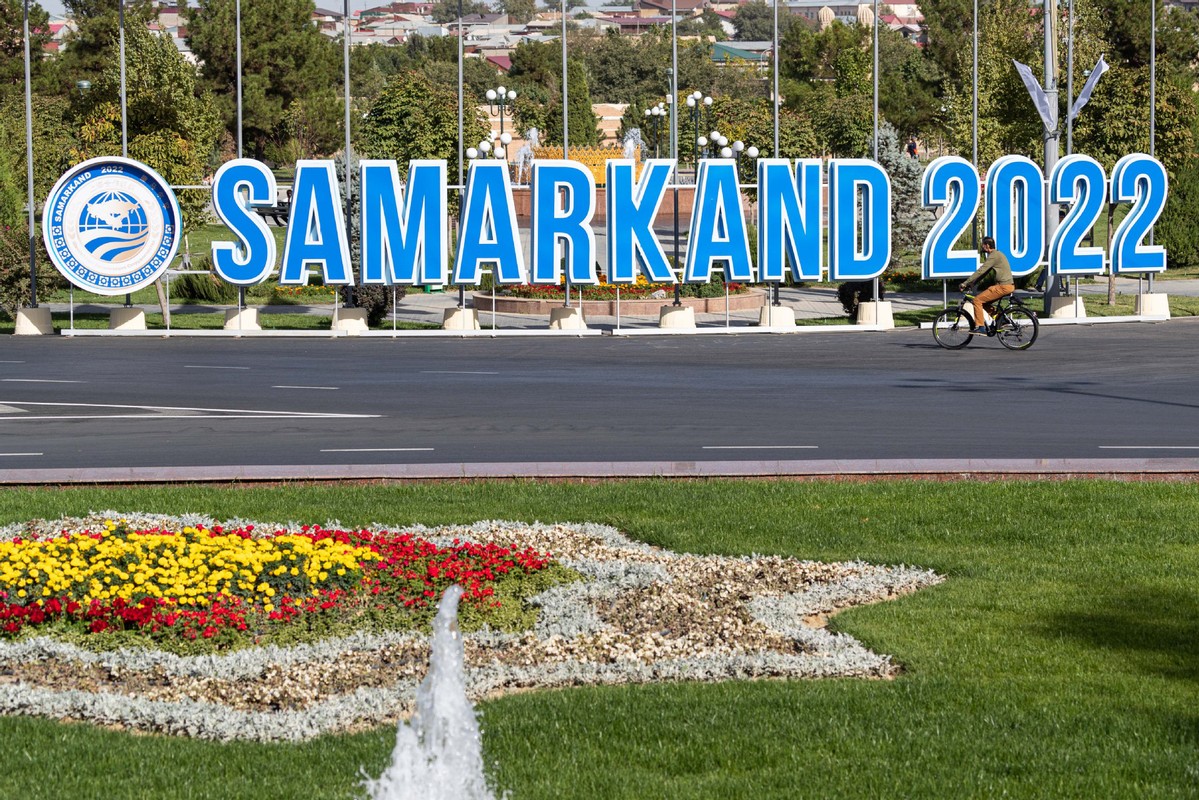 The Shanghai Cooperation Organization has provided an innovative and ideal model for international relations, and President Xi Jinping's first state visits abroad since the start of the pandemic for meetings with other leaders have elevated the friendships with neighboring countries, experts say.
The SCO has been growing in influence ever since it was founded in June 2001, said Colin Mackerras, professor emeritus at Griffith University in Australia and one of Australia's leading Sinologists. It was originally intended to oppose terrorism, separatism and extremism, but its main aim is positive in working to maintain stability and peaceful exchanges, both economic and cultural, among its members, he said.
Mackerras was commenting after the 22nd SCO summit in Samarkand, Uzbekistan, last week. Xi began his Central Asia trip with a visit to Kazakhstan.
Despite its status as one of the most important international bodies, the SCO has not attracted much media attention in the West, let alone any positive coverage on the summit by Western media. The reason is that the "SCO is not dominated by the United States or any Western power and upholds the interests of the countries that span the eastern and central parts of the great Eurasian continent", Mackerras said.
Karori Singh, emeritus fellow and former director of the South Asia Studies Center at India's University of Rajasthan, said the SCO is not targeting any country or group of countries or organizations, but "is willing to cooperate and contribute to peace, progress and development by extending cooperation and collaboration with the UN system and other multilateral organizations".
Gerald Mbanda, a researcher and publisher on China-Africa cooperation in Rwanda, said that the meeting of the Council of Heads of State of the SCO took place at the right time, when regional countries need to strengthen their cooperation to counter foreign threats to peace, security, and stability, and as they lay out strategies for a shared vision on global challenges and development.
"The expansion of SCO membership adds strength to the organization, which works for the common good of the citizens of its member states as well as advocating for a shared global order and prosperity," said Mbanda.
Consensus building
Swaran Singh, a professor of diplomacy and disarmament at Jawaharlal Nehru University in India and visiting professor at the University of British Columbia in Canada, said China has worked to "build consensus around Xi's Global Security Initiative as a new alternative paradigm for stabilizing global order".
He noted that the Central Asia trip marked the first in-person meetings of Xi with foreign leaders in the wake of global changes, and that this made the summit extremely significant.
Shaojin Chai, an assistant professor in the department of international relations at the University of Sharjah in the United Arab Emirates, said: "This year's SCO summit is so important because it offers new opportunities and alternatives to save global peace and regional security by expanding its membership or dialogue partners to including Middle East and Africa states."
Through upholding common interests for comprehensive security and joint development, the SCO summit proposed a better model of international relations based on respect for sovereignty and territorial integrity, he added.
Apart from the summit, Xi's state visits have strengthened ties with nations in Central Asia and other neighbors. The mayor of Samarkand, Fazliddin Umarov, told China Daily that the visit of the Chinese leader provides a strong boost for future cooperation between China and Uzbekistan. "The friendship between the two countries not only shows in economic and social fields, but also over in the people-to-people exchanges," Umarov said.
Ravshan Nazarov, senior researcher of the Uzbek Academy of Sciences, said Xi called for achieving the complementarity of the Belt and Road Initiative with national development strategies and regional cooperation initiatives during his speech at the SCO summit on Friday.
Anri Sharapov, deputy professor of the Department of History, Culture, Policy and Economy of China at Tashkent State University of Oriental Studies, spoke of how Xi said China will host the SCO forums on poverty reduction and sustainable development next year.
Lawrence Loh, director of the Centre for Governance and Sustainability at the National University of Singapore Business School, said that at the summit Xi effectively spelt out the fundamental underpinnings of global diplomacy.
The SCO statement released on Friday "is a most timely reminder especially in the current geopolitical setting that is often beset by mistrust, win-lose mentality and lack of respect as equals," he said, "Going forward, the positive approach for international relations will surely result in a peaceful and better world for all."
Liu Hongjie in Nairobi contributed to this story.
Contact the writers at vivienxu@chinadailyapac.com.