Tencent cuts costs, explores new revenue sources
Share - WeChat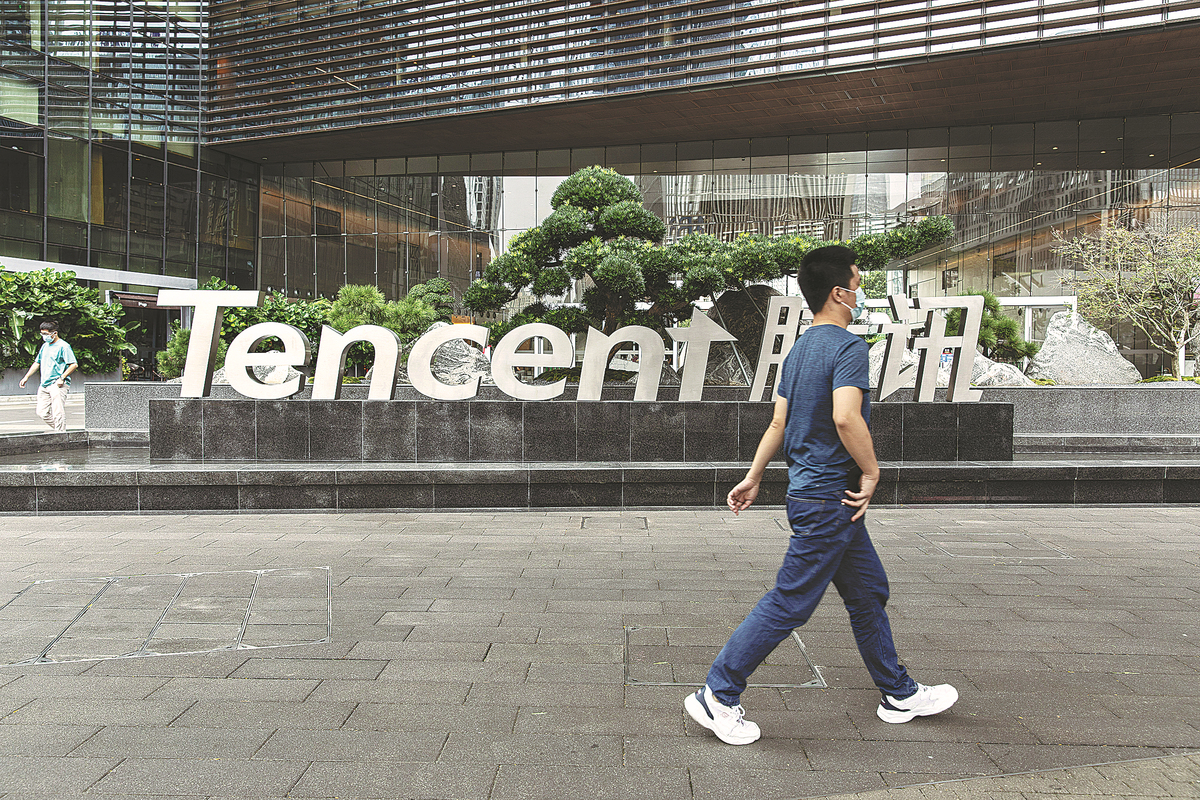 Tech giant downsizes workforce, focuses on Video Accounts as novel growth point
Tencent Holdings Ltd has taken cost-cutting measures such as downsizing its workforce and controlling growth in staff costs in the April-June period, and will explore new sources of revenue by speeding up the commercialization push in its short video platform Video Accounts, the company's top executive said.
"During the second quarter, we actively exited noncore businesses, tightened our marketing spending, and trimmed operating expenses. This enabled us to subsequently increase our non-IFRS(international financial reporting standards) earnings, despite difficult revenue conditions," said Ma Huateng, chairman and CEO of Tencent.
The Shenzhen, Guangdong province-based company reported on Wednesday its revenue came in at 134.03 billion yuan ($19.73 billion) for the quarter ending in June, a decline of 3 percent year-on-year. Its profit attributable to equity holders for the quarter was 28.1 billion yuan, down 17 percent from a year ago.
Tencent's Video Accounts was a bright spot during this period, and is expected to grow into a substantial revenue source for the company over time. Total video views increased 200 percent year-on-year, while video views based on artificial intelligence-powered algorithm recommendations jumped 400 percent on a yearly basis, according to the company.
Martin Lau, president of Tencent, said during an earnings call with investors that the regulatory environment in China is progressing from rectification to normalization, which should "bode well for the industry over time". As for the platform economy, the company saw the recent regulatory direction trending towards "more positive and supportive", Lau added.
Lau said Tencent has shuttered some businesses related to areas like online education and game livestreaming, and rationalized underperforming businesses, including loss-making digital content services.
Looking forward, the company will focus on enhancing the efficiency of businesses and launching new revenue initiatives, including in-feed advertisements in Video Accounts, while continuing to drive innovation through research and development, Ma said.
Ma noted the business will pick up as the Chinese economy is gradually recovering. "We generate approximately half of our revenues from fintech and business services as well as online advertising that directly contribute to, and benefit from, overall economic activity, which should position us for revenue growth as China's economy expands," he added.
The second quarter financial results come after Reuters reported on Tuesday that Tencent plans to sell all or the bulk of its $24 billion stake in food delivery firm Meituan. Tencent responded the report was not accurate, and the company is very focused on returning capital to shareholders, given that it believes its share price and investment portfolio are undervalued.
Zhang Yi, CEO and principal analyst at iiMedia Research, said Tencent has accelerated its layout in the fintech and corporate service segments in the June quarter with the help of its proprietary mobile wallet WeChat Pay, which also serves as one of the more significant revenue streams for the company.
Zhang noted there is ample growth potential in Video Accounts, considering the continuously enhanced user engagement on short video content. However, the company is facing intense competition from domestic short video platform Douyin, he added.
Revenue from Tencent's fintech and business services grew by 1 percent year-on-year to 42.2 billion yuan for the second quarter. "Fintech services revenue growth was slower relative to prior quarters as the COVID-19 resurgence temporarily impacted commercial payment activities in April and May," the company said.