Prospering naturally
Share - WeChat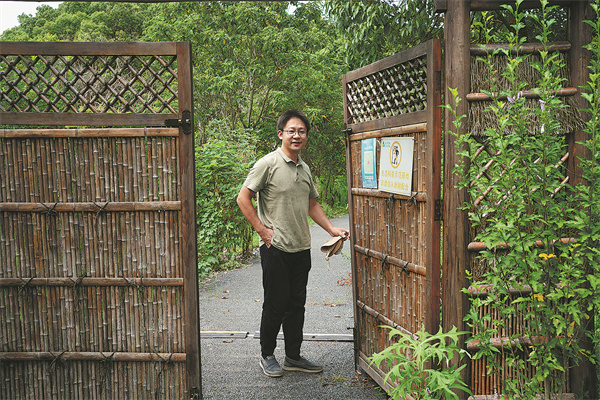 Nestled within the western region of the Pujiang Country Park in Shanghai's Minhang district is a bubble within which exists a world unlike anything else in the megacity.
Spanning 17,000 square meters, this area was once an artificial forest. Today, the zone houses Guo Taoran's experiment that involves reintroducing plant and animal species native to, or commonly found, in Shanghai.
The founder of Forest City Studio, Guo has patiently infused purity back into the ecosystem since signing a 10-year lease for the land in 2019.
His company specializes in "ecological restoration solutions" and has, over the years, undertaken projects such as biodiversity surveys of wildlife habitats in Minhang district and established an ecological conservation zone in Pudong New Area.
"Rapid urbanization in megacities like Shanghai has resulted in invasive species taking over and destroying the local biodiversity," says Guo, 34. "Native species are the foundation of the ecosystem. It is imperative that we preserve them. That is why I decided to take over the land."
When Guo first leased the area, it was filled with plants such as white clovers that prevented native species from flourishing. The area was also filled with sticky soil that impeded water flow, which ultimately affected the growth of plants. The lack of water systems meant that aquatic life and amphibians were few.
To tackle such issues, Guo and his team of experts in entomology and botany first categorized the area into seven sections, including evergreen forests, deciduous forests and grasslands. They then gathered species that are native to Shanghai and the neighboring Jiangsu and Zhejiang provinces before planting them in the related sections.
The team also removed certain plants from the area and filled the land with native herbs like "carpet grass" to prevent more outside species from entering the ecosystem.
In addition, adjustments were made to the terrain and water systems to create a conducive environment in which the native species could thrive.
Most Popular