Groundbreaking Shanghai facility aims to brew nation's coffee success
Share - WeChat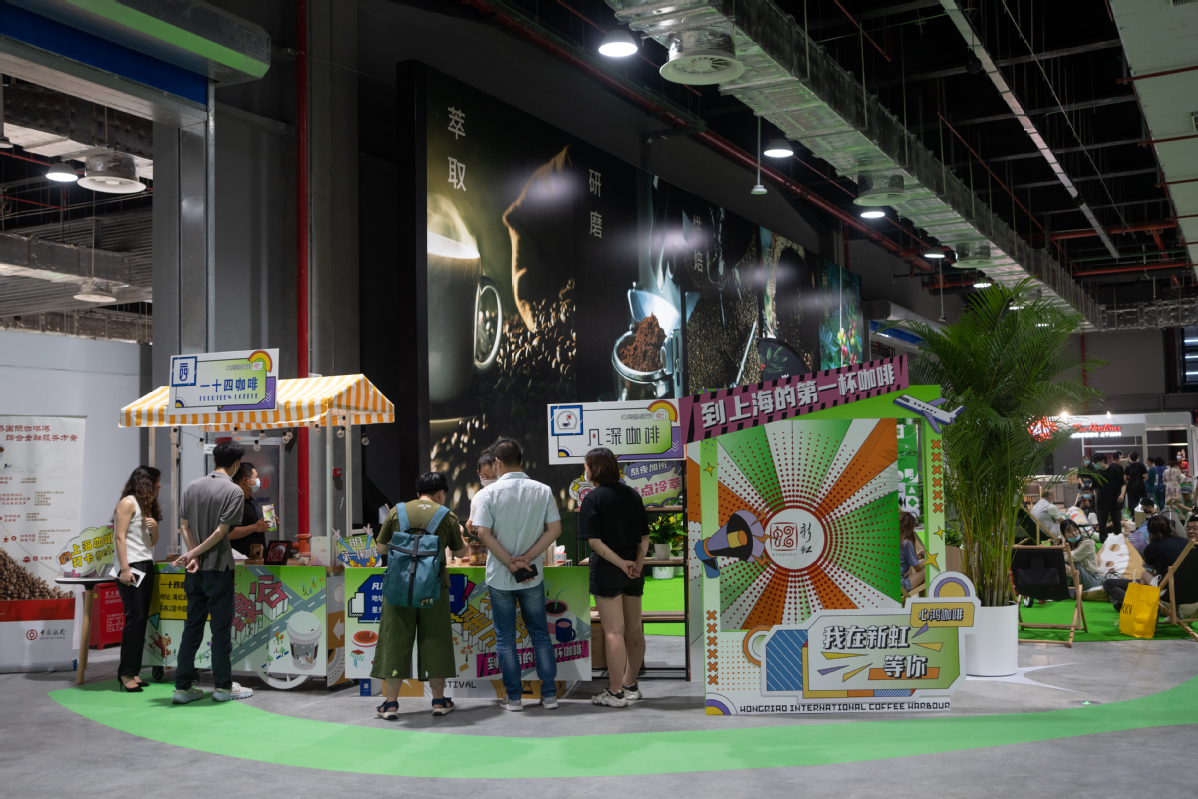 Trade involving the caffeinated drink via 'harbor' seen hitting 10 bln yuan by 2025
Shanghai Hongqiao International Coffee Harbor was certified on Aug 4 as a coffee trading and exhibition platform, and is expected to realize annual trading volume of 10 billion yuan ($1.47 billion) beginning in 2025, backed by a percolating Chinese coffee market whose size may exceed 1 trillion yuan by that year, industry experts said.
Coffee is the first and one of 10 sectors expected to reach a business scale of 10 billion yuan by the end of the 14th Five-Year Plan period (2021-25) at the Hongqiao Import Commodity Exhibition and Trading Center, a year-round trading platform in Shanghai affiliated with the China International Import Expo. Shanghai Hongqiao International Coffee Harbor will be the platform helping to make this goal come true, said Zhu Jing, deputy general manager of the Shanghai Hongqiao International Import Commodity Exhibition and Trade Co.
"The harbor is expected to serve as a center for imports and exports of coffee-related products that can generate a combined trade value of about 10 billion yuan annually, starting from 2025. And we can get there via seizing opportunities driven by three key elements-talent, trade and brand," Zhu said.
The Shanghai Coffee Industry Association was also officially launched on the same day. The establishment of the association allows the harbor to hold talent training events and barista qualifying contests in the future in a bid to enhance Shanghai's standards for the coffee sector.
Despite the impact of COVID-19, the number of cafes in Shanghai reached 7,857 as of June 30, much more than that of New York, London or Tokyo, said Mao Fang, vice-president of Meituan, citing a coffee consumption research report conducted by the online food ordering and delivery service provider.
"Considering the large number of cafes in Shanghai, there will be a need for more than 23,000 baristas in the city. If we can judge a barista's skills using unified standards, we can help enterprises quickly distinguish talent and further promote the quality enhancement of the overall coffee industry," said Xia Yuan, general manager of the innovation business division of Tim Hortons China, who is also head of the expert team for the latest national vocational technical standards for baristas published in June.
After working several years in the sector, most baristas will be promoted to positions in operations, research and development, and training. Some will work in posts across the coffee industry chain, and others may set up their own cafes, Xia said.
Coffee preparation and serving talent is in urgent demand nationwide. The market size of China's freshly brewed coffee sector rose 41.71 percent year-on-year to 8.97 billion yuan in 2021. It is projected to soar to 15.79 billion yuan by 2023, according to the Meituan report.
But compared with the United States and Japan, freshly brewed coffee consumption in China still lags far behind.
Mao said annual freshly brewed coffee consumption in the Chinese mainland currently stands at 1.6 cups per person. The figure is 3.8 cups per person for Chinese people living in first and second-tier cities, whereas the figures in Japan and the US are 176 and 313, respectively.
As the Chinese appetite for coffee keeps growing, the trade volume for coffee-related business is taking off too, and the harbor will serve as an indispensable channel for coffee trading firms and businesses.
China's coffee market has entered into a high growth phase, said Zhang Ruidong, director of Alibaba New Service Research Center.
"The nation's coffee industry reached a market value of 381.7 billion yuan in 2021, up 27.2 percent year-on-year, and the overall Chinese coffee market is expected to surpass 1 trillion yuan in 2025," Zhang said.
To be more specific, the number of online consumers surged 150 percent in 2021 from that of 2019, and imported coffee beans surged 74 percent year-on-year to 122,800 metric tons. A total of 25,900 new coffee-related enterprises were opened last year nationwide, surging 12.5 percent year-on-year. In the meantime, existing coffee brands are expanding rapidly by launching more branches while new brands are being created, Zhang said.
Furthermore, the harbor is expected to be a place nurturing new brands.
"We hope to be the birthplace for good coffee brands and assist them in expanding from Shanghai to the entire country," Zhu said.
It is hoped that a Shanghai coffee bean price index will be set up in the future, which will enable Shanghai to play a more influential role globally in the coffee industry, Zhu added.