Domestic brands rapidly raising their game
Share - WeChat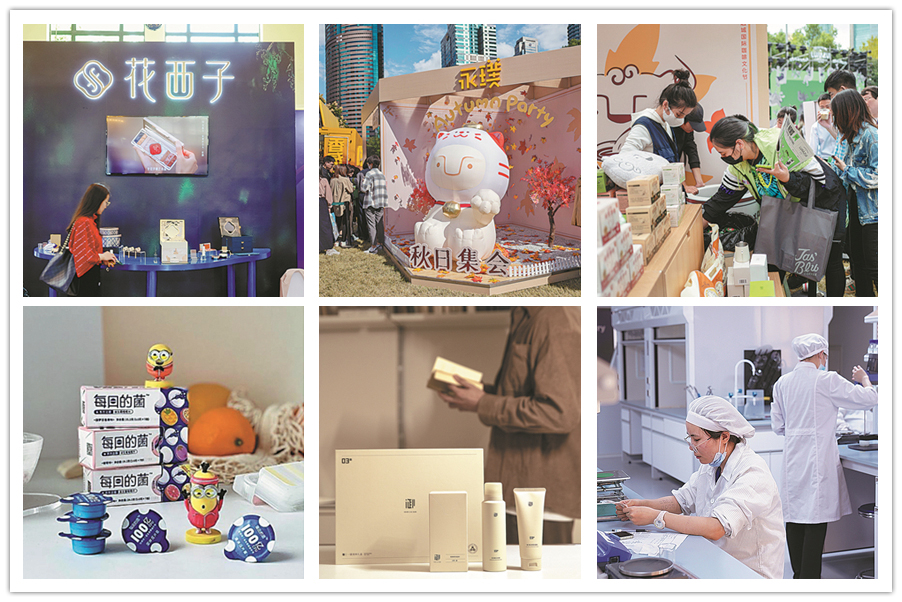 Product ranges feature elements inspired by traditional Chinese culture
Facing fierce competition in the booming domestic market, newly emerged Chinese brands are keen to drive their transformation by strengthening efforts to meet consumer demand and develop their goods.
In the past decade, products made in China have made their mark in the domestic market and are no longer viewed as being cheap or inferior to foreign brands.
Florasis, a Chinese cosmetics company that has gained popularity among Chinese and overseas consumers in the past five years, is a good example of the makeover that has taken place among Chinese brands.
The company was launched in 2017 in Hangzhou, capital of Zhejiang province, with the aim of reviving traditional Chinese aesthetics and cultural practices. It has since launched a series of signature products, including its etched lipsticks and loose powder containing floral infusions and Chinese herbs.
Meng Huo, vice-president of Florasis, said, "The company targets female Asian consumers with a variety of cosmetics to suit their skin, match their preferences with medium- and high-end goods, and catch their attention with elements inspired by traditional Chinese culture."
In 2020, Florasis launched a set of lipsticks to celebrate Chinese Valentine's Day. The lipsticks, designed in the shape of a lovelock-a symbol of enduring love throughout Chinese history-feature the romantic story of Zhang Bi, an official in the Western Han Dynasty (206 BC-AD 24) who drew eyebrows for his wife and designs on her lips that symbolized China.
Today, members of the new generation of consumers want items that reflect their culture, rather than the foreign heritage and exclusivity that have been so popular in the past. Such demand has resulted in the emergence of the guochao trend-the rise of domestic marques that include Chinese cultural elements in their design or branding.
Meng said, "We want to create a brand that embraces the balance of art, nature and science through our traditional recipes-infusing them in modern formulations using the latest research and development technologies."
Florasis keeps in direct touch with consumers through its livestreaming room and other online platforms, not only to sell products, but to learn the type of products that consumers are looking for. The company's Florasis GEM Program works in conjunction with 200,000 consumers, who help choose the right items to market.
"It usually takes about 21 months to complete the research and development of a single item, which has to pass tests among at least 1,000 product testers before it can be put on the market," Meng said.