A skill that's knot ignored
Share - WeChat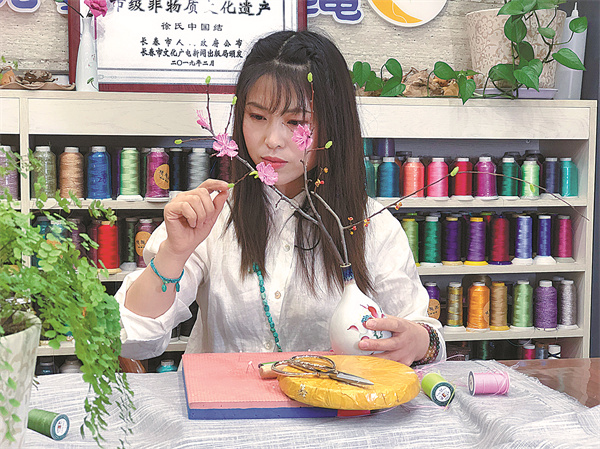 Traditional ones that Xu's elders made were lengthy red knots with auspicious meaning in Buddhism, often made with a thick thread.
But Xu, as an advertising design major, makes innovated knots based on her knowledge of design, and can use various threads to make small, exquisite designs.
She has created many series of works based on traditional Chinese culture such as festivals, tea and Peking Opera characters.
A highlight is a ginseng decoration inspired by Changbai Mountain in Jilin.
"Under the knotted ginseng is a circle to symbolize Tianchi Lake on the mountain. Two small bottles are tied to the circle, with water from the lake and a volcanic ore from Changbai, respectively," says Xu.
"Ginseng is a well-known local produce of the mountain, so it is a typical element of our culture.
"Many people who come here like to buy it, and view it as a symbol of Jilin. In this way I want to promote the local culture," she adds.
"Showing Chinese culture through traditional Chinese crafts-that is the original aspiration for me as an inheritor of the intangible cultural heritage," says Xu.
Most Popular