Broadnet eyes living room TV gatherings, console ops
Share - WeChat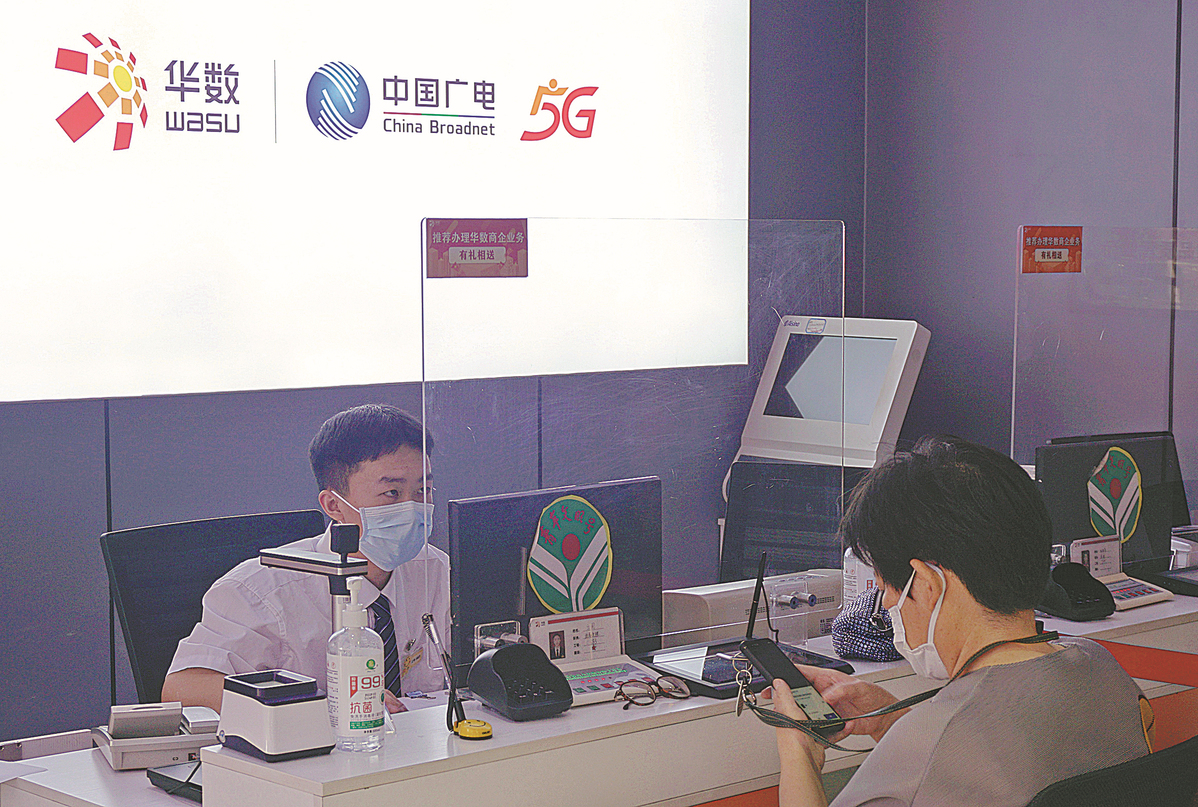 Three years after China kicked off 5G commercialization, China Broadcasting Network Corp Ltd, or China Broadnet, the country's fourth-largest telecom operator, officially launched its 5G services in June.
Industry experts said that the entry of China Broadnet will enrich 5G applications into family scenarios and build a 5G network based on living room-friendly settings and up the ante for 5G competition in the country.
"Every company is eager to find a killer application in the 5G era to drive more 5G demand, as most consumers have Wi-Fi at home and in workplaces and other venues, and playing games through smartphones can also be done using the 4G network," said Pan Helin, co-director of the Digital Economy and Financial Innovation Research Center at Zhejiang University's International Business School.
"In such a context, China Broadnet, which boasts huge TV and media resources, is likely to speed up 5G applications in home console games, set-top boxes, and smart TVs for new growth points," Pan said.
China Broadnet was set up in 2014 to promote national cable TV networks, and was granted a 5G commercial license by the Ministry of Industry and Information Technology in 2019, along with the country's three other major telecom operators-China Mobile, China Telecom and China Unicom.
According to China Broadnet, prices for its 5G packages range from 118 yuan ($17.55) to 588 yuan per month. The 118 yuan package includes 40 gigabytes of data and 200 minutes of calling, while the 588-yuan one includes 98 GB of data and 1,600 minutes of calling. Mobile phone numbers using China Broadnet will begin with the prefix 192.
Compared with the country's big three telecom carriers, the price of China Broadnet's 5G packages is lower. For instance, China Unicom offers 129 yuan for 30 GB of 5G data while China Mobile offers 49 yuan for 10 GB of 5G data in some cities.
"The aim of launching cheaper 5G packages from China Broadnet is to grab more users from other telecom carriers. With the entry of the fourth-largest operator, the market share balance among the three major telecom operators will be disrupted, and 5G competition will be greatly intensified," said Fu Liang, an independent telecom analyst.
"However, it is still difficult for China Broadnet to win over consumers from the other three in 5G at the early stage, given the huge gap of 5G-subscribed users with the other providers," Fu said.
Data from the MIIT showed that as of May, the total number of mobile phone accounts of the three major operators reached 1.66 billion, among which 5G users reached 428 million, up 73.34 million compared with the end of last year.
"Like other countries, to develop a healthy communication network, at least three or four companies are needed. The entry of China Broadnet is to promote the healthy competition of the telecommunications industry," said Wang Zhiqin, deputy head of the China Academy of Information and Communications Technology, a think tank.
"China Broadnet will also spare its 700-megabyte frequency band resources for 5G construction, which is also of significance for the application of 5G networks," she said.