Online nuptial businesses say 'I do' despite pandemic-related challenges
Share - WeChat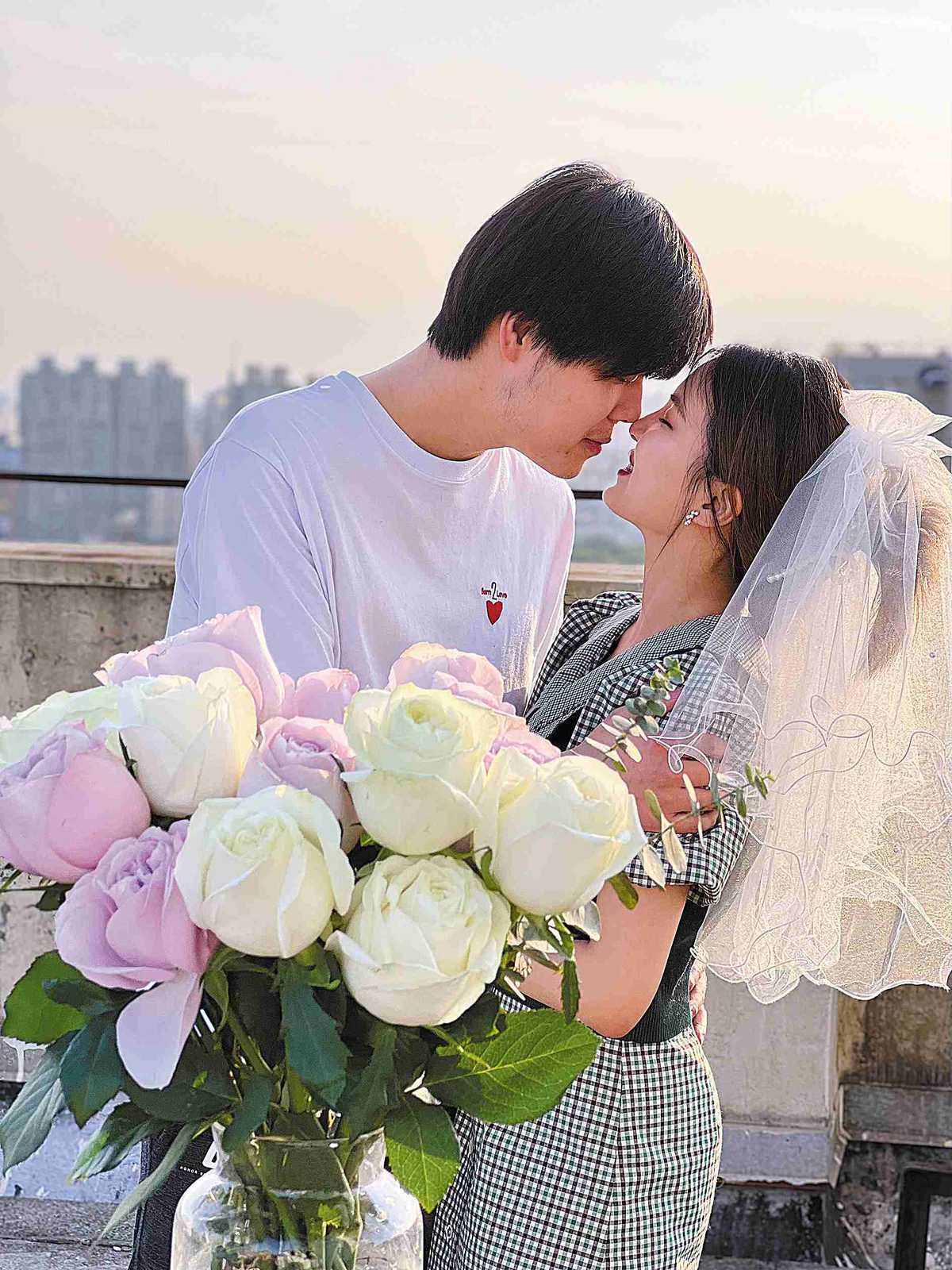 As the COVID-19 pandemic broke out, with residents suggested not to gather in public places, weddings-a ceremony that requires gathering-have become a challenge. It is in this background that online weddings emerged, generating new business opportunities.
After having been quarantined for 42 days, Emma Huang and her husband Marc Li decided to shift their wedding online. Shanghai was stricken by a COVID-19 flare-up and the newlyweds' big day on May 8 needed an alternative plan. After discussing with their parents, the future married couple decided to hold the wedding ceremony despite challenges.
Their wedding was held via Tencent Meeting. The newlyweds invited their parents, relatives, friends and colleagues. After all the important speeches, they shared a short video clip of their friends' blessings. In the end, the new couple took a picture with all the guests online.
"Although there were not many fancy decorations, nor were there rings or even a wedding dress, everything went perfectly smooth. On this special day, holding a simple yet cozy ceremony with our families and friends surely brought us so much happiness," Huang said.
According to Huang, originally, their wedding budget was 300,000 yuan ($44,730), covering hotel booking, wedding planning, a wedding banquet, wedding dresses, wedding cars, etc. Now, with the wedding shifted online, their total budget was less than 1,000 yuan.
"Using the money saved, we plan to buy something for our new home and save some money to hold an offline wedding later," Huang said.
The unexpected COVID resurgence forced many newlyweds to hold their nuptials online. With a great sum of money saved, new consumption points emerged. Some people choose to upgrade their home appliances, while others buy higher-end cakes or flowers to celebrate their marriage, industry experts said.
Incomplete statistics show that from the beginning of 2020 till now, there have been over 1,000 online weddings held in China. Among them, a famous one was held on short-video platform Bilibili.
At 10 am on March 20, 2020, a wedding without any host or guests was held online. Two 27-year-old newlyweds were wearing traditional red Chinese-style wedding gowns and "Happy wedding" blessings covered the screen.
In four days, the accumulated number of viewers to the livestreaming wedding of groom Liu Wenchao and bride Sun Hanxiao reached 3 million, ranking as the top-visited video on Bilibili.
"All the viewers were our best men, bridesmaids and our witnesses," said Sun.
Liu and Sun met each other in Hangzhou, Zhejiang province, in 2018. They fell in love and got registered in 2019. They originally planned to have an offline wedding ceremony. However, the unexpected epidemic disrupted their plans.
"I was born in a village in Jilin province and my wife was born in a village in Zhejiang province. Based on rural customs, it is a blessing to get married on an auspicious day picked by our parents. Therefore, we chose not to postpone our wedding and hosted the ceremony online," Liu said.
During the livestreaming, the newlyweds demonstrated a short video showing how they met, fell in love and got married. Then, as happens in an offline wedding, they exchanged rings. Next, they took out the wedding candies.
"Normally, at an offline wedding, guests are given candies. Since our wedding is online, we will eat that for you!" said Liu with a smile.
During the rest of the livestreaming, the couple chatted with viewers, who sent virtual presents to the livestreaming room as red envelopes, or fenziqian, which also act as symbols of blessings for a blissful marriage.
Although there are difficulties brought by the pandemic, new business opportunities have emerged from online weddings. For example, livestreaming video platform Huajiao introduced a livestreaming wedding business, integrating traditional wedding sessions with digital technologies to create unforgettable memories for newlyweds and their families.
In Huajiao's livestreaming wedding room, hundreds of thousands of visitors witness newlyweds' weddings. Blessings such as "Happy wedding" and "May you have a baby soon" fill the screen.
Business opportunities are seen everywhere, such as the livestreaming room's cooperation with wedding singers, jewelry companies and flower companies.
Using mixed reality and augmented reality technologies, many fancy special effects and scenes can be created for wedding ceremonies.
Online weddings have achieved what cannot be achieved in traditional offline weddings, industry experts said. In addition, they noted that online weddings help the whole wedding industrial chain break bottlenecks during a pandemic-ravaged era.
Hong Yong, an associate research fellow at the Chinese Academy of International Trade and Economic Cooperation, said: "In recent years, due to the pandemic, weddings have been postponed one after another. To hold ceremonies on time, some of the newlyweds choose to get married online. Online weddings can satisfy young people's personalized needs and have become an important supplement to traditional weddings."
Speaking of the future of online weddings, Hong said that with the development of technologies such as AR and VR, online weddings can give guests who are unable to attend the offline ceremony an immersive feeling. In the future, the trend would be to combine online weddings with offline ones.
"Hosting an online wedding, you should pay attention to internet information security, so that personal information of participants can be protected," he added.