Real estate eagerly seeks transformation, but challenges abound
Share - WeChat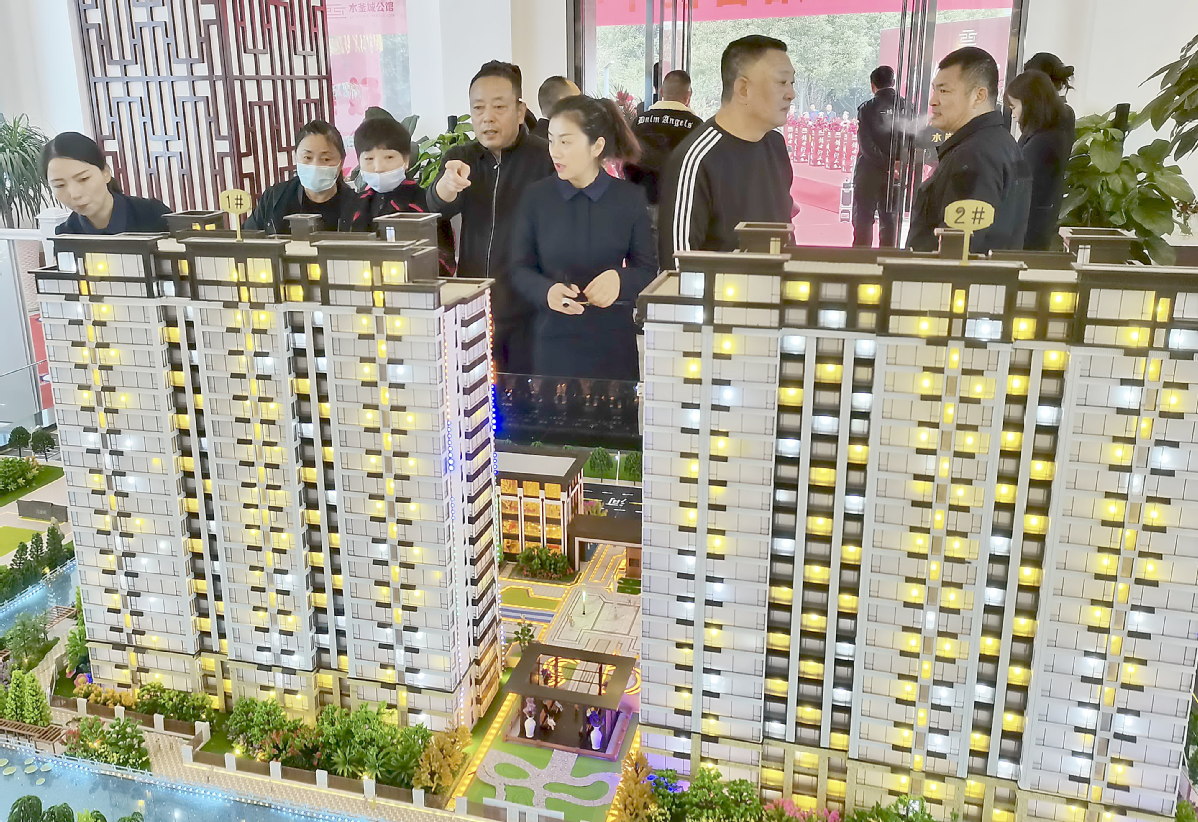 It's a tough time for China's real estate industry. Will the real estate market keep going down? I think the market may have already bottomed out in April if there are no more resurgences of COVID-19 in China or other incidents that could have a negative impact in the future.
In that case, will the real estate market recover soon? I think that will be very difficult.
First, market expectations are not stabilized yet.
If a major real estate company defaults on its debts, the market will panic. Everyone is afraid of buying property projects that fail to reach completion, so everyone watches and waits.
An interesting phenomenon is that existing home sales in China maintained positive growth in the first five months despite overall property sales declining by more than 20 percent year-on-year.
This situation fully demonstrates people's comprehension of the market, and existing homes are more popular than presale homes while projects of State-owned property developers are more popular than private enterprises.
Second, I think most demand in the real estate market over the past few years has evinced rigid demand for first homes or better homes. Yet potential buyers' income expectations are not stable due to the impact of layoffs and salary cuts, and with that, they will delay any housing purchase decisions even though their willingness to buy a home remains strong.
Third, even though the home sales index ended a declining trend in April and May, the index for new investment and construction is likely to continue heading lower, as many private property developers are still under great debt repayment pressure, and will repay debts first before acquiring new land parcels.
It is difficult to predict the results of these indexes on sales, investment and new construction for this year, because there will be changes in market conditions, policies and the external environment.
Based on the current scenario, my prediction is that this year's real estate sales volume will drop by 10 percent on a yearly basis, while sales value will have a negative growth of 20 percent. New construction area will fall 20 percent, narrowing from the current level of a 30 percent slump.
There is one indicator I think will rebound to positive growth-property development investment-because if growth of investment used to acquire land parcels and construction are stabilized this year, property development investment will grow. The two types of investment, respectively, account for 30 percent and 60 percent of total property development investment.
Since more than 100 cities have eased their policy restrictions on purchases or sales of real estate, including some second-tier cities, people are beginning to wonder if the effect of current policies will be strong enough for the real estate market to recover, or if there will be additional policy measures launched.
The factors influencing a market recovery are quite complicated. Some are related to policies while others are not.
Whether people buy a home or not depends on their willingness, ability, and accessibility. The current policy easing in some cities aims to expand accessibility and improve people's ability to purchase a home, through measures such as reducing loan interest and providing subsidies.
Whether people think property prices will decrease is an important factor influencing the overall willingness to purchase currently, but that is not the only factor.
Questions such as whether people will move to other places or have different occupations after the pandemic-or where they will buy properties-can only be answered as time tells. We need policies to relax restrictions, but any willingness to purchase will require more time to restore.
How strong should any new policy relaxation be? That depends on the dynamic relationship between supply and demand. For instance, some second-tier cities have rolled out strong policy relaxation measures because they have high unsold housing stock. Some cities haven't done so because they have small inventory.
This round of real estate policy adjustments is city-specific and in line with local conditions.
The policies reflect consideration of long-term supply and demand situations, as well as many other important issues.
For instance, in Changsha and Chengdu, capital cities of Hunan and Sichuan provinces, respectively, policies have aimed to coordinate property stock reductions with affordable rental housing supply expansion.
Debt defaults of real estate developers currently remain the biggest issue in China's property sector.
The debt ratio of China's property developers is always kept high. In 1997, the figure was as high as more than 70 percent, and in 2020, the figure was between 76 percent and 80.7 percent.
Why was debt not an issue in the past? It looks as if tighter financial regulations in the sector are behind the problem. But I think that was just a trigger, and there are two other factors that may have been overlooked.
The first problem is that the financing period of Chinese property developers is generally shorter than the payback period since 2016, showing refinancing demand. The second problem is the high leverage ratios among developers since 2016.
In 2015, the average median payback period for developers was three years, and the average debt cycle was two years. In 2016, bonds issued by Chinese property developers raised a record 1 trillion yuan ($150 billion).
Chinese banks have tightened loans to the real estate sector since China started a new round of regulations targeting the housing market in October 2016, stressing that "houses are for living in, not for speculation".
Under such circumstances, industry leaders started proactively raising money from overseas. In 2019, overseas financing reached a new high.
Apart from high financing leverage, property developers have also relied on other forms of financing since 2016, such as increased payable ratios and using prepayments from property buyers to acquire land parcels.
But real estate developers and investors didn't pay enough attention to such issues, and the policies were just a trigger for the debt issue.
There are now policies to tackle debt problems, but since the problem is not caused by policies, such policy adjustments, therefore, have had a limited effect.
I think since different property developers have different causes behind their debt issues, it is difficult to solve their problems with one-size-fits-all policies.
I don't think State-owned enterprises will dominate the industry either, despite their bigger presence in the sector.
In 2020, SOEs accounted for 30 percent of sales value among the top 100 property developers in China. The figure rose to 48 percent last year. The figure is expected to continue to rise as SOEs have acquired most land parcels available since the second half of last year.
In 2020, SOEs accounted for only 1 percent of Chinese real estate enterprises that were operating, and therefore I don't think it is right to say that SOEs will dominate the industry.
However, Chinese property developers eagerly should seek transformation since external development conditions for them have changed-and dividends generated from housing market reforms, fast-paced urbanization, liquidity and two-digit growth of the Chinese economy in the past have diminished.
The writer is a senior researcher at the National Academy of Development and Strategy, the Renmin University of China, and a member of the China Macroeconomy Forum (CMF).
The views don't necessarily reflect those of China Daily.