Nation eyes win-win on FTA with South Korea
Share - WeChat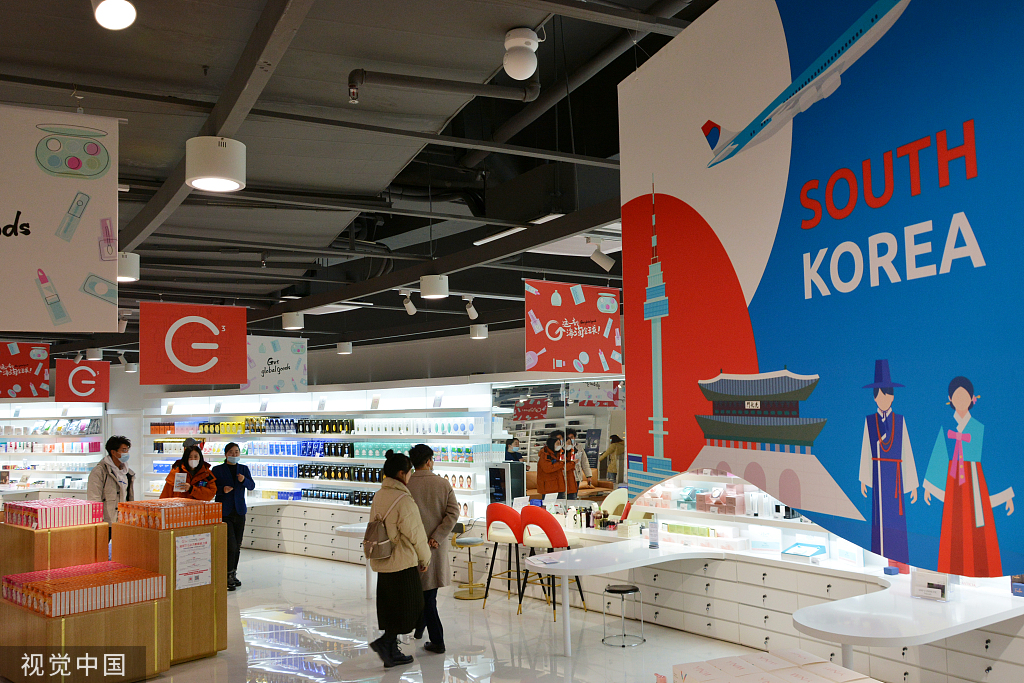 China and South Korea have made substantial progress in the second phase of their free trade agreement negotiations, and China hopes for a win-win outcome to come quickly, Shu Jueting, a spokeswoman for the Ministry of Commerce, said in a video conference on Thursday.
"The two sides have reached consensus on speeding up follow-up negotiations, and China is willing to keep up the negotiation momentum together with South Korea to reach a mutually beneficial agreement early, and therefore improve the openness and cooperation of the two nations on trade in services and investment," she said.
China and South Korea signed a bilateral FTA in 2014, which came into effect the following year.
Since then, eight rounds of tariff slashes have been rolled out between the two nations, and China has waived more than 40 percent of tariffs on imports from South Korea.
The current negotiations mainly focus on negative list-based high-level trade in services and investment liberalization.
Analysts said the implementation of the Regional Comprehensive Economic Partnership agreement, which took effect in China and South Korea on Jan 1 and Feb 1, respectively, has provided more impetus and room for the two to strengthen trade and economic cooperation.
Data from the MOC showed trade between the two Asian countries has reached $184.25 billion in the first half of the year, up 9.4 percent year-on-year.
In 2021, their bilateral trade exceeded $360 billion, or 72 times that 30 years ago when they first established diplomatic relations.
"Against the fragile global economic recovery, the fast growth in China-South Korea trade indicated the two countries have strong economic complementarity and has also demonstrated the resilience and potential of their economic and trade cooperation," Shu said.
The two countries have been effectively aligning development strategies and smoothly implementing the FTA.
They have also been steadily promoting cooperation for the establishment of the China-South Korea industrial parks and continuously deepening cooperation in overseas markets.
Shu said China and South Korea have formed deeply integrated, stable and smooth industrial and supply chains.
Shu also said the stability of industrial and supply chains is a global issue that has attracted wide attention, and China always believes any framework and arrangement to ensure such stability should be open and inclusive, instead of being discriminatory and exclusive, which would damage and divide global markets.
She made the remarks when asked about some news reports that the United States has urged South Korea to decide whether or not to join the Quadrilateral Security Dialogue before August. Reports indicated South Korea said it is discussing with the US ways to strengthen cooperation on chip production.
"Reinforcing the openness and cooperation of industrial chains to avoid their breaking up will benefit all stakeholders and the whole world," she said.
Zhou Mi, a senior researcher at the Chinese Academy of International Trade and Economic Cooperation in Beijing, said China and South Korea are expected to have stable economic and trade cooperation, given their strong industrial coordination, complementarity and the two governments' willingness and commitment to promote such cooperation.
Zhou also said China and South Korea have a strong connection in technology sectors like semiconductors, which therefore creates ample investment opportunities and a solid foundation for the two sides to expand economic cooperation.
China is always inclusive on cooperation and welcomes others, including the US, to jointly tap development opportunities, because different economies have different advantages in production, design, markets, services and other links across the industrial chain, and only market-oriented cooperation can lead to win-win outcomes, he said.