Xi's India trip bolstered long-standing friendship
By XU WEIWEI in Hong Kong and ARUNAVA DAS in Kolkata | China Daily Global | Updated: 2022-07-22 08:29




Share - WeChat President recognized outstanding contributors to bilateral relations
Editor's note: China Daily is publishing a series of stories reviewing President Xi Jinping's visits at home and abroad in the past decade, to showcase his vision for development in China and around the world.
Of the countless awards that Mohan Reddy has been presented in a 40-year medical career, he says that a friendship award personally given to him by President Xi Jinping in New Delhi, India, nearly eight years ago is the most meaningful.
"I got my lifetime satisfaction and achievement when I met President Xi and received the award from him for my work in the cause of friendship between the people of our two countries," said the physician, who is an ear, nose and throat specialist from Hyderabad, India.
Reddy, who has been internationally recognized for his innovative research in endoscopic ear surgery techniques, contributed to the Sino-Indian relationship by serving as secretary-general of the Andhra Pradesh Chapter of the India China Friendship Association starting in 2008.
He was overjoyed when he was told that he would receive the honor from China's top leader in 2014, he said.
Reddy said he has always regarded Xi as a highly admirable leader, doing an excellent job in leading a great country, "with a slogan he has proposed that all countries have to work for the common prosperity and shared future for mankind".
"When I met such a great leader, you can imagine that it became a lifetime memory. I can't forget it."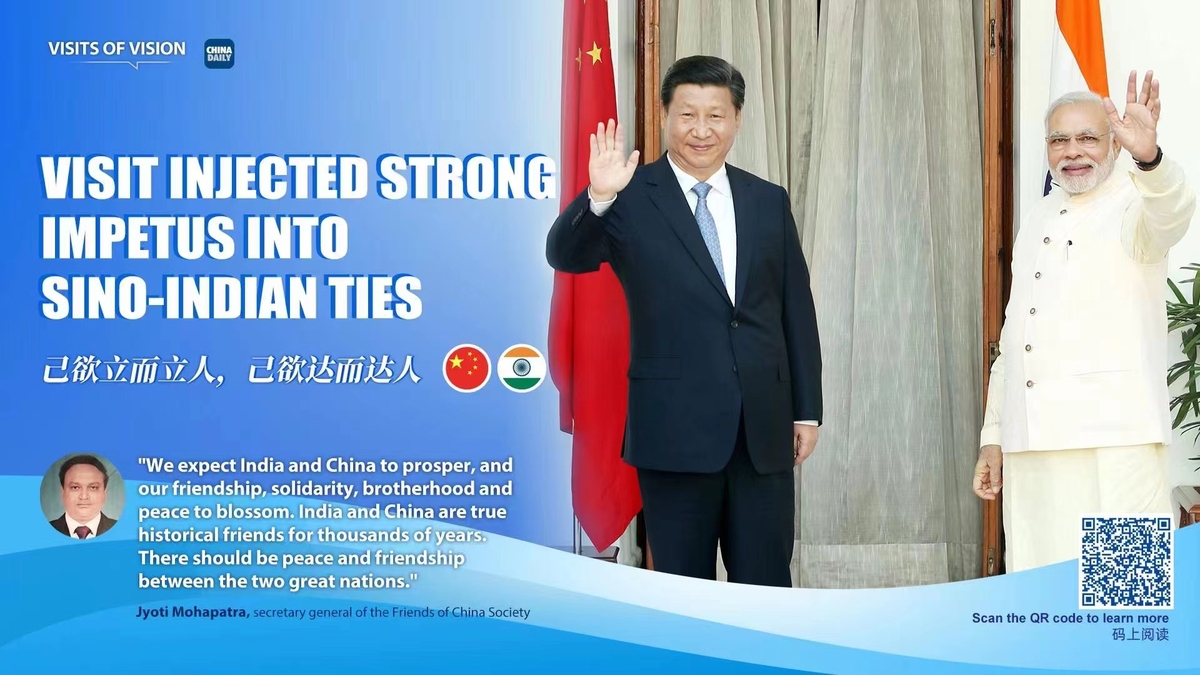 Xi made a state visit to India from Sept 17 to 19, 2014. He met with then Indian president Pranab Mukherjee and held talks with Prime Minister Narendra Modi. More than a dozen agreements were signed in areas ranging from trade and transportation to culture.
Xi emphasized that the purpose of his visit was to "carry forward the China-India friendship and promote bilateral cooperation".
In New Delhi on the third day of his visit, Xi met individuals and representatives of groups in India committed to China-India ties and, in recognition of their long-term commitment to the cause, conferred on them the Five Principles of Peaceful Coexistence Friendship Award.
He praised the important contributions they had made to the two nations' friendship and paid tribute through them to people from all walks of life in India committed to China-India friendship.
Xi also recalled the moving deeds of the physician Dwarkanath Kotnis (1910-42), poet, philosopher and composer Rabindranath Tagore (1861-1941) and other Indians who were friendly to China in the past, emphasizing that their persistent pursuit and selfless dedication to the cause of China-India friendship was to be cherished.
Reddy said he accepted the award on behalf of the more than 15,000 members of the India China Friendship Association in India.
"Actually, I felt my responsibility has very much increased after getting the award. It made me feel I should work more for the friendship between the two peoples."
All members of the association in India, including workers, teachers, doctors, businesspeople, intellectuals, journalists, students and villagers, understand the importance of friendship between the two countries, Reddy said.
"Our friendship works for the welfare of people of both India and China. We can learn from each other and use our resources for the good cause of development."
There should never be any reason for the two neighbors to be at odds, he said.
"If we were not friends, we'd have to spend a lot of money on defense and the military. We need to remain friends, and instead spend the money on developing our two countries."
Among others to whom Xi presented the friendship award in 2014 was Avijit Banerjee, head of the Department of Chinese Language and Culture at Visva-Bharati University in West Bengal state, who received the honor on behalf of his university. Recalling that event, Banerjee said the meeting with Xi was a moment of great honor and pride for him.
"After hearing that I shook hands with the Chinese leader, many of my friends in India and China wanted to shake hands with me too," he said. "By doing this, they thought that my luck and honor could be passed on to them."
Banerjee got the chance to speak with Xi about strengthening cultural exchanges between India and China.
"When I first started to speak with Xi in Mandarin, he seemed a bit surprised, but then he looked delighted."
Banerjee had spoken in English and Chinese on behalf of all the winners, expressing their gratitude to the Chinese government and their willingness to make further contributions to promoting India-China ties.
He talked of efforts by the renowned poet Tagore to establish Visva-Bharati University, and the institution's long-term engagement in promoting friendly exchanges.
Cultural exchanges and people-to-people relations are essential to improving the friendship and understanding between the two countries, Banerjee said.
"My university has been engaged in all kinds of exchange activities with Chinese counterparts, and I am also an active part of it. I hope that this kind of exchanges will not stop. Instead, they should continue to increase and strengthen."
At the 2014 event, Xi also presented the friendship award to Manorama Kotnis, a sister of Kotnis, a doctor revered in China for his selfless deeds in serving the Chinese people during the revolutionary era in the late 1930s and '40s. The Chinese consulate-general in Mumbai specially flew the then 93-year-old and her family members to Delhi.
Manorama Kotnis, in her wheelchair, grabbed Xi's hand firmly as he presented the award to her, thanked him for particularly taking time in his busy visit to meet them, and said they were deeply moved by the Chinese government and people for always remembering Kotnis and his family.
Dwarkanath Kotnis, also known by the Chinese name Ke Dihua, was sent to China in 1938 as part of an Indian medical mission and sacrificed his life helping the Chinese people during the War of Resistance Against Japanese Aggression (1931-45).
Eighty years after his death, his heroic deeds live on in China.
Kotnis' niece Samangala Borkar was a proud witness at the 2014 ceremony. "When I shook hands with President Xi, it was a spiritual feeling," she said, "He was so calm, soothing, affectionate and confident."
The family of Samangala Borkar and her husband, Rajan Borkar, took care of Manorama Kotnis until she died in 2015.
Rajendra Jadhav, chairman of the Kotnis Memorial Committee in Mumbai, was also present at the friendship awards event. He cited Xi as a leader who serves to benefit humankind.
Jyoti Mohapatra, secretary-general of the Friends of China Society (India), said the function was attended by high-level dignitaries from both India and China.
"It felt great collecting the award in 2014 from His Excellency Xi Jinping, president of China, for lifetime achievement and work in fostering warm relations between India and China. The award from President Xi has given us encouragement," Mohapatra said.
The Friends of China Society (India), which works for peace, brotherhood, all-around development and people-to-people friendship between India and China, was established in 1972.
"Since then we have been working hard to foster warm relations between India and China," Mohapatra said. "We have been working tirelessly for the last 40 years."
Over the years, dignitaries including a former Indian president, governors and ministers, members of Parliament and members of think-tanks working in India for India-China relations, have joined the organization.
"We expect India and China to prosper, and our friendship, solidarity, brotherhood and peace to blossom," Mohapatra said. "India and China have been true historical friends for thousands of years. There should be peace and friendship between the two great nations.
"We believe India and China are good neighbors, and our cultural heritage is great. The future will belong to us," he added.
In 2010, Reddy, the ear, nose and throat specialist, led a delegation of Indian doctors to Hebei, where Dwarkanath Kotnis had worked, for a joint medical mission in memory of the doctor. Since then, India-China joint medical missions have been organized to take forward the spirit of Kotnis, who stands as a symbol of India-China friendship and international fraternity.
The India China Friendship Association was founded on the anti-imperialist and anti-fascist spirit of the people of India and China, Reddy said, and is engaged in many efforts that promote understanding and friendship with China.
"We are always well aware of the (current) difficulties in the relationship between India and China and the reasons behind them, but whatever the difficulties, they will be short-lived. Whatever challenges, they will be overcome.
"We have a fairly strong belief that the friendship between these two countries can never be stopped by any force-it's the trend," he added.
Dismissing talk of China as a potential "threat", Reddy said that he has "strong confidence that many understand the politics behind the propaganda", and that "more and more people will definitely come onto the field for promoting peace and friendship between our two countries".
Aparajit Chakraborty in New Delhi contributed to this report.
Contact the writers at vivienxu@chinadailyapac.com