Mingyang on London bourse, expands intl market
Share - WeChat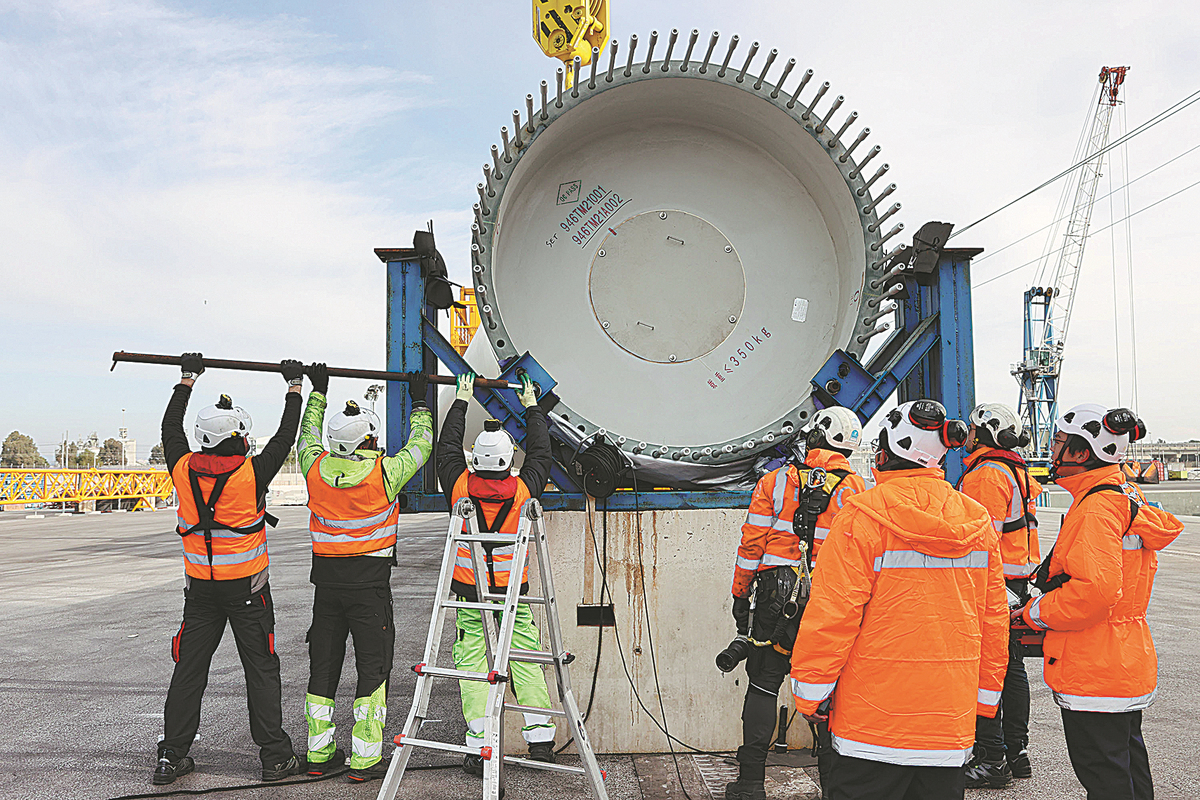 Mingyang Smart Energy Group Co Ltd, a Chinese wind turbine manufacturer and clean energy integrated solutions provider, will continue to grow its market footprint in the international offshore wind sector, especially in the European market, according to company executives.
In the latest development, the company, headquartered in Zhongshan, Guangdong province, announced its public listing on the London Stock Exchange and issued global depository receipts in mid-July, a move seen as a major breakthrough in Mingyang's exploration of the international capital and business markets.
It was the first GDR issuance in China's high-end clean energy equipment industry since the Shanghai-London Stock Connect scheme took effect in June 2019.Early in December, Mingyang also issued green bonds in Macao.
Usually referring to a certificate issued by a depository bank that represents shares in a foreign stock on two or more global markets, GDR has become a catchphrase for Chinese companies to raise funds overseas.
The listing in London, which is valued at $656.89 million with the price set at $21 per GDR, would help greatly expand overseas financing channels and boost its international presence in the clean energy sector, according to Zhuang Chuanwei, chairman of Mingyang Smart Energy.
Earlier, Mingyang also signed a memorandum of agreement in December with the United Kingdom's Department for International Trade to cooperate in the offshore wind sector.
"Both the UK and China have seen unprecedented development in the offshore wind sector over the past few years and foresee more market opportunities in terms of business models and technology innovations," said Zhang.
With the agreement, Mingyang has placed the UK at the core of its global offshore wind strategy by investing in a blade manufacturing factory and service center. The company is also exploring a possible turbine assembly factory in the UK, it said.
"The agreement with the UK side marks a significant milestone in the two nations' deep cooperation in the industry, and also a solid step forward for us to leverage its domestic offshore wind experience on these opportunities to create sustainable business growth in the UK," he said.
The UK, a global leader in offshore wind power, with a large installed capacity and mature, competitive market mechanisms for further growth, has set an ambitious target of producing 40 gigawatts of offshore wind, including 1 GW of innovative floating offshore wind power by 2030.
The agreement showcases Mingyang's ambition to support the UK in fulfilling its renewable energy goals, and to serve the growing offshore wind market with regional partners, according to Zhang.
Mingyang will also be interested in the opportunity to use engineering, manufactured components and other services from the UK in developing its local supply chain, the company said.
"We will collaborate to explore other market entry options in the UK, including wind turbine testing, offshore wind demonstration projects and pre-commercial wind farms," he said.
In addition to having established more than 600 wind power plants across China, Mingyang has so far developed altogether 33.2 GW global installation of offshore wind power in seven countries and regions by the end of 2021.
The company's overseas business revenue reached a record of 172 million yuan ($25.5 million) in 2021, with newly added orders increasing by 19.74 percent year-on-year to 455,000 kilowatts.
There is still a wide space for the application of Chinese technologies in the clean energy industry in the Mediterranean and Europe, according to Zhang Qiying, president and chief technology officer of Mingyang.
"We have set up demonstration projects in Spain and France and will continue to enhance our participation in the European market and expand our international business," he said.
A completion ceremony of the Beleolico wind farm project in Taranto, Italy, the first for the Mediterranean Sea region, was also held in April, with wind turbines coming from Mingyang, according to the company.
The wind farm is expected to help reduce carbon dioxide emissions by about 730,000 metric tons in its 25-year service life.
The company not only provided the Beleolico project with such equipment as the turbines' main rotors, fan blades, towers and control systems but also signed a 20-year contract offering full operation and maintenance services during their life span.
In support of the European market's efforts, Mingyang has established a business and engineering center in Hamburg, Germany. "We will engage with local partners to develop floating wind solutions in Europe's deep-sea regions," Zhang said.