Mingyang sees profits blowing in wind
Share - WeChat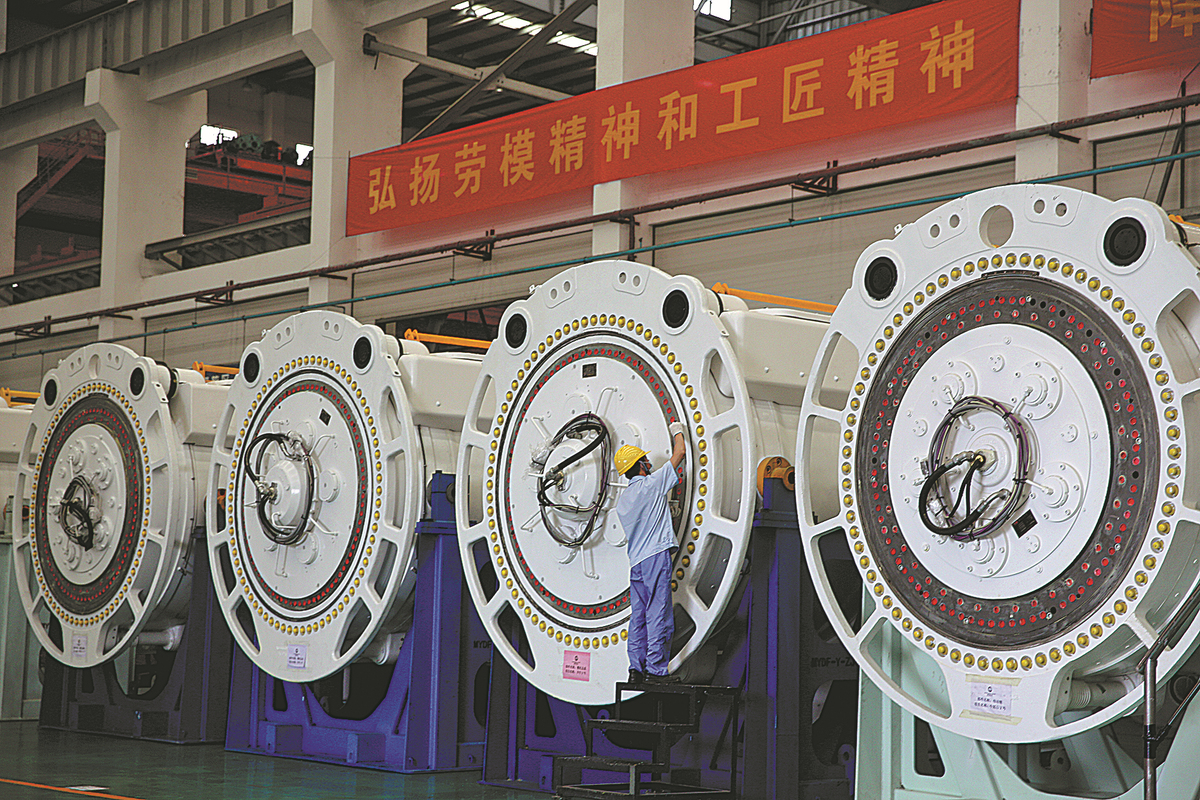 Expansion of the offshore wind power sector will help Guangdong province, an economic powerhouse in South China, to develop more clean energy to support its economic development, said a company executive.
"It is expected that new power demand in Guangdong in the next 10 years will be effectively supplied by clean energy, through the integration of offshore wind power and other marine energy," said Zhang Chuanwei, Party secretary and chairman of Mingyang Group.
Mingyang, based in Zhongshan, Guangdong, is a leading enterprise engaged in the research and development and manufacturing of new energy equipment.
"Development of offshore wind power will help build a highly integrated upstream and downstream industrial cluster, while creating thousands of jobs," Zhang said.
The offshore wind power sector will also help form new economic growth engines, including R&D institutes, high-end equipment manufacturing, operation services and equipment exports, Zhang added.
Over the past few years, the company has successively made breakthroughs in key technologies in the offshore wind power sector, including high-end equipment core components and new materials, marine energy and engineering.
For example, it has independently innovated and developed main shaft bearings for large wind turbines with capacities over 10 megawatts-a technology previously dominated by foreign companies, according to company sources.
The company, which reached an output value of more than 70 billion yuan ($10.5 billion) in 2021, has already built two offshore wind power bases in Guangdong's eastern and western areas, each of which has an installed capacity of 10 million kilowatts.
After the construction of its main base in Zhongshan's Torch Development Zone in February, Zhang said the company will increase investment in innovation and its core industries, striving to reach the 100 billion yuan-level as a high-end equipment industry cluster.
"The offshore wind power sector will help accelerate the development of China's marine economy," Zhang said.
China's marine economy increased 4.1 percent year-on-year to 2 trillion yuan in the first quarter, according to the Ministry of Natural Resources.
Relentless efforts have been made to expand the clean energy industry and adopt renewable energy as a substitute, which creates a broad market for wind power as China has announced its ambitious targets of peaking CO2 emissions by 2030 and achieving carbon neutrality by 2060.
The country's newly installed capacity of grid-connected wind power reached 47.57 million kW in 2021, with offshore wind power accounting for over one-third of it.
The installed wind power capacity of China has exceeded 300 million kW, and its installed offshore wind power capacity now ranks first worldwide, according to the National Energy Administration.
Guangdong plans to start construction of offshore wind plants with a total installed capacity of 12 million kW during the 14th Five-Year Plan period (2021-25), and put half of them into operation by the end of 2025.
According to a development plan for the marine economy of Guangdong during the 14th Five-Year Plan period, the province will build three large offshore wind power bases, aiming to develop the industry into an industrial cluster worth 100 billion yuan in output.