Spike in Europe's solar power demand met by China
Share - WeChat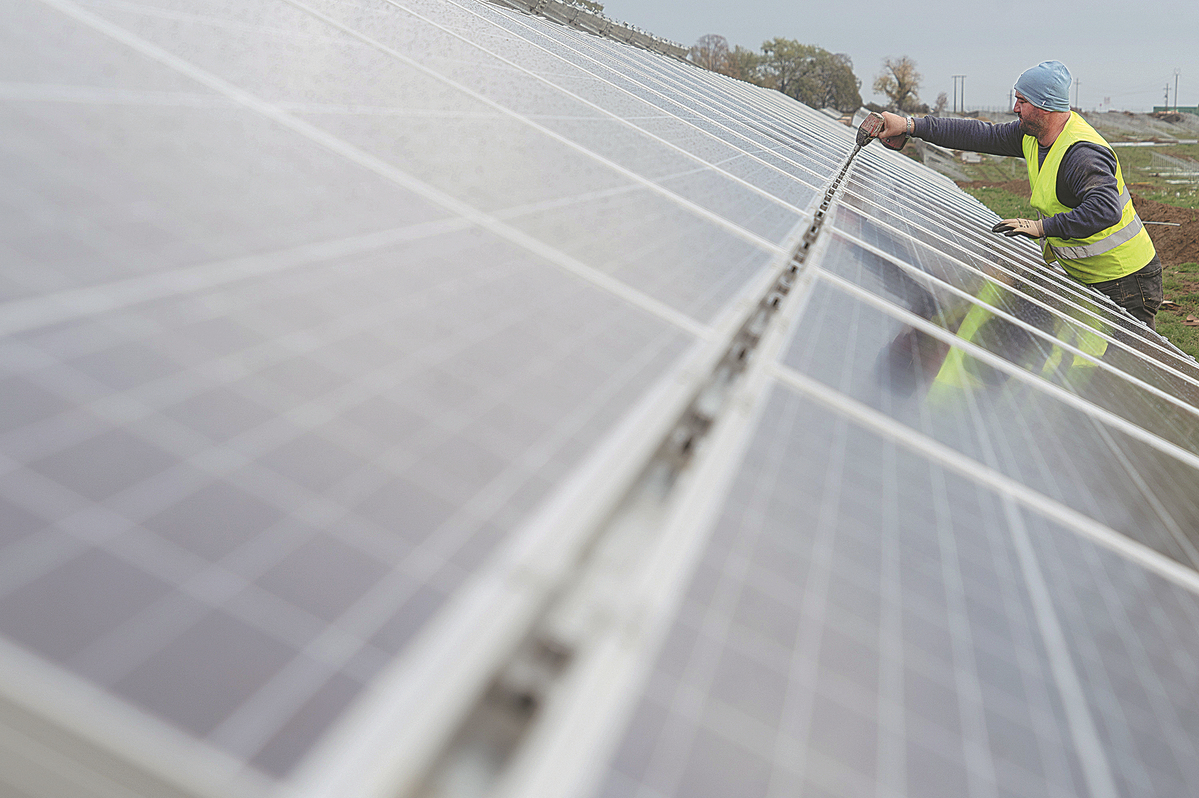 Domestic renewable manufacturers aim to 'actively grasp the opportunities' after witnessing rise in orders, global share
Chinese renewable manufacturers are likely to witness a boost in orders from the European market as the continent is planning a faster transition to clean energy to replace fossil fuels, said analysts.
As a plan to rapidly reduce dependence on fossil fuels, Europe will ramp up wind and solar power installations, doubling solar photovoltaic capacity to 320 gigawatts by 2025 and installing 600 GW by 2030, according to the REPowerEU plan announced by the European Commission in May.
The increasing demand for solar power will certainly provide more opportunities for solar companies in China, the world's top solar manufacturer, said Luo Zuoxian, head of intelligence and research at the Sinopec Economics and Development Research Institute.
Chinese solar companies are already witnessing a rise in orders from Europe while expressing an optimistic outlook for the European market this year.
LONGi Green Energy Technology Co, a world-leading solar company, said Europe is the second-largest market for the Xi'an, Shaanxi province-based company, only after the domestic Chinese market.
During the first quarter this year, the company saw 27 percent of its 6.44 GW component shipments go to Europe after China, which accounts for 32 percent, it said.
The company saw its share of component products in Europe reach 28 percent last year, and it aims to "actively grasp the opportunities brought by the growth of European market demand and further expand its presence in Europe in 2022".
Solar company Risen Energy Co Ltd has also long been laying out plans for Europe for years, including France, Poland and Spain, eyeing its massive potential for solar resources. It expects local installed capacity to further surge this year, thanks to local policies.
Customs data showed China's exports of solar components to Europe during the first quarter rose to 16.7 GW, 145 percent higher compared with the same period of 2021 with 6.8 GW.
During the first five months, the figure was 34 GW, up 129 percent year-on-year. Europe is the overseas market for domestic solar companies that has witnessed the most drastic growth during the past five months, it said.
Jiang Yali, a solar analyst at BloombergNEF, said Europe's solar market is quite positive. Surging energy prices are driving large-scale utility installation, and residential markets are also boosted to replace gas in the energy supply mix.
"Currently, more than 90 percent of solar component supply in Europe comes from China, leading to consistent surging exports of Chinese solar components, even though raw material costs have also been climbing," she said.
"Manufacturing capacity in Europe is relatively small in scale, and it can rely on China in the short to middle term."