Spike in Europe's solar power demand met by China
Share - WeChat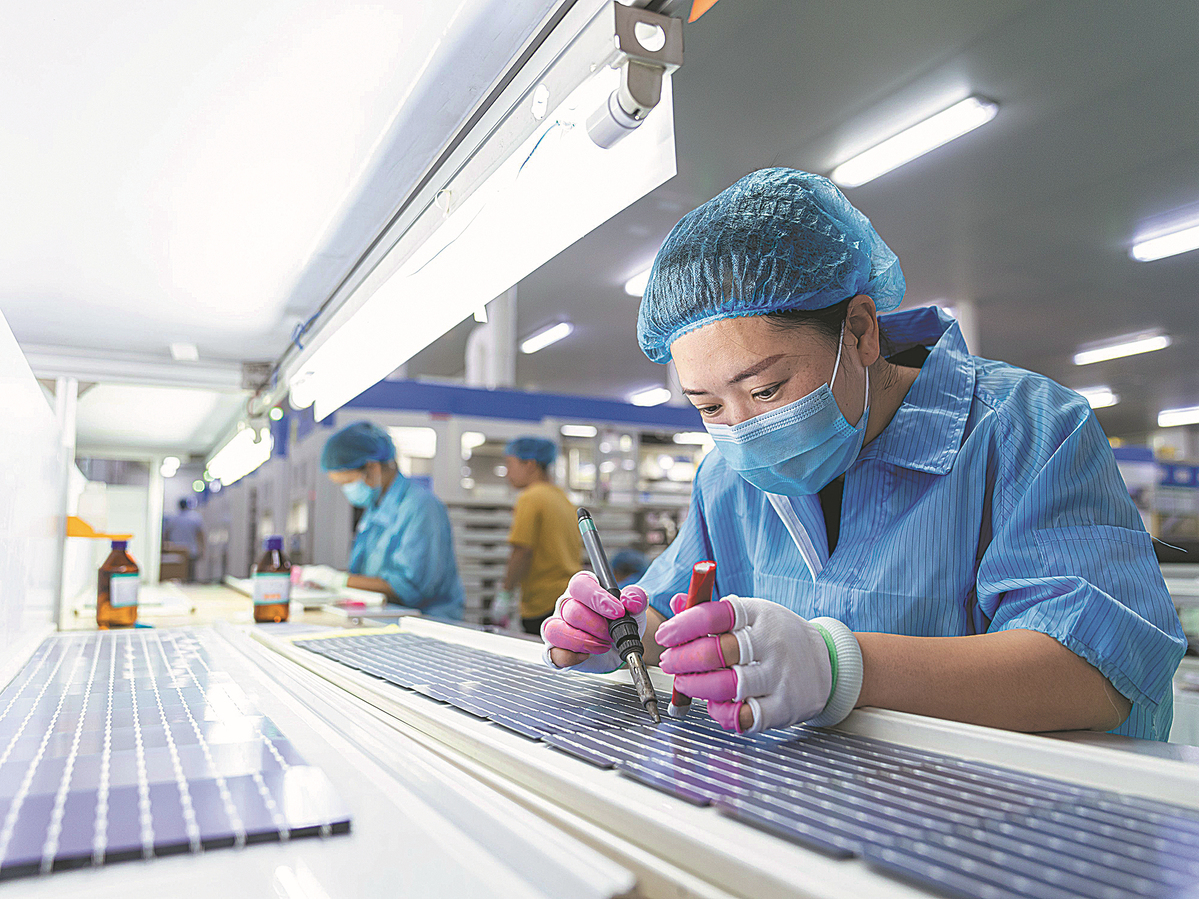 Jinneng Clean Energy Technology Ltd, or Jinergy, a PV manufacturer and clean energy provider in China, also reported increased orders from overseas, and it vows to further expand its presence in Europe.
Europe has long been the focus for Jinergy. The company's products are currently being exported to more than 10 European countries including Switzerland, Finland, Italy and Germany, it said.
Zhang Kun, executive president of GCL System Integration Technology Co Ltd, a Chinese operator of clean energy projects, also expressed confidence in the European market in 2022, saying with demand for photovoltaic products including inverters and other components exceeding supply, spot prices are expected to rise 3 to 5 percent compared with future products.
Zhang Yong, president of AISWEI Technology (Shanghai) Co Ltd, a manufacturer focusing on clean energy with a broad portfolio of photovoltaic inverter products, EV chargers and a smart energy management system, said the company has been replenishing products in the European market recently, which are sold immediately when shipped to local warehouses in Europe.
According to Luo, European countries have been stepping up energy supply capacity amid the gas shortage last year and the Russia-Ukraine conflict this year, either by resorting to fossil fuels and nuclear energy or stepping up new energy development. China, as a major solar and wind power equipment manufacturer and exporter, will play a key role in meeting the demand.
Chinese companies have long been dominating solar manufacturing, accounting for nearly all global production in some steps of the supply chain. Nearly 40 percent of its solar exports went to Europe in 2021, according to BloombergNEF.
This is against the backdrop of booming renewable energy development in the home market.
In recent years, China has been stepping up the development of renewable energy, including solar and wind power, with massive achievements in the sector as the country aims to peak carbon dioxide emissions by 2030 and achieve carbon neutrality by 2060.
The country will see its installed capacity of renewable energy account for more than half of the country's total by 2025, from 42.4 percent (930 million kilowatts) by the end of 2020, according to the National Development and Reform Commission, the country's top economic regulator.
The government also vows to generate 3.3 trillion kilowatt-hours of electricity from renewable energy by 2025, and its total renewable energy consumption will equal 1 billion metric tons of standard coal by then, it said.
Luo believes high oil prices worldwide will only further stimulate the already strong momentum.
On the other hand, solar manufacturing costs in China are also 35 percent lower than in Europe, 20 percent lower than in the US, and 10 percent lower than in India, according to data from the International Renewable Energy Agency.
In the eight years from 2010 to 2018 alone, the cost of electricity from utility-scale solar photovoltaic projects plunged by 77 percent thanks to Chinese manufacturing, while the world's solar capacity grew at a compound annual growth rate of nearly 43 percent over that period, it said.
Morgan Stanley estimated that Europe's drastic increased demand for solar power could translate to a 15 percent boost in overall Chinese solar exports over the rest of the decade as Europe's increase of solar capacity is nearly double what it was expected to add.
Jiang also warned of the potential risks and uncertainties due to the geopolitical situation and the potential non-trade tariff barriers posed to Chinese solar companies.
Luo agreed, saying Chinese solar companies should act with caution and avoid potential excess production capacity.
European countries are in the middle of an intense adjustment period under pressure to cut oil imports, he said.