Conservationist earns his wings
Share - WeChat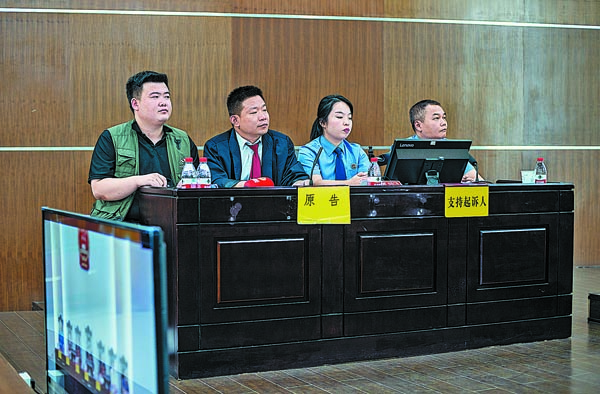 Upon graduating from the Central South University of Forestry and Technology in 2017, the young man took a less-traveled career path, choosing to work at an environmental protection organization in Hunan and help in the effort to protect birds and other animals.
Hunan is a waypoint on the East Asian-Australasian Flyway, which is one of the world's nine main routes for migratory birds. The Luoxiao and Xuefeng mountains are important channels for such migration, and Dongting Lake serves as a critical wintering habitat for birds along the route.
Over a decade ago, the hunting of migratory birds was prevalent in the area. Sheng learned from a documentary he watched in 2013 that, in one day, as many as 10,000 birds could be caught. In 2016, when he hiked on the Luoxiao Mountain, he could still see traces of bird hunting.
"I wandered on the mountain, and saw some ranges were bare. The grass had died due to the frequent visits of hunters. I could see the circle where they had set bonfires, and the caves they used as shelters," says Sheng.
After joining the Ecological Protection Volunteer Services Federation of Hunan Province in 2017, he participated even more in bird protection. He promoted the establishment of a four-tier system, which has groups from the provincial, county, and village levels and volunteers working together to protect birds.
Volunteers patrol the local area, dismantle nets and traps people set to catch birds, report to the police when they find evidence of illegal activity, and disseminate information on bird protection to local people through leaflets and brochures. According to Sheng, there are currently 56 groups all over Hunan, with more than 5,000 volunteers in total.
"Most of them are local people in their 40s to 60s, including farmers, fishermen, bird photographers and retired teachers. University students also join during their vacations," says Sheng.
He mentions the importance of the volunteers. "The mountainous area of Hunan is really large, and forest rangers cannot supervise every inch. Sometimes when they receive a report of illegal bird-hunting activities, it may take them two to three hours to reach the spot. Volunteers are local people, who can stop such activities near their homes. That is more convenient."
Most Popular