A blossoming career
Share - WeChat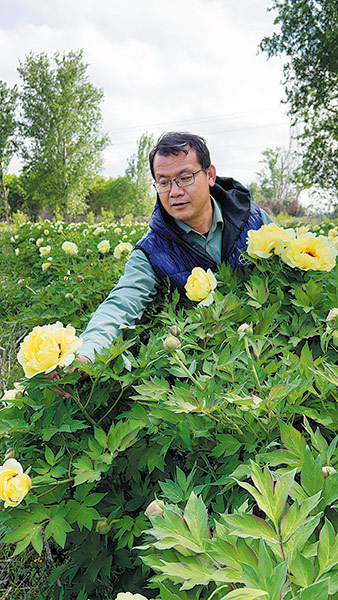 Peony expert sees his love of the plant spread across a number of fields, Xu Fan reports.
More than 20 years ago, Fan Baoxing-then a master's student at Shandong Agricultural University-was focusing on researching male and female flowers of cucumbers to raise the annual yield. However, a sudden task assigned by his tutor altered his life path.
"My tutor received a project aimed to extend the peony flowering span entrusted from the Shandong Science and Technology Commission. As the task required spending a lot of time in the field, and I was the only male of my teacher's three students, he suggested I suspend cucumber research and conduct the peony project first," recalls Fan.
In April 1996, Fan traveled to the project's cooperating site-Caozhou Peony Garden in Heze in western Shandong province, one of the world's largest peony nurseries which is home to over 1,200 varieties of 800,000 peony plants.
With the fading daylight distributing itself over the vast garden, the flowers were tinted with the sunset's color, forming an outrageously beautiful sight that Fan says he would never forget for the rest of his life. Despite being tired after the trip, Fan didn't take a rest. Instead, he walked throughout the garden to immerse himself in the fragrant flowers.
Most Popular