COVID-19 brings logistics rethink in Hong Kong
Share - WeChat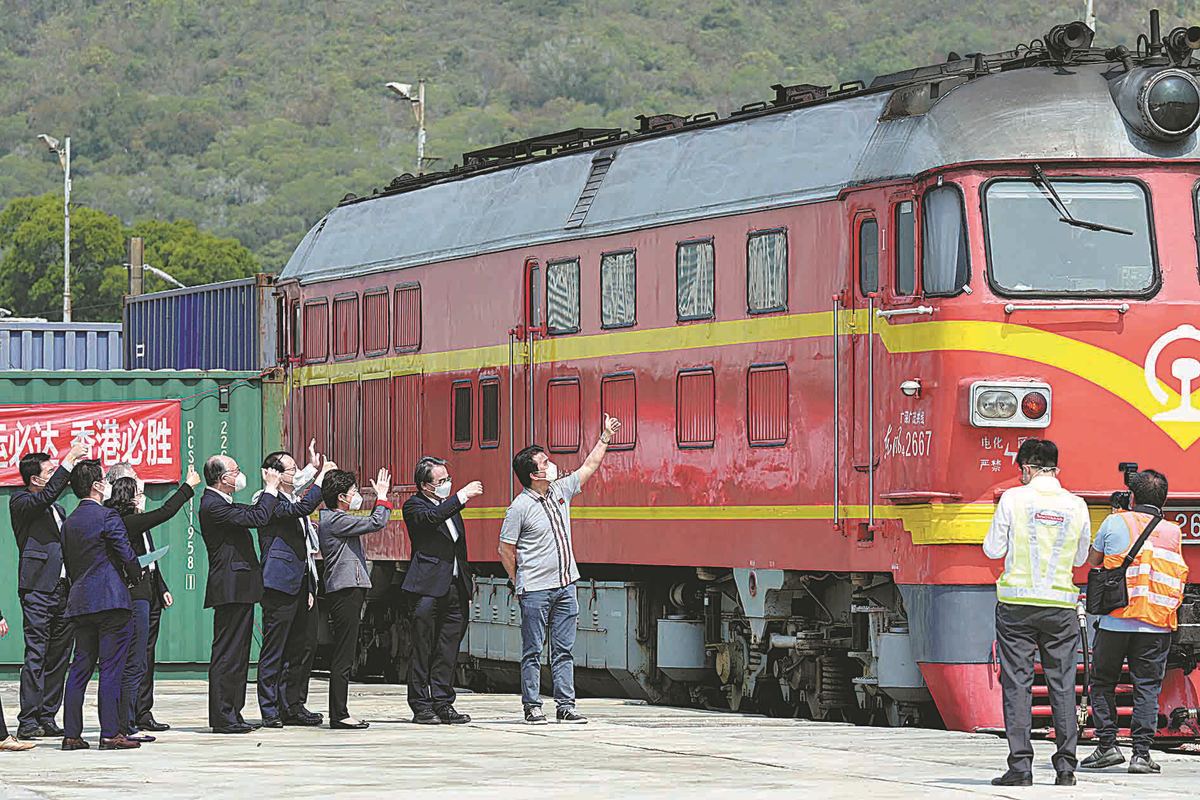 Drivers quit
The supply of fresh food and other necessities in Hong Kong relies heavily on workers such as Cheng. According to the local government, about 94 percent of the city's fresh pork and 92 percent of vegetables are imported from the Chinese mainland, with most supplies arriving by truck.
Chan Dik-sau, chairman of the Container Transportation Employees General Union, told Hong Kong China News Agency that before the pandemic emerged, some 13,000 truckers drove between the mainland and Hong Kong every day with supplies of fresh food. The drivers usually completed two or three border crossings a day.
Stanley Chiang Chi-wai, chairman of the Hong Kong Land Transport Council, said that after the pandemic hit the city in 2020, the number of truck drivers crossing the border fell to about 8,000.
Many drivers left the industry due to the strict anti-pandemic requirements, which included them being prohibited from getting out of their vehicles on the mainland due to a closed-loop management system.
In March, the number of such truck drivers fell further, to less than 6,500, Chan told Beijing Youth Daily.
The impact was quickly felt, with the value of goods transported to Hong Kong by land falling by 12.7 percent in February from a year earlier, according to the Hong Kong government
Truck drivers' income was also drastically affected. For example, Cheng used to complete two or three cross-border trips a day, earning about HK$600 ($76) per journey. At the beginning of March, he was only able to make one trip a day, with his income falling by about 50 percent.
Chiang said a round trip can now take about 20 hours, adding that costs have also doubled, as the wages of mainland relay drivers are usually borne by Hong Kong cross-border transportation companies.
In March, a relatively small outbreak of COVID-19 was reported in Shenzhen, Guangdong province, across the border from Hong Kong, but many parts of the mainland city were shut down to prevent the virus spreading.
In the middle of March, the number of trucks allowed to cross the border was limited to 500 a day by the Shenzhen authorities, a drastic fall from the pre-Omicron level of 18,000. Some cross-border freight companies had to stop operating, including Cheng's employer.
According to a survey conducted by the CTEGU in late March, only one in 10 cross-border drivers were working in the middle of that month, when Shenzhen limited the number of trucks making the crossing and required drivers to hand their vehicles over to mainland counterparts to pick up goods.
The value of goods imported from the mainland by land in March fell by nearly 60 percent year-on-year, according to the Hong Kong Census and Statistics Department.
The reduced land transportation links also affected Hong Kong's standing as an international logistics hub connecting mainland and overseas markets.
With its well-developed outbound transportation network, professional logistics services and free trade policies, Hong Kong acts as an entrepot for China's trade. Many mainland manufacturers import raw materials and export products via the city, making it an integral part of supply chains.