Transport links deliver prosperity
Share - WeChat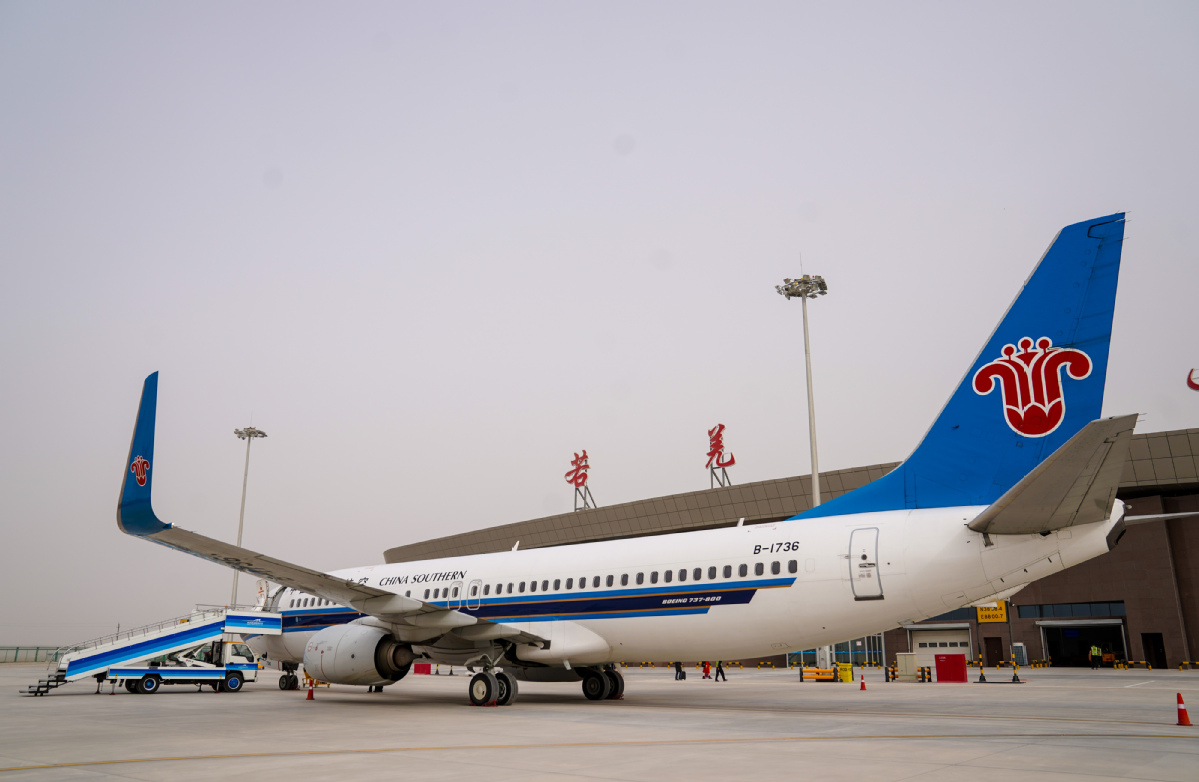 Twenty-five-year-old Silmha Matruz from Yutian county in the south of the Xinjiang Uygur autonomous region, used to have to take a four-hour bus trip to the city of Hotan followed by a five-hour flight to Hangzhou in Zhenjiang province, just to attend her university.
Because her hometown was so remote and lacked convenient transport links, many young people like Silmha would be dissuaded from traveling far away from home to go to university or even to seek basic medical treatment.
The county, which has a population of 300,000, is located at the southern edge of the Taklimakan Desert. Road was the only means of access to the region till December 2020, when a regional airport opened.
When she graduated from Zhejiang Normal University in 2020, Silmha planned to go to Urumqi, capital of Xinjiang, to look for a job.
But soon after she gained employment at the newly opened Yutian Wanfang Airport in her home county. She has worked as ground crew, at check-in and boarding, and in VIP services.
As one of the many locals benefitting from working at the new airport, Silmha is happy to earn the decent income her job provides-about 5,500 yuan ($810) a month-to support her family.
Yutian Wanfang Airport operates several air routes in and out of Xinjiang to cities such as Urumqi, Hotan, Beijing and Chengdu in Sichuan province.
Total investment for the airport was 7.6 billion yuan, which came from the central government budget, the Civil Aviation Administration of China and the government of the autonomous region.
It features a runway and terminal building covering 3,000 square meters and six aircraft bays.
According to the Xinjiang development and reform commission, the establishment of Yutian Wanfang Airport has improved civil aviation in Xinjiang, greatly enhanced transportation in the area and consolidated the accomplishment of poverty alleviation, playing an important role in social stability.
In the first year of its operation, airport passenger throughput was more than 100,000 people.
Commodities and agricultural produce from the county, such as shoes, clothes, walnuts, dates and roses, are flown from the airport to sell in other places.
"In 2020, I was planning to look for a job in Urumqi, but later I heard Wanfang airport would open soon and was hiring. I was so happy and applied for a job. More than 200 people applied and only 13 got job offers. We are all local residents," she said.
"Yutian Wanfang Airport is well known here and it makes me happy and proud to work here."
The airport has not only offered young locals new opportunities, but also injected vitality into the county's economic development.
"We lacked the competitiveness to attract investment because of the inconvenient transportation. But now things have changed. Yutian Wanfang Airport has become a calling card and is more likely to attract business and investment," Su Sha, head of the business investment service center at the county's business, trade and industrial information bureau, told Xinjiang Daily.
Last year, the amount of investment Yutian county attracted saw a year-on-year increase of 33 percent.
Last October, an asphalt road from the airport opened to traffic. In June, the first railway passing through Yutian is expected to open.
The upgraded transport infrastructure will bring more opportunities to the region and benefit local residents.
Xinhua contributed to this story.