Poor sense of direction, but a big sense of duty
Share - WeChat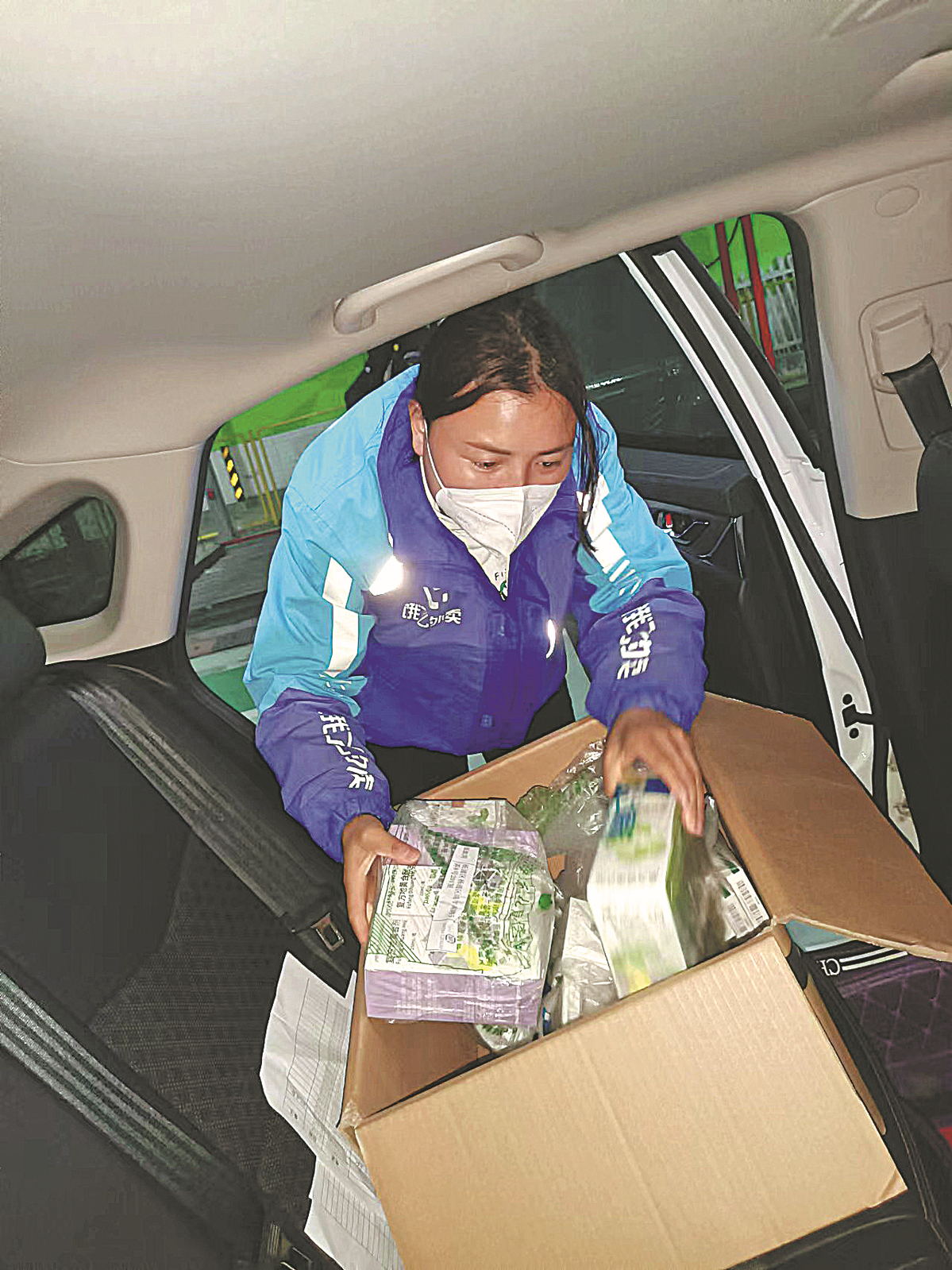 Tian Dan, who has a very poor sense of direction, never thought she would become a food delivery woman in Shanghai, and then volunteer for medicine delivery work when the city faced a new wave of COVID-19 cases.
The 33-year-old said she hadn't been to Shanghai for about 10 years, and she was amazed by the huge changes the city had undergone during that time.
"I don't have a good educational background, and my business in Guangzhou (in the southern province of Guangdong) failed several years ago. I spent two years as a housewife in my hometown, Hanzhong, Shaanxi province, but I decided to find a job in Shanghai in March 2021," she said.
"I registered with Eleme, a food delivery platform. Thankfully, at the very beginning my older brother, who is also a food deliveryman in Shanghai, taught me how to collect the meals and deliver them to customers. His most important mission at the time was to teach me and help me become familiar with the routes," she added with a laugh.
Her poor sense of direction remained a thorny problem when she had to make deliveries.
"I remember that after my brother had taught me for three days, he asked me whether I remembered the routes or the name of any roads we'd passed by. I gave him a big 'no'. He must have been speechless at the time," she said.
"It's a problem everywhere, even though I do other jobs. The beginning is always the hardest time. I couldn't always rely on my brother, and I started practicing delivering by myself. I often got orders with low delivery fees, such as 2 or 3 yuan (30 to 40 cents), that experienced deliverymen were unwilling to accept."
Life was not plain sailing. Tian said she once mistakenly drove along a viaduct after following a map and couldn't find the right way to the customer's home. Instead, she drove up and down, turning around and around on the bridge.
"Then I stopped and asked for help from an older man who sounded like a local. To my surprise, he mocked me, saying, 'You are not qualified to deliver food, you don't even know the route'," she said. "I burst into tears when I heard that."
Despite such incidents, she never lost her desire to gain a better life and win respect from others. Last month, she volunteered to deliver medicines and milk powder to families with children when Shanghai was experiencing a heavy blow from the epidemic.
"I was quarantined for a couple of days in early April, and what I wanted at the time was to get out and do something meaningful, even though I was afraid of getting infected at the beginning," she said.
She said she used her car to deliver the orders rather than her electric tricycle because there could be tens of miles between two drop-off points. "Most of the orders were medicines and milk powder, and I usually put them on shelves that community workers had erected in front of community entrance gates," she recalled.
"Very few customers were able to collect their items personally, but I remember that when I called a customer late one night, she asked me to wait at the shelf for a while. Then, she sent me a bag of snacks. That gesture was really heartwarming."
Tian said she was very busy during her period of voluntary work. "I started work at about 8 am and finished at midnight. I could deliver more than 30 orders a day," she said. "I did voluntary work until the end of last month."
She said she always has a positive approach to life, and she has never faced discrimination as a female food delivery worker.
"I can do as good a job as my male peers and earn roughly 17,000 yuan a month during peak seasons. As long as people need my help, I won't refuse," she said.