Economy to stabilize on solid support
Share - WeChat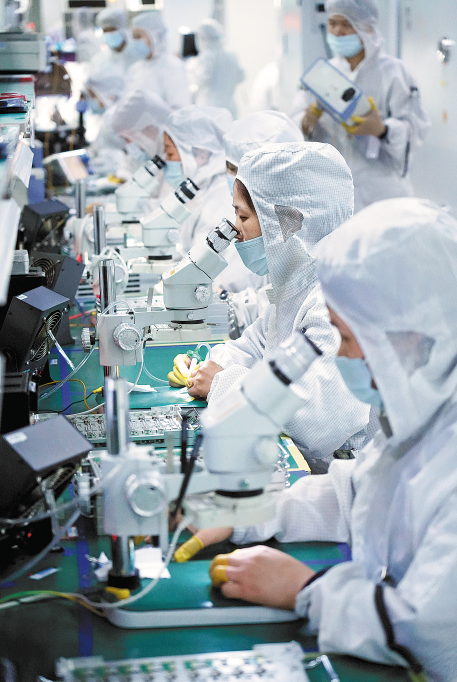 Business could pick up as early as May with a gradual recovery in household spending
China's economy is expected to stabilize and rebound in the coming months on better containment of COVID-19 outbreaks and stronger macro policy support, and it has the capability and the conditions exist for the nation to meet its major economic targets in 2022, economists and industry experts said.
Despite mounting pressure from the pandemic and a more complicated external environment, they believe the country has the policy tools and relatively large policy space to stabilize the overall economy, while the impact of COVID-19 outbreaks will likely be temporary.
They estimated economic activities could pick up as early as May with a gradual recovery in household spending and strong support from investment growth.
Considering the resilience of China's economy and its strong and targeted fiscal and monetary policy support, Zhang Dawei, vice-chairman of the China Center for International Economic Exchanges, believes China will likely meet its annual growth target of about 5.5 percent this year.
Attributing China's weakening economic activity since March to the severe disruption caused by a resurgence in domestic COVID-19 cases, Zhang told a recent seminar in Beijing that the nation may see a rebound in some key economic indicators in the following months.
His views were echoed by Sheng Laiyun, deputy head of the National Bureau of Statistics, who said in an interview with Xinhua News Agency the economy is likely to rebound as a result of better control of COVID-19 and the government's strong policy support.
He noted that COVID-19 outbreaks in regions like Jilin province and the city of Shanghai have been effectively controlled in May, with work and production having resumed in an orderly manner. Some leading economic indicators, such as electricity generation and power consumption, have already shown positive signs, Sheng added.
China's economy cooled in April with a drop in both industrial production and consumption, as COVID-19 outbreaks severely disrupted industrial, supply and logistics chains. Data from the National Bureau of Statistics showed the country's value-added industrial output and retail sales fell by 2.9 percent and 11.1 percent year-on-year in April.
Luo Zhiheng, chief economist at Yuekai Securities, said the disruption to industrial and supply chains affected China's consumption, services, industrial production and exports. The country is facing pressure from weaker expectations amid COVID-19 outbreaks and changes in the international environment.
He called for a strong fiscal and monetary response to shore up growth, including the issuance of special treasury bonds, a reduction in the reserve requirement ratio and an interest-rate cut.
Luo said he expects to see positive growth in industrial production in May and GDP growth of less than 4 percent in the second quarter on better control of the epidemic and strong policy support.
Looking ahead to the second half of the year, he said China's GDP may grow by over 5 percent with the government's effective measures to control the pandemic and implement supportive policies.
Despite the drop in industrial production and consumption in April, the NBS data showed fixed-asset investment rose by 6.8 percent year-on-year in the January-April period. The NBS said investment in infrastructure construction and manufacturing jumped 6.5 percent and 12.2 percent, respectively, during the first four months.
Iris Pang, chief China economist at Dutch bank ING, said this implies infrastructure investment is progressing and she believes those investments will continue to be the main growth engine this year in giving extra strength to the economy, which in turn will create more jobs for people.
Pang said reports that COVID-19 outbreaks in China have led to the loss of export orders in Southeast Asia is a temporary matter since it is not easy to change the whole production chain.
"There are some goods that could eventually be produced outside China, even those export orders given to Chinese companies. These would be less capital intensive. And China will then focus on more capital and technology-intensive products and services," Pang said. "But this is a process that won't happen overnight. It takes time. For now, we do not expect China's export growth to fall tremendously for too long."
Looking ahead, Zhou Maohua, an analyst at China Everbright Bank, said there is a relatively large room for fiscal, monetary and other policies, and China has various policy tools in hand.
China may see a recovery in consumer demand, and economic activities could pick up as early as May given the containment of the pandemic and the existence of strong policy support for hard-hit sectors and enterprises, Zhou said.