Song in a cup
Share - WeChat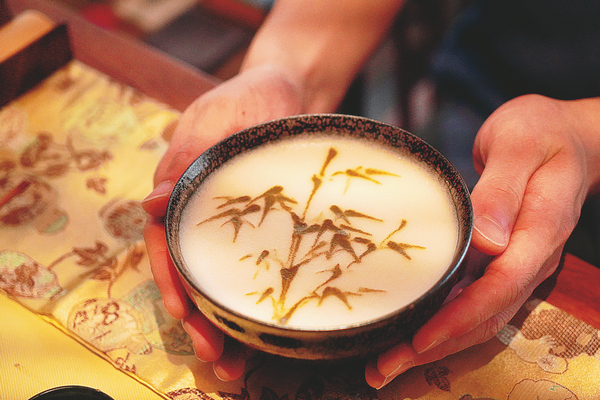 A graphic designer seeks to revive an old tea-drinking ritual, Yang Feiyue reports.
It's common to see a barista create coffee art, but it's a whole different ballgame doing same thing with tea. Han Zheming has managed to perfect the skill, creating tea art in cups, or dian cha in Chinese, which used to be a ritual during the Song Dynasty (960-1279).
Over the past six years, the 40-year-old Shanghai resident has used tea and spoons to create nearly 200 patterns based on ancient paintings.
"It's like adding bells and whistles to tea and giving people a stronger sense of occasion, so drinking tea is more fun," Han says.
It's also his intention to bring the old ritual back to modern life and have more people appreciate its charm. Dian cha in modern brewing enhances the taste of tea, Han says. "It is similar to the foam on top of a cup of coffee, except that it is made of tea rather than milk."
Chinese tea culture started to enjoy popularity during the Tang Dynasty (618-907) and flourished throughout the Song Dynasty, when tea had become a necessity for almost everyone, from nobles and scholars to common people, just like other indispensable items, such as rice, oil and salt, as suggested by Song politician and thinker Wang Anshi.
Different from the method of brewing tea during the Tang period, in the Song Dynasty, the prevalent way of having tea was through dian cha. The process begins with hot water being poured over fine powdered tea creating a paste, then more hot water is slowly added as the tea is constantly whisked by hand with a bamboo stick. It is believed that this method later spread to other parts of East Asia, including Japan, where similarities can be seen in the way matcha is prepared today.
Most Popular