Mutual fund advisory programs show promise
Share - WeChat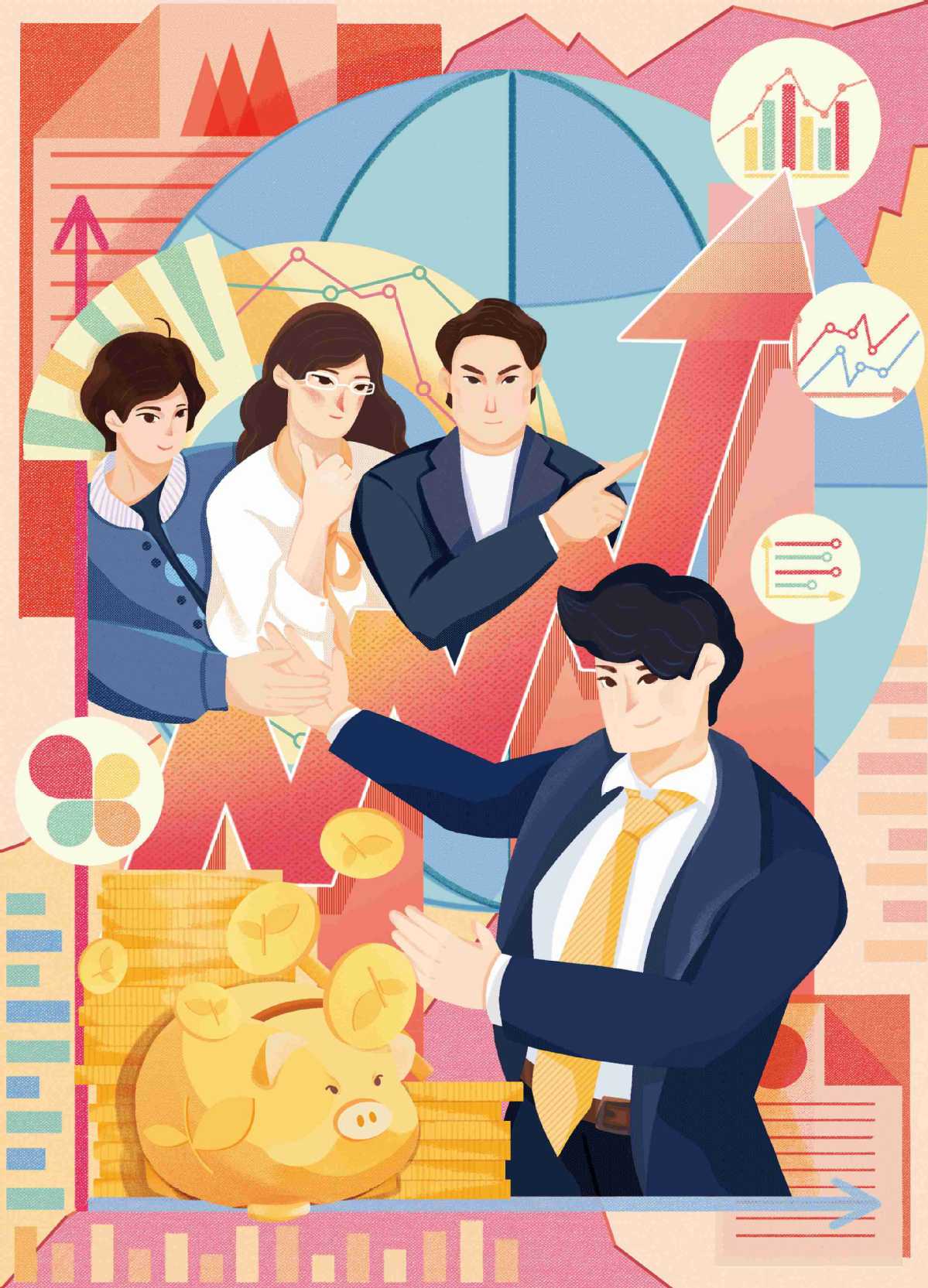 Amid fresh records in total net value and product launches, market matures with resolve to protect individual investors
Last year, two interesting streams of developments defined China's mutual fund market.
One, fresh records were set, reflecting the effectiveness of the ongoing institutionalization of the Chinese capital market.
Data released by the Asset Management Association of China in late January showed total net value of issued mutual fund products at the end of 2021 came in at 25.56 trillion yuan ($4.05 trillion), up 28.51 percent year-on-year, a new record. There were 9,164 mutual fund products available in the market as of Dec 31, also a historic high.
Although the benchmark Shanghai Composite Index climbed only 4.8 percent in 2021 and underwent significant fluctuations in the last four months, a majority-7,104 mutual fund products-reported gains last year, with 1,480 reporting annual gains between 10 and 30 percent, according to market tracker Wind Info.
Eighty-seven products saw their annual yields spike 50 to 80 percent and another 381 coming in between 30 and 50 percent. Mutual fund products themed on investment in new energy, coal and steel all reported annual yields of over 80 percent.
But, the second story that caught market insiders' attention was that individual investors did not benefit in a big way from the ongoing expansion of the Chinese mutual fund market.
According to Shanghai Tiantian Fund Distribution Co Ltd, 53 percent of individual mutual fund investors incurred losses in 2021. Only 11 percent of these investors made profits of over 10 percent-a big contrast to the industry overview.
However, 54 percent of retail stock investors managed to make profits last year, with 10.5 percent of them seeing their personal account numbers jump by as much as 50 percent in one year's time.
The easily affected sentiment further translated into false judgment and trading at wrong timing. Such factors may be the major reasons for individual mutual fund investors not doing well last year, said Liu Yiqian, head of the Shanghai Equities and Funds Evaluation and Research Center.
The A-share market mainly demonstrated structural performance last year with high volatility. Without the belief in long-term and value investment, individual investors may easily jump at ill-advised trading decisions. It is especially true at present as the supply of mutual fund products is sufficient. Individuals may sell the products in haste and rush for new ones that are said to boast high-flying fund managers and dazzling historic returns, he said.
But according to Fullgoal Fund, investors holding mutual funds for at least one year and making little adjustment usually see their annual yield 8 percent higher than those who make frequent portfolio adjustments.
Similarly, investors who repeatedly change their investment directions usually see their annual yields 6 percent lower than average, according to China Southern Asset Management. Experts from Tianhong Asset Management also said that investors holding mutual funds for three years and above will receive their annual yield four times that of holding products for only one year.
"Most investors will easily fall into the trap of chasing products when their prices are rising and selling them off when prices start to go down. They know the benefits of long-term investment, but they just cannot control themselves," said Liu.
Under such circumstances, mutual fund advisory programs, which are still emerging in China, are probably the right channel to resort to, he suggested.
On Oct 25, 2019, the China Securities Regulatory Commission issued an announcement to launch mutual fund advisory programs, which marks the start of such services in the country.
Public data show that up to 60 institutions have obtained qualifications to provide such services in China. By the end of July 2021, more than 2.5 million Chinese clients had used mutual fund advisory services, with the covered assets under management valued over 50 billion yuan.
Of course, the industry is nascent. The United States was already home to 13,494 mutual fund advisory service providers in late 2020, with regulated assets under management valued over $97 trillion.
A mutual fund advisory program, also called a mutual fund wrap, is a portfolio of mutual funds that are chosen to match a preset asset allocation model. The personalized model is based on the investor's risk tolerance, age, goals and other investment preferences. It is offered in a single investment account together with the services of a professional investment adviser.
According to the report on China's mutual fund advisory services jointly released by professional services provider KPMG in China and Vanguard Investment Advisory (Shanghai) in late January, the majority-80 percent-of Chinese mutual fund wrap users are a well-educated group aged between 25 and 35, with equal participation from men and women. Household investable assets ranged between 100,000 yuan and 500,000 yuan.
More than 80 percent of the 3,000 interviewees are married, and 70 percent of them have children. Under such circumstances, these users not only seek to increase their wealth but also require long-term family asset planning.
The report found many characteristics of Chinese mutual fund wrap users that will facilitate the development of the niche service in China. On the one hand, surveyed Chinese mutual fund advisory program users embrace online distribution channels and smart products, whose features are also offered by most of such programs currently available in China.
Meanwhile, over 60 percent of the surveyed mutual fund advisory services users have also purchased other wealth management products and nearly half of the interviewees have invested in stocks. Twenty percent of them have even invested in commodities and alternative investment products. Such diversification happens to be a major highlight of mutual fund wraps.
However, there are some obstacles to overcome should mutual fund advisory programs seek substantial growth in China. For one thing, only 30 percent of the interviewees prefer to hold mutual fund investments for more than one year, which is contradictory to the long-term wealth planning gist of mutual fund wraps, according to the report.
These interviewees only eked out 1,000 yuan to 10,000 yuan on average for mutual fund advisory programs in one year's time. Only 27 percent of the interviewees are willing to fully trust their advisers on all the investment decisions, meaning advisers can change the client's asset allocation based on their professional understanding.
Less-than-stellar market performance and lower-than-expected portfolio returns are the major reasons for users to redeem their mutual fund products. All of these have shown that there is a very long way to go for mutual fund wraps to grow into full swing in China, said the report.
User hesitation can be partly attributed to the low level of maturity of the mutual fund advisory services provided in China at present. According to experts from Shanghai Pudong Development Bank, a large number of the mutual fund advisory programs still give most of their attention to selling products rather than providing successful advisory services to users, the core of such programs.
Owing to a lack of adequate numbers of advisory professionals and early investment, costs of mutual fund advisory programs are still relatively high in China. As a result, they cannot meet the very fragmented and personalized wealth management requirements from various clients, said SPD Bank experts.
According to Zhang Yu, CEO of Vanguard Investment Advisory (Shanghai), advisers should help clients to understand and plan their personal accounts. The targets set for wealth management should also address the most widely seen demand regarding Chinese people's deposits, he said.
"But still, we can see great potential for mutual fund advisory programs in China in terms of the types of products and services," said Zhang.