Chinese firms' CSR initiatives benefit Zimbabwe
Share - WeChat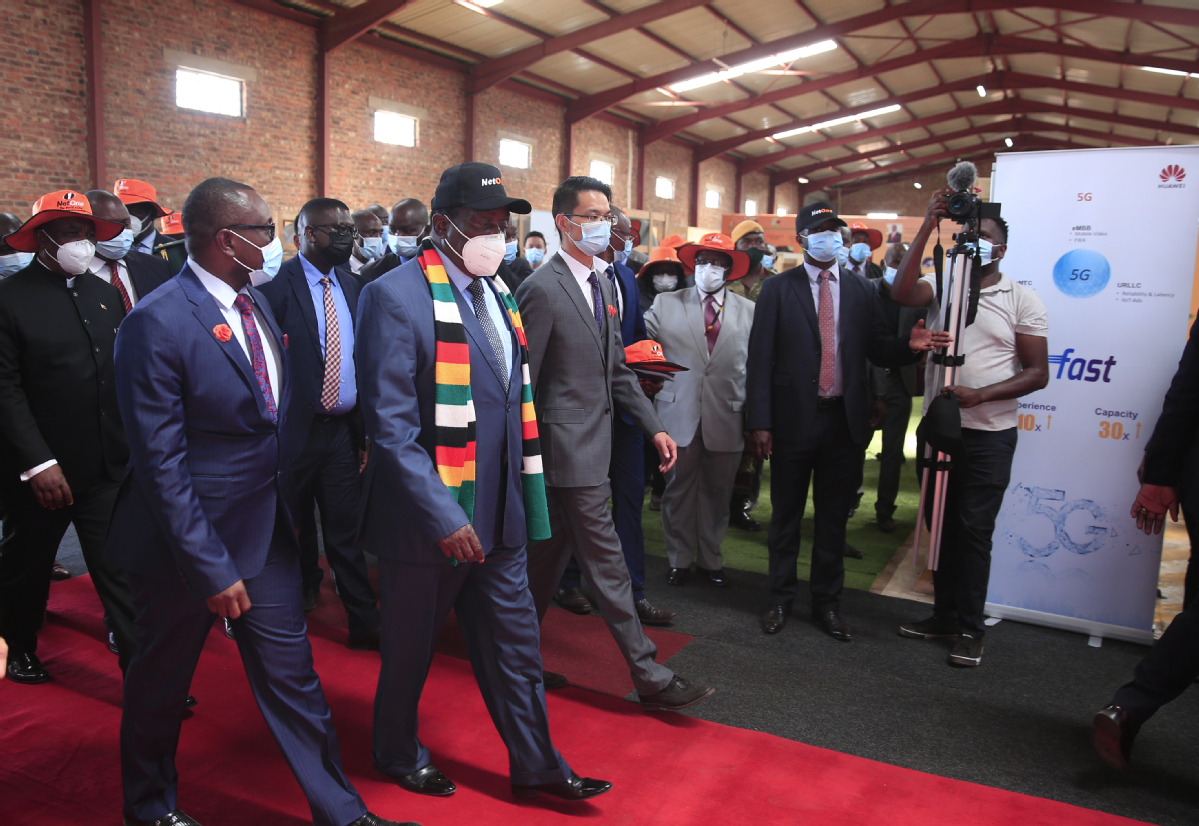 HARARE-Increased diplomatic and economic engagement between China and Zimbabwe has seen many Chinese companies investing in the southern African country. These Chinese enterprises in Zimbabwe are engaging in corporate social responsibility initiatives that aim to improve the livelihoods of ordinary people in the communities they operate in and play their part as responsible participants in the local economy.
The initiatives that they have undertaken include the funding of public health programs, sponsoring education, providing access to clean water and fighting the COVID-19 pandemic.
Considering that education is a foundation of economic development, Chinese companies are pouring resources into the sector.
To help young people stay in school during the COVID-19 pandemic, PG Foundation, a charitable arm of PG industries-a Chinese invested company-has stepped up efforts to provide assistance in support of vulnerable children in disadvantaged communities.
Huawei, a Chinese telecommunications giant, is playing its part in bridging the technical skills gap in Zimbabwe's telecommunications sector through its Seeds for the Future program. The program is Huawei's global flagship CSR initiative that aims to nurture young ICT professionals in countries where Huawei operates. Beneficiaries of the program describe it as an eyeopener that has given them a new ICT perspective and broadened their career paths.
"If we can continue engaging with the giants like Huawei, we will be able to tap their knowledge, and they will be able to give us the knowledge that they have and the experience such that we as Zimbabweans can be able to adopt the technologies that China is using for the betterment of our ICT industry," said Takudzwa Tarutira, a telecommunications student who has benefited from the Seeds for the Future program.
In an interview with Xinhua News Agency, Huawei's local partner TelOne General Manager Sharai Dube praised Huawei's unique approach to CSR which focuses on empowering local communities.
"So traditional corporate social responsibility (is a way) whereby people are given money donations. They use it today and tomorrow, and they will still need more. In this case, we see that the students are being trained and their skill sets are being improved so that they can be able to use them in the future for their own betterment," said Dube.
Since the Seeds for the Future program was launched in Zimbabwe in 2015, more than 80 undergraduate students from different universities in Zimbabwe have benefited.
In the education sector, Chinese enterprises in cooperation with the China-Africa Economic and Cultural Research Center, a local research institute, are also providing scholarships to Zimbabwean students.
Improving livelihoods
In many rural districts across Zimbabwe, engineering and construction company China Jiangxi Corp in collaboration with China Aid, the international aid agency of the Chinese government, have helped local communities by digging for water.
Since 2012, a total of 1,000 water wells have been drilled in six provinces across Zimbabwe.
One of the beneficiaries of the program, Nothokozo Ngulube, from Gwanda district, Matebeleland South Province, said the drilling initiative had brought convenience to women since spending more time searching for water meant that they had to set aside productive work.
"This availability of water near our villages has benefited us a lot because we are no longer wasting time going long distances looking for water," she said.
Another Chinese-owned company, Afrochine, a subsidiary of Tshingshan Holdings, one of the world's largest stainless steel producers, has embarked on several CSR initiatives that include the drilling of wells and the provision of personal protective equipment to frontline workers.
Apart from its CSR initiatives, Afrochine is also expected to create 4,000 employment opportunities for locals through its investments in a new carbon steel plant currently under construction.
"This investment will create 4,000 direct jobs. However, there are massive opportunities for upstream and downstream jobs and we estimate that up to 10,000 people will benefit in terms of different levels of employment opportunities," Benson Xu, the company's general manager, was recently quoted by The Herald newspaper. "Indeed, we also have a comprehensive CSR program that will ensure that the community will benefit directly from the resources being exploited in the areas."
Through its charitable arm, Kubatana Afrochine Trust, the company has also provided skincare products to people living with albinism and has also provided donations to the elderly.
Other Chinese companies such as Sunny Yifeng, a tile manufacturing company, are involved in the betterment of society, including donations to local schools. Chinese enterprises in Zimbabwe through the Chinese Business Association are also involved in various charitable initiatives across the country.