Digital inheritance triggers fierce debate
Share - WeChat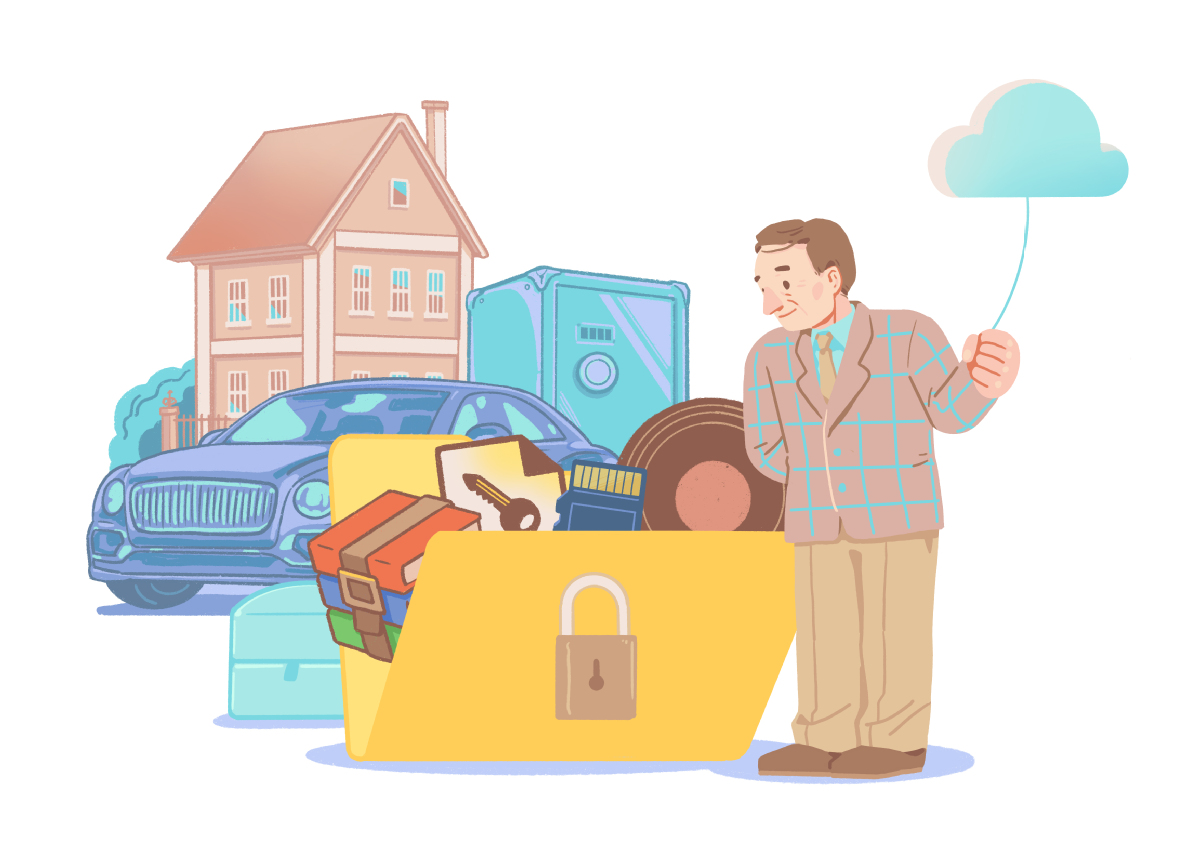 Opinions mixed on retaining or deleting online history after death
In November, Apple released a new feature in its latest operating system update. The program, Digital Legacy, allows users to pass on personal information to family members and friends in the event of the user's death.
A maximum of five "Legacy Users "can be added to a person's iCloud account, so that when that individual dies, these contacts can obtain his or her details through an access key.
Also in November, a picture created by an online painter circulated widely on social media platforms.
The picture introduces a new product concept, "the smart coffin", with users collating their personal details on a flash drive and then following pop-up instructions. After a user dies, the "smart coffin "publishes an obituary, notifies close contacts, transfers passwords to personal accounts, or deletes data, according to the deceased's wishes.
All the user's data is stored in the "smart coffin", which requires password access. In the event of death, the "coffin" can be switched to "dead" status by entering the deceased's death certificate number. Artificial intelligence then takes care of the other procedures required.
Digital Legacy and the "smart coffin" have triggered heated online discussion about arrangements for online inheritance.
Some netizens welcomed the "smart coffin", saying such a product is necessary, while others said they had a considerable amount of data they did not wish family members to see.
As digitalization penetrates further into daily lives, netizens have become increasingly concerned about personal details left on the internet-and how to deal with them properly after death. Young people comprise the group most concerned about digital inheritance, with many of them drawing up wills.
A white paper released by the China Will Registration Center in March, shows that in 2020, nearly 11 percent of the post-'80s generation and just over 21 percent of the post-'90s generation mentioned virtual assets in their wills. They have accounts with Alipay, WeChat, QQ and with video game providers.
Among the post-'90s generation who have made wills, virtual assets ranked third in importance, after bank deposits and real estate.
Wu Wanzhen, a member of the younger generation who recently planned for her digital afterlife through the China Will Registration Center in Shanghai, said that if she died unexpectedly and didn't make plans in advance, there was a good chance that her digital history would be seen by her parents.
However, the planning process wasn't easy-requiring far more time and research than she expected. From initially consulting the center's professionals, including lawyers, to final approval of her will, the entire procedure took the 26-year-old media worker nearly two months.
The first problem Wu encountered emerged as she was sorting through her digital assets. Currently, there is no law clearly defining virtual property, so Wu didn't know what she could put in her will.
After consulting a lawyer, she divided her accounts into two categories, based on whether they had any real economic value.
For example, her accounts with Alipay and WeChat Pay, as well as for video games, were categorized as economic assets. Social media accounts, on the other hand, were considered non-material assets.
But without a specific judicial interpretation of digital inheritance, the handling of these assets is mainly based on user agreements signed with network providers, which have different rules depending on the service.
Alipay's service agreement states that "property interests" with the online payment platform can be inherited by law. Close family members of the deceased can inherit the balance deposited with Alipay by providing a death certificate, identification card and proof of kinship. WeChat Pay also allows such balances to be passed on.
Dispute has arisen over inheritance of social media accounts. The majority of such providers state in user agreements that an account is for personal use only and cannot be transferred, loaned or inherited.