Campus tale for ancient books
Share - WeChat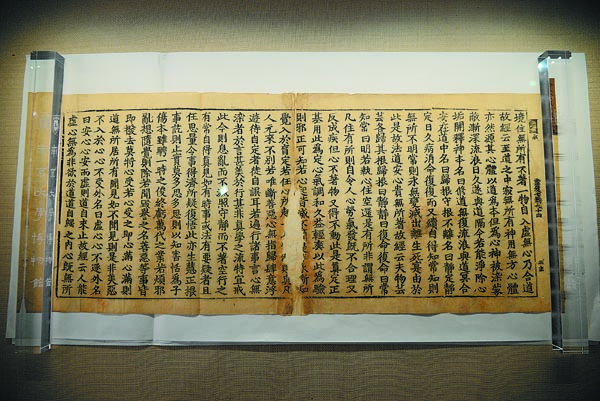 The cultural legacy
Custodians of these precious pages understand the painstaking efforts by their predecessors to pass these collections down to future generations, sometimes against incredible odds.
According to Cheng Zhangcan, director of Nanjing University Library, about 400,000 ancient books were housed in the university, and about 30,000 copies are listed as "rare and precious editions".
"The collection is comprehensive," Cheng says. "Our special collections feature local chronicles, atlases of frontier areas, and serial books during the Ming (1368-1644) and Qing (1644-1911) dynasties."
Nevertheless, many of them have stayed in the warehouse and remained unknown to the public, let alone their individual odysseys through wars and the social upheaval of the last century.
Apart from donations from scholars and alumni in recent decades, most ancient books in the collection come from the then National Central University, predecessor of today's NJU, and University of Nanking, a private university that was merged into the NJU in 1952.
John Calvin Ferguson (1866-1945), an American Sinologist who was president of the University of Nanking, also made a key contribution to enrich the inventory. In 1934, he donated his entire collection of Chinese books and cultural relics to the university, including "the gratitude sutra" and Yunji Qiqian that are on display.
In 1937, when the War of Resistance Against Japanese Aggression (1931-45) approached Nanjing, the Chinese capital at the time, the Central University was relocated westward to Chongqing in case it fell into enemy hands.
Some other private universities in China chose to remain in situ, because their connection with Western countries could offer a temporary protection against the Japanese invaders, but the University of Nanking made a patriotic decision to move westward as well. It was relocated to Chengdu, Sichuan province.
The many ancient books belonging to both universities were also relocated. However, even that was not a simple process. Due to a lack of transportation, some books had to be hidden en route, at a doctor's house in Wuyuan county, of today's Jiangxi province, until the war ended, according to Shi.
"Fortunately, all of the books were later returned to Nanjing, safe and sound," Shi says. "When staying in Sichuan province during the tough wartime years, librarians still continued to collect ancient books and brought back an even greater number of precious documents.
"This cultural heritage made a great contribution to development of academic studies over the past century," she says.