Exhibition puts Chen Yifei's creative process in the frame
Share - WeChat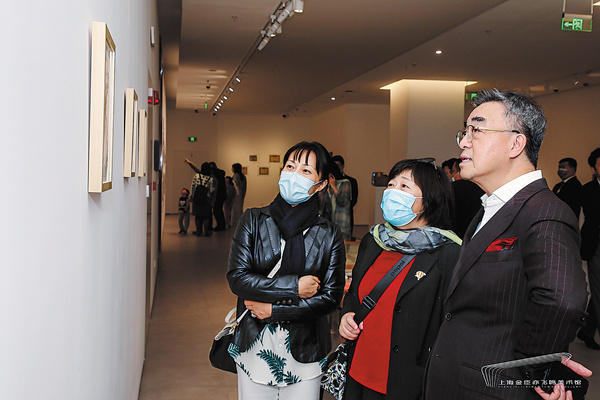 A new exhibition in Shanghai is showing teaching material, sketches and draft paintings by the late artist Chen Yifei that reveal the early years of one of the most important artists in contemporary China.
The exhibition, which opened on Nov 20 and will run through Feb 20 at the Jinchen YFM Art Gallery in the city's Minhang district, features documents from the early 1960s to the late 1970s that recount the formative years of Chen (1946-2005). The exhibition is showcasing his palettes and brushes, hand-written diaries and filmmaking.
A few of his best-known creations during that period, such as The Takeover of the President's Residence, which was created with colleague Wei Jingshan in 1977, are shown in their replica forms as the original paintings are currently key pieces in permanent exhibitions in the country.
"We have presented several of Chen Yifei's renowned creations from the 1960s and '70s alongside drafts, sketches, journals and other documents about his creative process, to provide insights into the development of his methodology of storytelling through painting," says Chen Yiming, executive director of the gallery, and younger brother of Chen Yifei.
Chen Yiming is himself a successful oil painter.
"We will find that Western classical art and impressionism techniques in composition and treatment of colors and light were absorbed and adopted by Chen Yifei in painting Chinese subjects, alongside the Soviet-style socialistic realism. He was constantly in dialogue with masters of the past, and always looking for new breakthroughs."
The image of a javelin thrower speaks the loudest of his brother's desire to break through into new frontiers in contemporary Chinese art, Chen Yiming says.
Chen Yifei achieved national recognition at a young age with his large-scale revolution-themed paintings. In 1980, he moved to the United States to study art and became one of the first Chinese artists to achieve international success. In the 1990s, he returned to Shanghai and became an entrepreneur, creating fashion brands, art magazines and even helped to set up one of China's first model agencies. Later he developed a passion for filmmaking and was shooting his second feature film, titled The Barber, in 2005 when he suddenly fell ill and died.
According to Zhuang Zexi, executive curator of the exhibition, one of Chen Yifei's most notable contributions is his demonstration of sketch skills in a class given by Meng Guang of the Shanghai Institute of Fine Arts in a documentary made by the Shanghai Film Studios in 1979.