Car manufacturers set to make inroads into Europe market
Share - WeChat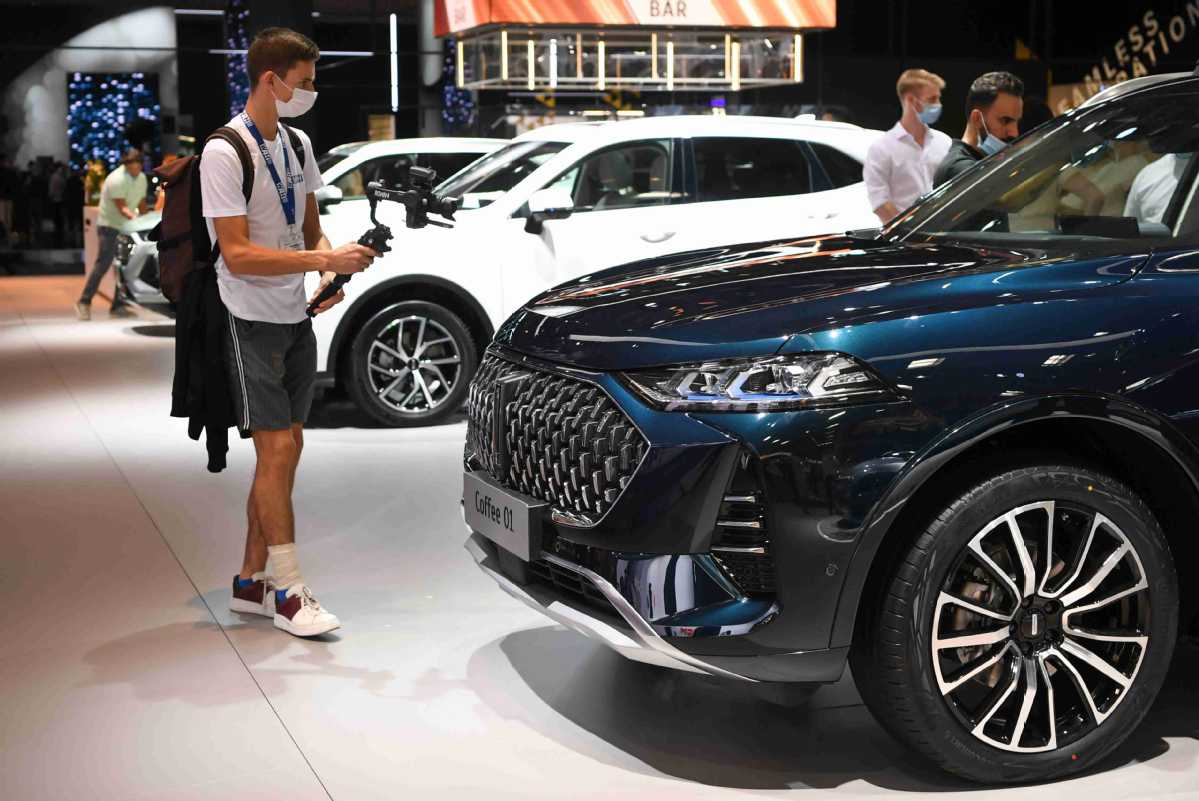 The majority of Chinese vehicle exports have been sold in developing countries for quite some time.
But some companies are now seeking a change, making inroads into Europe, where modern cars were invented.
"Chinese carmakers now have the courage and ability to take on European brands head-on," Great Wall Motors said in a statement at last month's Munich auto show.
At the most important auto event in Europe, the carmaker, China's largest SUV and pickup manufacturer and a partner of BMW, announced delivery of its models in Germany starting in 2022.
Among the first will be its Coffee 01, a plug-in hybrid SUV under its high-end brand Wey.
The plug-in hybrid model has a range of 150 kilometers on electric mode only.
It has a number of advanced driving-assist functions as well as smart cabin features like facial recognition and an augmented reality heads-up display.
"As the vanguard of Great Wall Motors' overseas strategy, Wey will start first in Germany and then move to other parts of Europe," said Sun Bing, a senior executive in charge of the marque's operations in the European Union.
Wey said it will open the first European experience center in Munich in 2022 and over 60 service facilities will be set up in the same year.
Ora, the electric brand of Great Wall Motors, announced its European campaign as well, with the first model to be delivered in 2022.
The marque said it will offer five new-energy vehicle models within two years for customers in Europe, and more than 10 models will be available on the continent in 10 years.
Reuters reported that Great Wall Motors may take over a Nissan plant that is due to shut in December in Barcelona, Spain.
Nissan announced last year that it is shutting three plants in Spain, Europe's second-largest car producer, as part of a global restructuring.
Analysts said this would facilitate Great Wall Motors' efforts to gain a foothold in Europe.
Other major Chinese carmakers, including SAIC, BYD as well as electric car startups such as Nio, Aiway and Xpeng, have been exploring the European market.
"Only when Chinese auto companies enter the markets of developed countries can they truly participate in international competition," said Cui Dongshu, secretary-general of the China Passenger Car Association.
For more than a decade, China's carmakers have tried to sell vehicles in developed markets, with mostly limited success.
"They still have some heavy lifting to do to gain the trust of European and US consumers," said Tu Le, founder of consultancy Sino Auto Insights.
"They still need to take time-the BYD brand is still unfamiliar to the average US and European or UK consumer. They need to invest that time, capital and education, create awareness and build trust."
BYD, China's largest new-energy vehicle maker, shipped its first electric model, the Tang EV, to Norway this summer, as the first stop in its efforts to explore the European market.
It plans to sell 1,500 units this year in the country.
Some analysts said technologically there is an opportunity for Chinese carmakers to become established in Europe as the continent is shifting toward electrification.
For six years, China has been the world's largest producer of and market for electric vehicles and plug-in hybrids.
Chinese carmakers are ahead of European giants including Volkswagen and Daimler in offering such products, and they are doing a far better job when it comes to smart operating systems for vehicles, industry experts said.
Selling cars to Europeans is a "tough business, especially if your product isn't well known," said Arnie Richters, chairman of Brussels-based industry group Platform for Electromobility.
"But if they bring a lot of innovation, they have a lot of opportunity."
Alexander Klose, executive vice-president of Chinese electric car startup Aiways, said the company aims to sell across the EU by next year and to enter the US market by 2023.
"The fact that there are more Chinese carmakers entering the market will also help us, as it will make Chinese brands more accepted by consumers," said Klose, a former executive at Volvo and Ford.
William Li, founder of Chinese startup Nio, said its vehicles will be available in five European countries by 2022. He said the company has been discussing the possibility of entering the US, but it has not worked out a definitive plan.
Li told Reuters that he foresees a long road to success in a mature market like Europe, adding that Chinese carmakers may need up to a decade to "gain a firm foothold" in the continent.
Herbert Diess, chairman of Volkswagen AG, Europe's largest carmaker, said he is happy that Chinese competitors are coming to Europe.
"We like competition. I think that's good for the customers because they get more offerings and it's good for us because competition always is something positive," Diess said.
Volkswagen, which has brands ranging from Skoda to Audi, sold over 120,000 electric vehicles in the third quarter of this year worldwide.
By 2030, it plans to have brought to market 70 fully electric models, and the company expects them to account for 60 percent of its new car sales in Europe.