Energy giants boost domestic production
Share - WeChat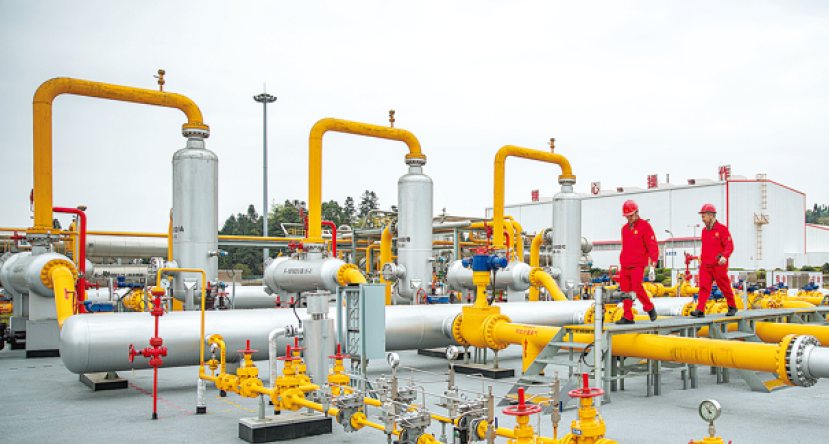 As the country's natural gas consumption keeps climbing in recent years, China's oil giants have been ramping up natural gas production and gas storage peak-regulating capacity to ensure sufficient gas supply in the country.
China National Offshore Oil Corp, the country's top offshore oil and gas driller, said its Deep Sea No 1 gas field-China's first large-scale, ultra deep water gas field independently explored and developed domestically-entered operations in September, and is expected to provide more than 3 billion cubic meters of natural gas annually.
With a maximum operational water depth exceeding 1,500 meters and proven geological reserves of natural gas exceeding hundreds of billions of cubic meters, Deep Sea No 1 will play an integral part in the nation's efforts to achieve carbon neutrality by 2060, it said.
The other two oil majors in the country, China Petroleum and Chemical Corp, known as Sinopec, and China National Petroleum Corp, have also been accelerating their gas output, with a batch of major oil and gas discoveries announced during the first half.
Sinopec, the world's largest refiner by volume, announced that as part of its efforts to step up gas storage facility construction and enhance gas storage peak-regulating capacity, its first gas storage tank in Shandong province-Shengli oilfield Yong-21 gas storage tank-began operations and started trial gas injections recently. It also plans to further accelerate gas storage construction in oil fields in central, northwestern and northeastern parts of the country.
CNPC said it has produced 70 percent of China's natural gas output each year and it has also been accelerating the development of China's unconventional shale gas reserves. The company saw its production of natural gas exceed that of oil for the first time last year, with more than 130 billion cu m of gas production.
Insiders said the dynamic gas output growth of China's national oil giants and their further plans to ramp up production show these companies' commitment to speed up energy transition by pivoting to gas.
The three national oil and gas companies all see natural gas remaining a pillar of growth in their core business and pledged to expand their existing natural gas business, said Cao Lujia, an analyst at BloombergNEF. BloombergNEF estimates domestic gas output will account for 55-57 percent of consumption over 2021-25. It also accounts for the majority of gas supply in China.