More SOEs embrace hydrogen
Share - WeChat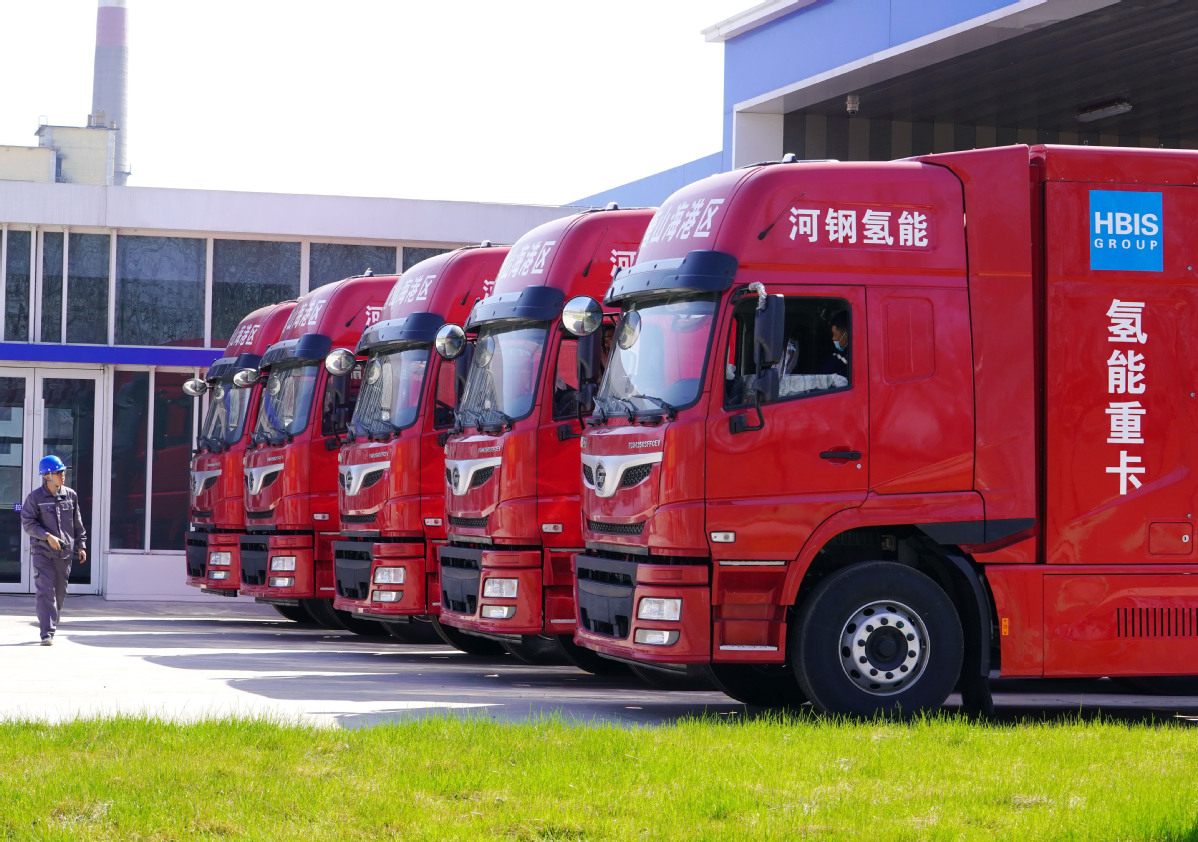 Green fuel seen as key strategy for reaching emission reduction goals
With China's carbon neutrality pledge further elevating hydrogen's strategic position in the country, companies are showing more enthusiasm than ever, actively involving themselves in hydrogen power production, storage, refueling and related businesses.
While more than one-third of centrally administered State-owned enterprises are gearing up to tap China's hydrogen power development, at least 23 provinces nationwide have also announced hydrogen plans by August, according to figures released by BloombergNEF.
Many of them have set transport as their main downstream focus, with companies such as China Petroleum and Chemical Corp, or Sinopec, China National Petroleum Corp and State Power Investment Corp Ltd all coming up with detailed plans for developing hydrogen refueling stations and hydrogen-powered transportation, it said.
As the first national oil and gas company to look at green hydrogen for industrial use, Sinopec-banking on Beijing's environmental policies to boost demand for zero-carbon fuels and the equipment and facilities needed to produce them-has been paving the way for China's hydrogen strategy.
It has invested in two of the world's largest green hydrogen projects in Ordos, the Inner Mongolia autonomous region and the Xinjiang Uygur autonomous region, each with an annual output capacity of 10,000 metric tons.
The plant in Ordos is expected to be completed by next year, and will supply hydrogen to a coal-to-chemicals plant there run by Zhongtian Hechuang Energy. The one in Xinjiang will supply Sinopec's local oil refinery.
"China's national oil and gas companies have all announced their own net-zero targets following the nation's pledge, pursuing hydrogen use in transport as a hedge against future drops in petrol-based fuel sales," said Cao Lujia, an analyst with BloombergNEF.
"While China National Petroleum Corp is eyeing the development of a low-cost hydrogen value chain and to build hydrogen refueling stations in anticipation of a drop in petrol demand from road transport, Sinopec-with the largest downstream market presence in the country-has the most ambitious hydrogen plans in place, and hydrogen for the transport sector will likely be its top priority," Cao said.
Sinopec, China's largest oil refiner and petrochemical producer, also aims to become the country's top hydrogen company by 2025 and achieve net-zero carbon emissions by 2050, 10 years ahead of the national target.
Wang Xiaoting, an analyst with BloombergNEF, believes China is likely to become a major market for hydrogen and Sinopec has the most ambitious target among the three national oil giants.
"In China, large firms are investing in hydrogen to demonstrate alignment with the government's carbon neutrality target and government funding is also on the rise," Wang said.
Sinopec is the largest producer of gray hydrogen in the country today and plans to commission 510 megawatts of green hydrogen production capacity in 2022 based on two projects in Inner Mongolia and Xinjiang, compared with only 200 MW of electrolyzers being shipped globally last year, she said.
According to the Hydrogen Industrial Technology Innovation Alliance of China, the country's hydrogen energy industry output value will reach 1 trillion yuan ($150 billion) by 2025, while demand for hydrogen will approach 60 million tons by 2050.
The alliance expects hydrogen will account for more than 10 percent of the country's terminal energy mix and become a new growth pillar of the economy, with annual output value of the industrial chain exceeding 12 trillion yuan by 2050 as policies and projects around the world involving the clean fuel have been expanding rapidly since 2018.
The Chinese government has rolled out a series of measures to boost the industry's development in recent years.
Hydrogen power was first written into China's Government Work Report in 2019, which stated that the government will promote the construction of charging and hydrogen refueling facilities. It was followed by a General Office of the State Council document last year that called for stepped-up efforts in research and development of technologies related to hydrogen storage, refueling, cost reduction and security.
By the end of 2020, China had 128 hydrogen refueling stations and more than 7,000 hydrogen vehicles on its roads, said the Hydrogen Council, a global initiative of leading energy, transport and industrial companies.
Experts believe it is time to tap into hydrogen's potential, including in long-haul transport and the production of chemicals, iron and steel, to allow it to play a key role in China's clean and safe energy mix.