Autonomous trucks eye wider applications
Share - WeChat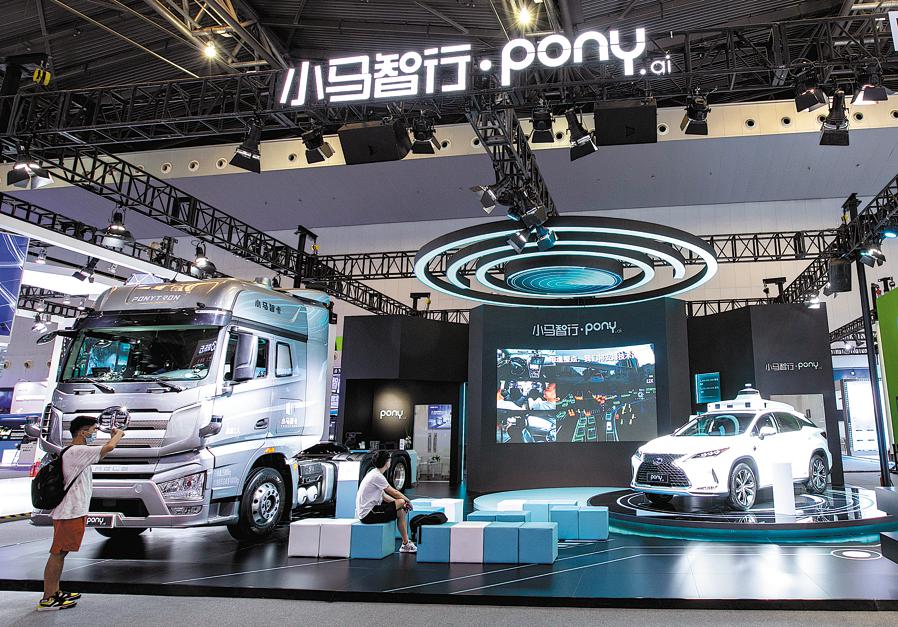 Logistics growth, driver shortage prove upsides for surging sector
Commercialization of autonomous trucks is poised to gain impetus as some self-driving startups are beefing up efforts to conduct road tests, pilot commercial freight operations and mass-produce autonomous heavy-duty trucks, driven further by the rapid growth of online shopping and demand for faster deliveries.
Chinese autonomous driving startup Pony.ai has been making forays into the self-driving truck segment. Li Hengyu, vice-president of Pony.ai and head of the company's truck division, said the company has been conducting tests of autonomous trucks for over 200 days.
So far, its self-driving trucks have hauled about 13,650 metric tons of freight, with a commercial operation mileage of 37,466 kilometers.
Li said there is huge development potential for autonomous driving in the logistics segment, and the core value of self-driving trucks is to liberate manpower when facing the huge driver shortfall in the sector.
"We have been exploring how to empower and change the logistics industry with autonomous driving technologies," he added.
Pony.ai's truck division was established last year. It obtained a permit to test its autonomous trucks on public roads in Guangzhou, capital of Guangdong province, in December.
In March, the company unveiled its autonomous truck business brand PonyTron. Its smart logistics subsidiary, based in Guangzhou, was granted a freight road transport business permit from local authorities in Nansha district, Guangzhou, on April 21. The subsidiary has put its autonomous trucks into commercial operation after receiving the permit.
Truck logistics will become a key application scenario for the company's autonomous trucks, said the firm. It hopes to test self-driving trucks on more expressways, providing safer and more effective solutions to fill the labor gap, as well as improving logistics efficiency.
According to a report by Beijing-based think tank EqualOcean, the number of heavy-duty trucks in China's logistics system is expected to reach 6.27 million in 2030, with the revenue from autonomous trucks deployed in such logistics reaching 853.9 billion yuan ($131.8 billion).
Established in 2016, Pony.ai had raised over $1.1 billion by the end of February from investors, including Japanese automaker Toyota, pushing its valuation to more than $5.3 billion.
"Autonomous driving is still at an initial stage. It will become a pivotal part of smart transportation and drive the construction of smart cities, with far-reaching impacts, such as improving the overall economy and changing the way people travel," said Peng Jun, co-founder and chief executive officer of Pony.ai.
The Ministry of Transport said China's road freight totaled 34.2 billion tons in 2020, compared with 41.6 billion in 2019.
The country plans to allow autonomous vehicles to be tested on highways, according to a draft guideline published by the Ministry of Industry and Information Technology in January.
The MIIT said there is a need to expand the scope of road tests and pilot applications of intelligent connected vehicles to include highways, due to the emergence of domestic self-driving technologies for expressways, but efforts will be made to ensure safety.
Apart from self-driving trucks, Pony.ai is ramping up efforts to expand its passenger-carrying robotaxis into more Chinese cities. In July, the company launched its robotaxi service in Shanghai, following Guangzhou, Beijing and California in the United States.
A fleet of Lexus RX models equipped with Pony.ai's autonomous driving solutions hit the streets in Shanghai in July. Meanwhile, the company unveiled its long-range lidar sensor Iris, codeveloped with lidar maker Luminar Technologies, with an aim to start mass-producing its L4 autopilot system based on the technology in 2023. L4 automation means the car can drive by itself under most circumstances without a human backup driver.
Plus, an autonomous trucking startup is speeding up mass production and global deployment of its supervised L4 autonomous driving technology. In June, the company completed a driverless L4 truck demonstration on the Wufengshan highway in Jiangsu province, with plans to launch pilot operations of a fully driverless truck for use in a dedicated environment in 2022.
It has collaborated with FAW Jiefang, China's oldest and largest truck manufacturer, to develop autonomous trucks. Plus said mass production of FAW J7 intelligent trucks powered by PlusDrive, its supervised L4 autonomous driving solution, is expected to start in the third quarter.