SOE morphs into industry chain expert in BRI zones
Share - WeChat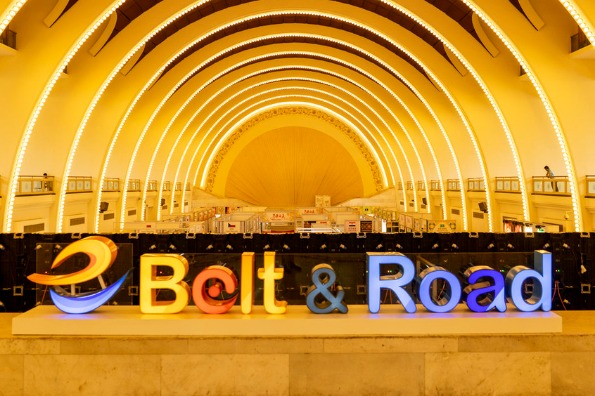 China Communications Construction Co Ltd, a centrally administered State-owned enterprise that specializes in turnkey infrastructure projects, will transform itself into an industry chain builder in economies participating in the Belt and Road Initiative, during the 14th Five-Year Plan period (2021-25), said a senior executive.
CCCC is confident it can harness the new growth opportunities presented by many countries' plans to build economic development zones, regional shipping lines and service hubs, upgrade their urbanization and modernize their economies for scale and sustainable growth, said Sun Ziyu, vice-president of the Beijing-headquartered group.
Such countries have already seen years of infrastructure development under the BRI framework, he said.
After completing a 480-kilometer-long railway, linking the Mombasa Port, the largest port in East Africa, with Nairobi in Kenya in 2017, CCCC has been relying on the policy support of the Special Economic Zone in Dongo Kundu, Mombasa, to help build an industrial park close to the Mombasa Port, to help the country further develop its processing trade.
"We are also building a port logistics park in Nairobi," Sun said. "Backed by the central railway station's dry wharf in the Kenyan capital, the park will become a logistics center and a new urban area with various service businesses surrounding it in the coming years."
The Mombasa-Nairobi railroad is expected to reduce logistics cost by 40 percent compared to that of road transportation. It will also provide convenient access for East African countries to ship their goods, mining and agricultural products from Mombasa Port to other global destinations.
Such advantages, combined with industrial and logistics parks, will gradually form an industry chain for Kenya, reinforcing foreign trade and attracting foreign investment, Sun said.
"We have applied knowledge and experiences gained from these projects to our businesses in Sri Lanka, Pakistan and Serbia," he said. "We found that many overseas special economic zones, especially those in Southeast Asia, Africa and the Middle East, have faced problems because they simply replicated experiences and models from China and developed economies. That wasn't the right thing to do because you need to adjust and customize policies as per local needs and situations."
CCCC boasts more than 60 subsidiaries, including Shanghai Zhenhua Port Machinery Co, or ZPMC, one of the world's biggest port machinery manufacturers by market share, and China Road and Bridge Corp, an infrastructure project specialist. It has built more than 13,000 kilometers of roads, 180 bridges, 121 deep-water berths and 17 airports in countries and regions involved in the BRI.
With more than 900 infrastructure, industrial and sports projects being built and developed across BRI economies, the cumulative value of these contracts has exceeded $100 billion, CCCC said.
The SOE currently employs 100,000 workers in overseas markets, including 70,000 foreign employees.
China Harbour Engineering Co Ltd, or CHEC, a marine engineering project specialist and a CCCC subsidiary, signed a contract last month for building two berths of a specialized wharf for 100,000-ton bulk carriers in the Morowali Industrial Park in Indonesia.
The construction period will be 18 months. The project owner is PT Indonesia Morowali Industrial Park. Located in Sulawesi Tengah, Sulawesi Island, Indonesia, the project mainly comprises two special berths for 100,000-ton bulk vessels, two approach bridges and two trestles.
As the supporting port of Indonesia's largest nickel-iron industrial park-Morowali Nickel-Iron Park-the project will become the largest specialized bulk carrier port area in Indonesia upon its completion, said Wang Xiaofeng, the company's vice-president.