State companies ramp up efforts in hydrogen power for green goals
Share - WeChat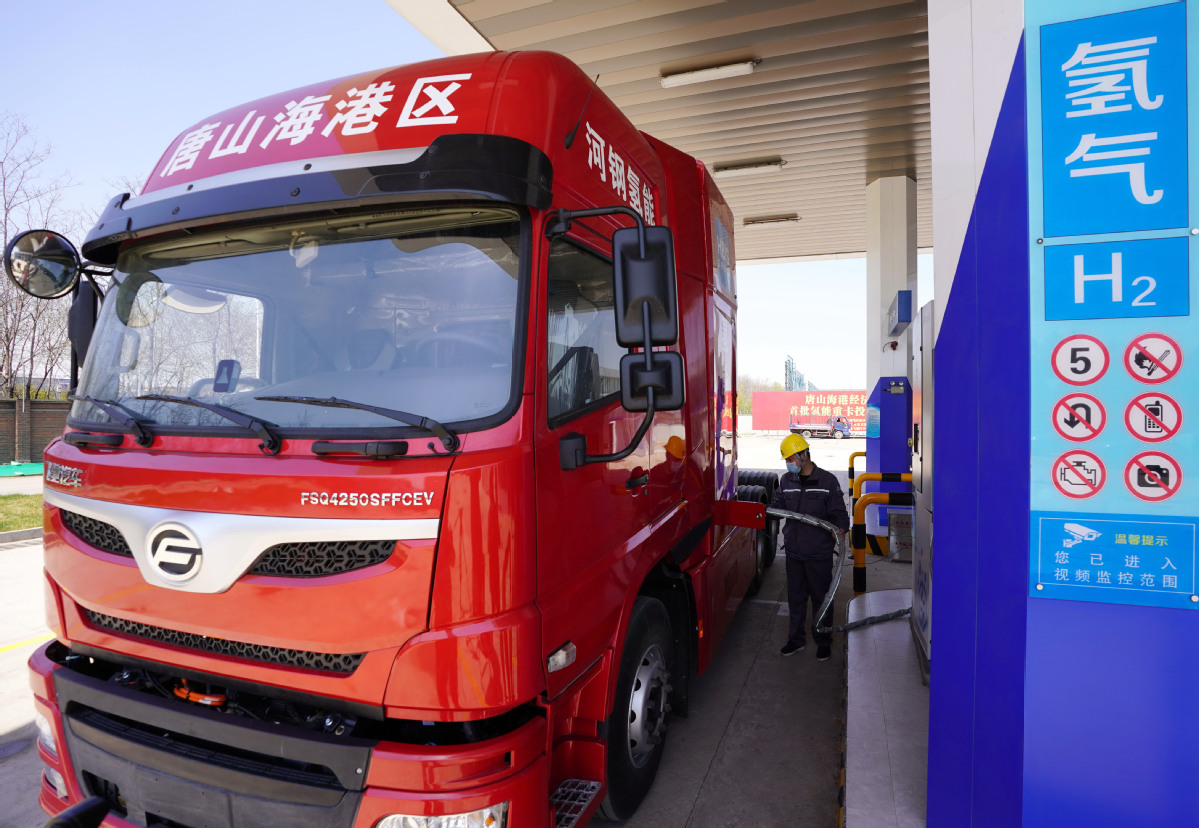 More than one-third of centrally administered State-owned enterprises have geared up to tap China's hydrogen power development to cut emissions and achieve sustainable development, a government official said.
These central SOEs have started hydrogen power production, storage, refueling or related businesses, and have achieved a number of achievements in technology research, development and applications, said Peng Huagang, secretary-general of the State-owned Assets Supervision and Administration Commission of the State Council, at a recent news conference.
State Power Investment Corp Ltd is among the SOEs that have carried out research and development on hydrogen production from renewable energy sources, as well as the whole industry chain business on fuel batteries.
China Petroleum and Chemical Corp, an energy SOE better known as Sinopec, also charted plans to deploy 1,000 hydrogen refueling stations or oil and hydrogen refueling stations during the 14th Five-Year Plan period (2021-25).
State-owned China National Petroleum Corp has also set up a research institute on hydrogen power in May, and planned 50 hydrogen refueling stations across the country, according to a report by cailianpress.com, a business analysis news website.
Jing Chunmei, deputy director of scientific research and information at the China Center for International Economic Exchanges, told cailianpress.com that the development of China's hydrogen power industry adheres to a bottom-up development pattern. In the past, private companies have taken the lead in entering the market, supported by favorable policies offered by local governments. Now, central SOEs' entry into the market sends a signal that they are confident about the development and prospects of China's hydrogen power industry.
Jing said that in general, central SOEs in the energy sector have advantages in scale, capital and technology over other businesses. Their entry into the market will accelerate the process of tackling core technologies, broadening application scenarios and creating a strong driving effect for China's development of the hydrogen power industry.
"Central SOEs, especially those in the steel sector, have strong capabilities to produce hydrogen from fossil fuels-usually coal. Those companies have advantages in scale and unit costs compared with others when entering the hydrogen industry," said Li Li, former director of energy research at consulting firm Independent Commodity Intelligence Services.
Li said many central SOEs are also considering producing hydrogen power out of renewable energy resources for more sustainable development of the energy sector.
In recent years, China has seen rapid development of hydrogen power, and its applications in various fields have entered a period of making "from zero to one" breakthroughs, said CITIC Securities.
Estimates from the China Hydrogen Alliance show that the need for hydrogen will reach 35 million metric tons in China by 2030. The alliance predicts annual output value of China's hydrogen industry will reach about 12 trillion yuan ($1.85 trillion) by 2050.
"Hydrogen is cleaner than traditional fuels when powering engines, vehicles, and mobile applications as its only byproducts are water and heat and there are no greenhouse gases. Hydrogen is also more convenient to store and transport compared with some other clean energies," said Lin Boqiang, head of the China Institute for Studies in Energy Policy at Xiamen University.
In recent years, the Chinese government rolled out a series of measures to boost the industry's development. In 2019, hydrogen power was first written into China's Government Work Report, which stated that the government will promote the construction of charging and hydrogen refueling facilities. Last year, a document by the General Office of the State Council called for stepped-up efforts in research and development of technologies related with hydrogen storage, refueling, cost reduction and security.
"China's pledges of carbon peak and carbon neutrality will also drive the country's development of hydrogen power into a fast track as companies are exploring new business opportunities in fields of clean energy," Lin said.
Carbon peak refers to China's goal of peaking emissions by 2030, while carbon neutrality refers to the goal of achieving net zero carbon emissions by striking a balance between emitting and absorbing by 2060.
"More supportive policies are still needed from the government, as currently, the cost of hydrogen power production, storage and transportation is relatively high, leaving companies very little room to make a profit," Lin said.
Li from ICIS said many provinces including Guangdong and Shandong have rolled out policies to support the industry's development and cultivate professionals.
"Going forward, the whole chain development of hydrogen power, high-end manufacturing and equipment production will be the areas of focus of government support."