With rice noodles steaming, cash registers are jingling
Share - WeChat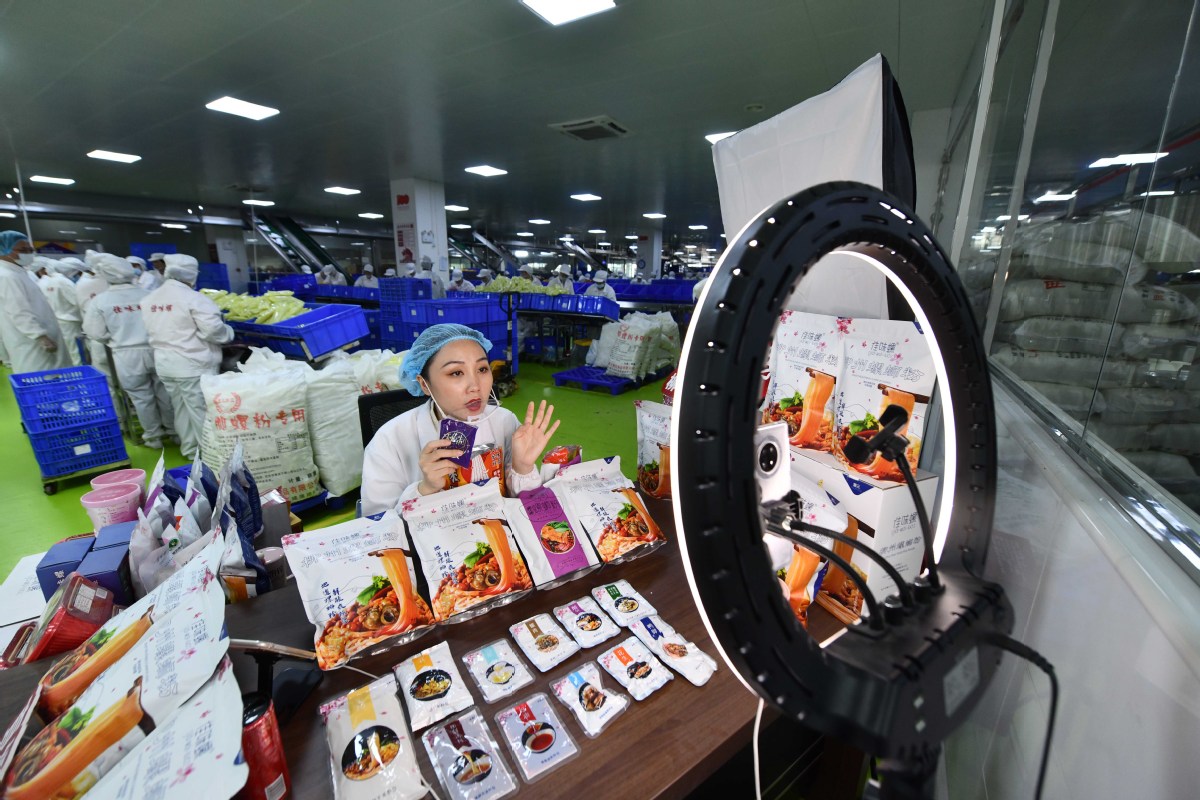 Rice noodles, a traditional food originated from southern China, is attracting interest from investors as the delicacy gains more popularity among consumers in recent years.
In June, Chinese beef rice noodle company Baman announced its latest two rounds of fundraising. The accumulated investment, which reached over 100 million yuan ($15.5 million), will be used in digital construction, research and development, and supply chain building, the company said.
Nanchang, Jiangxi province-based dry rice noodle brand Yangjishanye announced in February an investment of over 10 million yuan which it planned to be used in new product development.
"China's rice noodle consumption market is gaining ground. In the internet-based era, with the favor of the capital market, rice noodle entrepreneurs take advantage of online channels and innovative marketing strategies, bringing an impact on traditional catering enterprises," said Wang Wuhua, a food analyst and a columnist at finance we-media platform Emcreative.
A report from People's Daily in 2020 said Liuzhou of the Guangxi Zhuang autonomous region sold bags of river snail rice noodle worth 11 billion yuan. The sales revenue of supporting industries totaled 13 billion yuan, and that of brick-and-mortar river snail rice noodle stores was 11.8 billion yuan. Through the integrated development of primary, secondary and tertiary industries, more than 300,000 jobs were created.
For a single brand alone, data from think tank Dolphin showed that in 2020, the sales revenue of celebrated rural video blogger Li Ziqi's personal brand surged 300 percent year-on-year to 1.6 billion yuan, among which 500 million yuan was generated from river snail rice noodle sales.
River snail rice noodles are just a subcategory of the rice noodle sector, which is growing into a 100-billion-yuan market.
Behind the great market is the passion by Chinese consumers for rice noodles. Last February, "how much do Chinese people love river snail rice noodles" was among the hot topics on Chinese social network Weibo. The topic generated 730 million readings and 203,000 discussions.
"Apart from river snail rice noodles in Guangxi, rice noodles from provinces of Hunan, Jiangxi, Sichuan, Guangdong and Hainan, also won the hearts of diners with diversified flavors, contributing to great rice noodle consumption in the market," Wang said.
Speaking of the reason on the business success of rice noodles, Wang said the delicacy is a category that is relatively easy for standardized production, which means it can be sold online and offline. Rice noodles are now marching toward chain store and large-scale selling.
As early as in 2016, Liuzhou was promoting the large-scale raw material production of river snail rice noodles, and has established localized production standards.
The Liuzhou municipal government signed an agreement with Li Ziqi in August 2020 and started construction of a manufacturing plant. Currently, the plant's daily production of river snail rice noodles reached 3 million bags, of which one-fourth to one-third are for Li Ziqi's company.
Nanchang, also a top origin, is stepping up industrialization as well. The provincial capital held the China Rice Noodle Industry Expo in June. Official data showed that Jiangxi produces 60 percent of rice noodles across the country. In 2020, rice noodle production in the province reached 1.4 million metric tons.
"In addition, due to COVID-19, people's consumption behavior shifted online, making rice noodle enterprises focus more on online channels. New brands emerged online. They know marketing and how to promote products online," Wang said.
Bo Wenxi, chief economist at Interpublic Group China, said: "China's rice noodle consumption market has a solid foundation and large scale. New business opportunities lie in the revolution boosted by consumption upgrade and e-commerce development. With the favor of the capital market, new brands are emerging, and there is industry concentration and market expansion."
"To promote the development of the sector, joint efforts within the industry are needed. Industry standards should be established to ensure standardized production and product quality. Branding and chain stores should be created to promote sales and services. Only in this way can the industry and enterprises realize rapid and sustainable development," Bo said.