Over 50 concerts in Suzhou Symphony Orchestra's new season
Share - WeChat The Suzhou Symphony Orchestra launched its 2021-2022 season, which will see over 50 concerts and feature celebrated musicians including composer Tan Dun, violinist Ning Feng, pianist Zhang Haochen and tenor Shen Yang.
Conductor Bian Zushan will celebrate his 60-year career by collaborating with the Suzhou Symphony Orchestra.
The 85-year-old conductor was orphaned at the age of 13 after his father died. His new home was an orphanage in Shanghai, where he learned to play the piano. Graduating from the Shanghai Conservatory of Music, he served as the principal conductor of the symphony orchestra of the National Ballet of China.
Highlights include violinist Ning Feng playing Paganini's famous Caprice No 24, pianist Jiang Chen giving a recital featuring French music, and tenor Shen Yang performing Chinese songs in distinctive southern Chinese musical styles.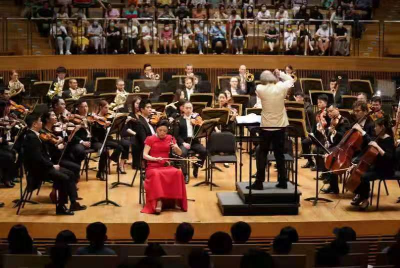 The Suzhou Symphony Orchestra will perform works by composers including Gustav Mahler, Rachmaninoff and Johannes Brahms.
Conductor Chen Xieyang will lead the Suzhou Symphony Orchestra in a performance featuring Shostakovich's music, part of a concert held to mark the orchestra's fifth birthday.
Audiences will also hear composer Tan Dun's Nu Shu: The Secret Songs of Women, a symphony for 13-movement micro films, harp and orchestra, and Pictures At An Exhibition, a musical work of 10 movements by Russian composer Modest Mussorgsky.
Founded in 2016, the Suzhou Symphony Orchestra is comprised of more than 70 musicians with an average age of 30 who are natives of China and 18 other countries and regions including Japan, South Korea and the United States. The orchestra started the Jinji Lake International Composition Competition in 2018, inviting composers from around the world to create music inspired by the city of Suzhou.
Most Popular