Rural inspiration
Share - WeChat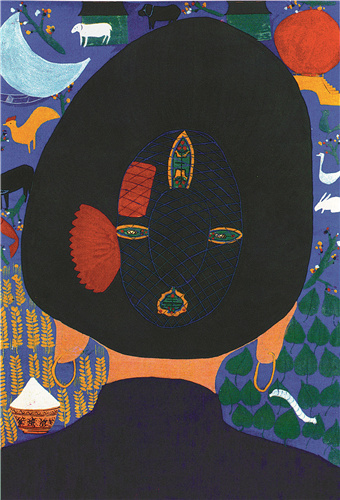 Farmer-turned-artist Miao Huixin is urging children to document changes in the countryside through art.
Miao Huixin couldn't help but smile as he introduced his artworks to an audience in Xiuzhou district, Jiaxing, Zhejiang province, in June.
Miao, a 62-year-old former farmer, is excited to see many visitors are coming to his village to see his works. He has won many awards for his paintings of rural life. He was named one of 10"outstanding Asian artists" by Time magazine in 1998 and a national "excellent folk painter" at the 7th China Art Festival in Jiaxing in 2004. He has held solo exhibitions overseas such as in the United States and Japan.
"None of that would have been possible without farmers painting," Miao says.
Farmers painting took roots in rural China in the 1950s, with distinctive historical and social elements in the early days after New China was founded. In 1984, the then Ministry of Culture (now Ministry of Culture and Tourism) and the China Artists Association held the first national exhibition of farmers painting in Beijing, which encouraged the development of this kind of art. Rural artists with different styles emerged from all over the country.
Miao began painting in the early 1980s, when local authorities offered training to him and a few other farmers who had some painting experience.
"I started copying artworks at age 18, and people around me knew it," Miao says.