Rural inspiration
Share - WeChat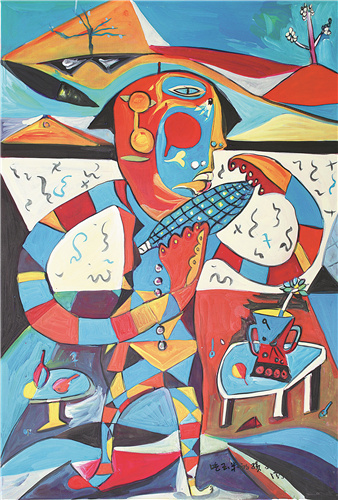 Some of his paintings display farmers growing rice, mulberry, fishing and raising silkworm, while some others depict folk activities, including boat rides and temple fairs.
Since the early 1980s, Miao has recorded authentic rural scenes with his brush. In 1987, his works made their way to an exhibition held at the Central Academy of Fine Arts in Beijing. "I had 19 works at the exhibition, and the academy put them in a gallery."
It was then that one of his friends told him to keep painting and have enough to stage a solo exhibition in Beijing. He pulled it off after three months, during which he created more than 60 paintings in his room at night. The solo exhibition marked the takeoff of Miao's career as a painter. He stopped farming in the 1990s and focused on developing his art. He held personal exhibitions in Beijing in 1989, 1991 and 1993.
In 1995, Miao took his works abroad for the first time, to France. In 1997, he was invited to hold a personal exhibition in the US. In 1998, Time magazine put him on a par with Chinese film director Zhang Yimou and martial arts star Jackie Chan among its "outstanding Asian artists".
To date, Miao's works have been displayed in more than 10 countries, including Germany, Australia and Sweden. More than 100 paintings of his have been collected by the National Art Museum of China, the Portland Art Museum in the US, as well as private collectors at home and abroad.
Miao's paintings are considered one of the best expressions of rural life in China, according to Xu Jiang, president of Zhejiang Provincial Federation of Literary and Art Circles. "The most valuable thing is that, although he is no longer a farmer, he has always retained the way a farmer sees the world."
Since 1983, Miao has created more than 800 paintings.
"If you want to draw well, you should love life and keep in mind what life touches you," Miao says.
He turned down immigration opportunities years ago and says he could not live outside China.
"Only my homeland can give me my creative inspiration," he adds.
In 2007, Miao went back to Qizhen village, Youchegang town of Xiuzhou and became the village's deputy Party secretary. He then advocated building a garden out of a mud pool, and painted about 100 art pieces on the walls of old streets. His ambition didn't stop at changing one village but continued to have him popularize the art form nearby. He trained other farmers, developed facilities for them to make art and hosted farmers painting festivals.
Most Popular