Jumping into the unknown
Share - WeChat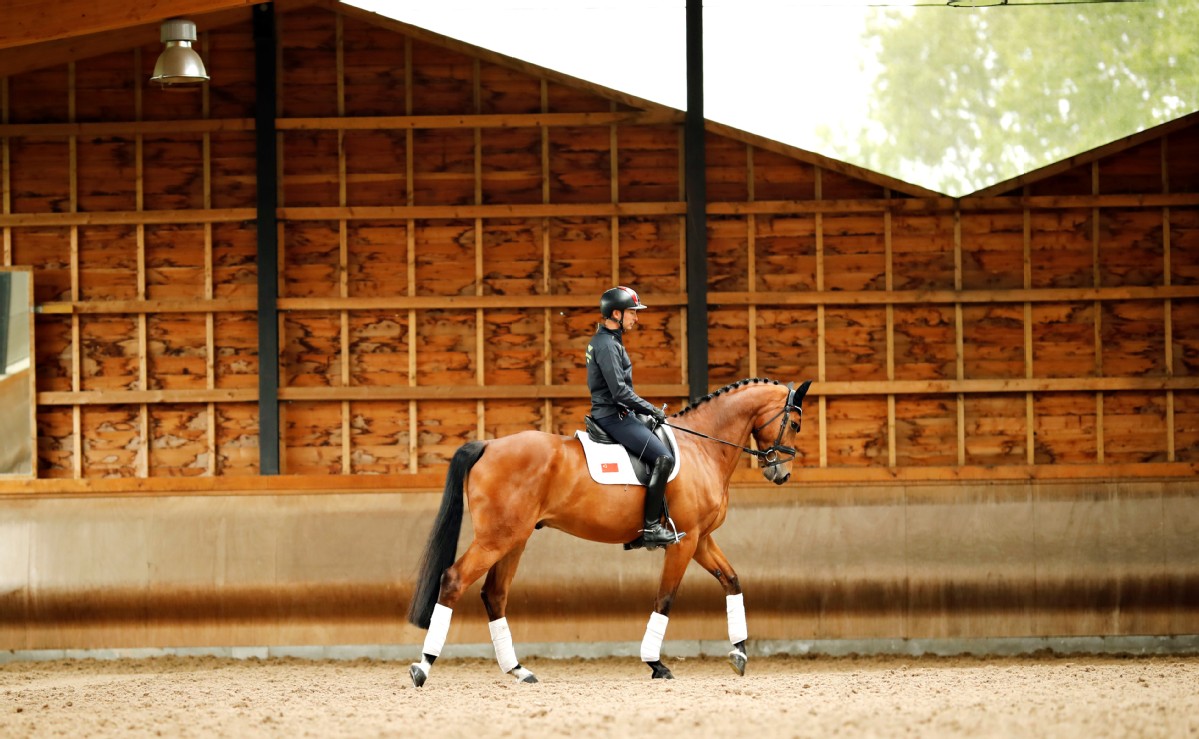 China's riders have big fences to clear-in and out of the saddle-at pandemic-hit Olympics
Editor's Note: In the second installment of China Daily's Tokyo Olympics preview series, we take an in-depth look at the Chinese equestrian squad, including an exclusive interview with star rider Alex Hua Tian.
Despite facing sizable logistical difficulties during the pandemic-particularly in transporting their horses-China's elite equestrian riders remain confident of making major breakthroughs at the forthcoming Tokyo Olympics.
The Chinese Equestrian Association last month named an eight-strong team for Tokyo, led by eventing star Alex Hua Tian and show jumping veteran Li Zhenqiang. The remainder of the squad is comprised of young riders making their Olympic debuts.
"As many people know, this is the first time the Chinese equestrian eventing team has qualified for the Olympic Games. This is a huge achievement and a milestone for Chinese equestrian sports," British-based Hua told China Daily in an exclusive interview before flying to Tokyo.
"It's been a tremendous challenge for all of us, for myself, my teammates and also for the Chinese Equestrian Association. It's the first time that they are coordinating a team in the sport to go to the Olympic Games. In the past, it has just been supporting me as an individual. This time we have four riders and four horses."
In May 2019, Hua helped Team China qualify for the team eventing competition before booking his own individual ticket for Tokyo two months later. Hua became China's first equestrian Olympian at the 2008 Beijing Games at the age of 18, and remains the youngest eventer in Olympic history.
After missing out on London 2012, Hua bounced back to reach Rio 2016. Now at the pandemic-affected Tokyo Games, an even tougher challenge awaits for Hua and his eventing teammates, Bao Yingfeng, Sun Huadong and Liang Ruiji.
"It's very difficult to have any set expectations about what the Games will be like. It's gonna be a very different experience for athletes, spectators, and the global audience," Hua said.
"In terms of goals, we're in the final push, and so many things can go wrong at this stage. And there are so many different factors to the Games beyond the normal unknown factors. You have the COVID-19 pandemic, and how that's going to affect our training, our preparation and our competition once we get there, with all the measures in place.
"The long flight, the heat and humidity, all of these factors are considerable and bring about so many unknowns. So it's very difficult at this stage to have a defined goal. I just hope that the horses and the team arrive fit, healthy and happy. And all of us riders for the Chinese team feel like we've done our best and we'll leave nothing out there on the field of play.
"This is our first time as a team, as the Chinese eventing team, at the Olympic Games. We are inexperienced, but I really hope we can deliver a performance that people can be proud of and that we can build on in the future."