Students mark historic journey
Share - WeChat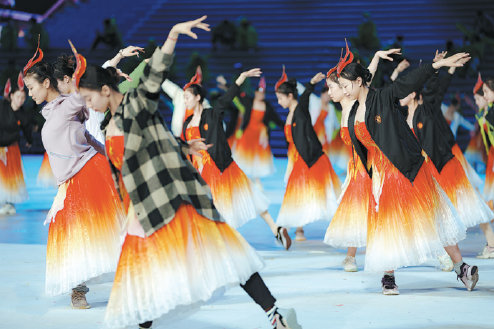 More than 1,000 students of the Beijing Dance Academy and the middle school attached to the university performed during the grand gala celebrating the centenary of the founding of the Communist Party of China held at the National Stadium, also known as the Bird's Nest, on June 28.
The four-part gala, The Grand Journey, which lasted for two hours, traced the Party's century-long history from its revolutionary victories to the construction boom in the early days of the People's Republic of China and the national transformation brought about by reform and opening-up in recent decades.
"We were glad to have young students, both dancers and choreographers, taking part in the gala, which offered them valuable experience outside the classroom," says Shen Chen, deputy chief director of the gala.
The gala brought together about 16,000 performers, including the 1,000 young dancers and choruses of about 8,000 students from more than 20 universities.
Shen, who graduated from the Beijing Dance Academy in 1997 after studying choreography, attended an event held at the university on July 2 with other creative members of the gala, including director Chen Weiya, and co-directors Xiao Xiangrong and Meng Yan, to review the gala and tell the story behind it.
"We spent three months together preparing for the gala," Shen says.