Coty smells fragrant success in China, with additional stores, digitalization
Share - WeChat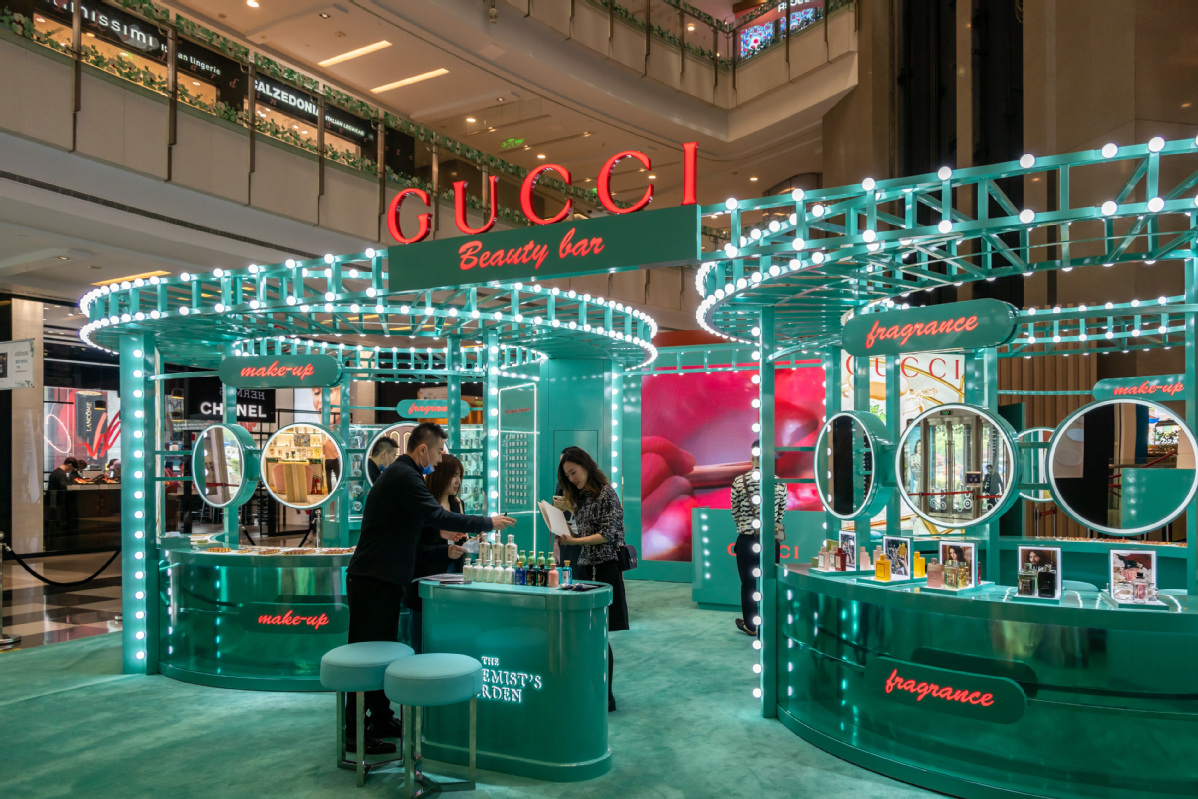 Multinational fragrance and cosmetics brand Coty aims to build China into a major powerhouse by tripling its sales in the market by 2025 backed by ongoing innovation in retailing models and a favorable business environment, said the company's top management.
Coty, which owns a beauty portfolio of fragrances, cosmetics and skin care brands such as Gucci, Burberry and Max Factor, began operating independently in China in 2016.
The group's latest fiscal report released last month showed China sales revenue rose by double to triple digits during fiscal years 2019 and 2020.
According to the company's long-term strategy released in late April, Coty aims to triple sales revenue in China by 2025 so that the country will account for 10 percent of its total global annual income by then.
At present, China's contribution to group sales is in the low single digits.
Coty China Managing Director Guilhem Souche said the company's quick recovery since mid-2020-relatively unaffected by the COVID-19 pandemic-can be largely attributable to the stable business environment.
With effective government controls, businesses were back on the right track in China sooner than many other markets. This is also the reason Coty saw strong growth in China since mid-2020, especially in the luxury beauty sector, Souche said.
The company will further strengthen its presence in China by opening more physical stores, he said. The flagship store for scientific skin care brand Lancaster planned to open its doors in June in Sanya, Hainan province, is on schedule. One month earlier, Coty opened a Gucci duty-free beauty shop in Hainan.
The acceleration in introducing brick-and-mortar stores in China is part of the shift that Coty started in 2019 by transitioning from a full wholesale to a retail model.
For example, while there were no Gucci beauty stores in China selling the luxury brand's cosmetics and perfumes, Coty managed to open 25 Gucci beauty shops in the country within two years.
For Burberry, another luxury beauty brand in Coty's portfolio, the number of physical stores in China has risen to 40 at present.
While most physical stores are located in first-tier cities, e-commerce is also important to increase Coty's geographical reach in areas without a physical presence.
"If you want to succeed in China, you must provide a seamless experience for your customers," Souche said.
The company sped up its digitalization in China, especially after the pandemic broke out. Over the past 12 months, Coty managed to open Burberry and Gucci beauty flagship stores on Tmall, as well as a flagship store for Calvin Klein fragrance on JD.
Online distribution channels account for one third of Coty China's income at present. Souche said it is quite normal for online channels to make up half of total sales revenue in three years in the country.
"China is one of the most tech-savvy and customer-oriented markets in the world. It has become an example for other markets in terms of retailtainment, customer services and innovation. Livestreaming, for example, is a model born in China and has been rolled out in the rest of the world," he said.
Market consultancy Bain & Co wrote in a report released in late February that the accelerated integration of online and offline retailing will be one of the 10 major trends in China this year. Offline retailers will find it extremely difficult to totally rely on their own modalities to build digital capacity from scratch.
Cooperation will become increasingly urgent, said the report. Meanwhile, online platforms are actively seeking cooperation with offline retailers to strengthen their capability in local supply and offline resource distribution.