Tencent seeks growth in markets abroad with 'good China stories'
Share - WeChat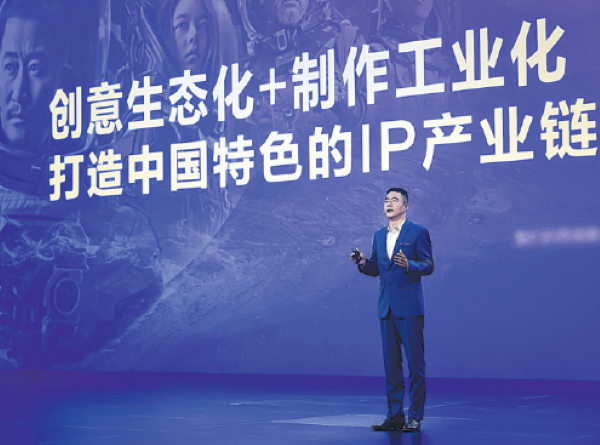 Tencent Holdings Ltd is mapping out three approaches to "tell good China stories well" as it envisions gaining a stronghold in commercializing film and television works, according to a company's senior executive.
The ambition is being achieved by the enhanced coordination among the "troika" units responsible for the production and promotion of film and television works, a burgeoning area Tencent is focusing on, said Edward Cheng, the company's vice-president.
"The prerequisite for China's cultural works to reach a broader foreign audience, especially younger generations, is to have excellent China stories well told," Cheng said in an interview with China Daily. "We are a firm believer in such a path, and are taking every step to make it happen."
Cheng said the unexpected COVID-19 pandemic has compounded a malaise in the cinema industry, which typically features a lack of certainty concerning financial returns or overall aesthetic quality.
To address the issue, Tencent has trained its sights on three approaches to hedge risks: exploring the full potential of theatrical topics based on daily lives; developing intellectual property derived from quality internet novels, cartoons and comics, and fostering an ecosystem of content creativity and industrialized production.
"We do see certainties embedded in the reality of daily lives in a comprehensive and well-forged IP system, and in a content ecosystem amplifying the influence of the literary works," he said at a conference on Sunday marking the announcement of its annual portfolio of film and TV works.
Highlights included the unveiling of 1921, an epic movie commemorating the centenary of the founding of the Communist Party of China, TV drama Life is a Quiet Long River, and the launch of production of the second season of My Heroic Husband, adapted from a popular online novel.
Known for a wide array of offerings from online gaming and messaging to mobile payments, Tencent has in recent years fortified the cultural focus-a segment it believes will generate longer-term value by getting viewers "hooked".
But such an ambition is inseparable from Tencent's "troika" of subsidiaries-Tencent Pictures, its movie and TV series production arm; Yuewen Media, the cradle of original IP; and New Classics Media, a film production specialist.
Cheng said coordinated efforts among the three units are the latest exemplification of the "Neo-Culture Creativity" strategy Tencent introduced three years ago, which emphasizes synergies across different Tencent vehicles spanning gaming, comics and animation, online literature, films and esports.
A recent study by the China Film Association said 60 percent of China's most sought-after TV dramas are adaptations of internet novels. Among the most valuable tranche of IPs, China Literature took three quarters of the spots.
Tencent is hoping such a recipe will play out well overseas, extending its reach through the likes of its foreign language platform called Webnovel.
Starting out translating Chinese popular novels to a variety of foreign languages, Webnovel is now recruiting more local writers to produce directly in English, a move the company believes could mean a much bigger author pool and reader base.
For instance, to incentivize content creators in North America, a special writing contest will be held this year, with prospective winners eligible to have their works adapted in other entertainment production formats, including film and TV dramas, in cooperation with Tencent Pictures.