Ready-to-eat meals a niche for big-name restaurants
Share - WeChat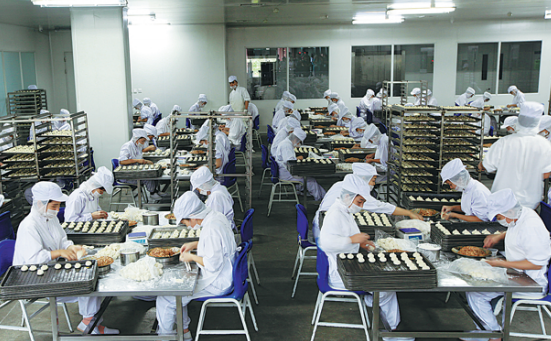 Frozen semi-cooked foods from well-known restaurant brands have become increasingly popular, especially since the COVID-19 pandemic. Such dishes, which only require simple reheating, have become hot commodities as consumers embrace the shorter meal-preparation times and enhanced convenience.
Fueled by the rapid development and reduced costs of cold-chain transport, ready-to-eat meals are enjoying a golden growth period as they can be delivered further with extended quality guarantee time frames.
A number of restaurant chains have launched ready-to-eat meals such as meats, seafood, vegetables and hot pots online and at supermarkets to expand sales channels and increase business revenue.
In addition to eat-in and takeout meals, Peking roast duck restaurant chain Dadong offers ready-to-eat prepackaged roast duck, sauces and other foods such as pastries and traditional Chinese rice pudding via its flagship store on JD and Tmall-Alibaba's online shopping platform.
For a roast duck gift box, which normally sells for 298 yuan ($45.5), first-time buyers can purchase them for 208 yuan. The dishes are cooked, pre-sliced and vacuum-packed.
The roast duck only requires consumers to reheat in a microwave oven. Such options have made it more convenient for diners who cannot afford time for an official dinner in brick-and-mortar restaurants.
Meanwhile, Guangzhou Restaurant has launched an assortment of semi-cooked dishes. They include Cantonese-style fried ribs, Thai curry beef and chicken, and fried pork with sweet-and-sour sauce. They are sold through the mini programs of the restaurant on WeChat and food delivery platform Meituan.
Last month, Goubuli-an iconic Tianjin-based bun specialist-closed its restaurant in the Qianmen area in Beijing, one of the most visited tourist spots. It was the company's last outlet in the city. Currently, Goubuli, a brand that was founded in 1858, has 10 outlets in Tianjin, according to its official website.
Last year, Goubuli delisted after being publicly traded for less than five years. The company is now facing weakened brand recognition and declining business performance. It aims to put more effort into offering frozen buns at supermarkets.
Between 2017 and 2019, sales of frozen buns accounted for the largest portion of Goubuli's fare, followed by frozen noodles and sauces, according to a recent earnings report.
"New-generation consumers are not highly sensitive to prices, and they are increasingly seeking high-quality products and services. Goubuli should not stick to its old business models, and it should conduct more research into the tastes and preferences of young consumers and innovate their products and brand image," said Zhu Danpeng, an independent food and beverage analyst.
"Developing frozen semi-cooked meals has become a new trend in the catering sector. An increasing appetite for such foods by Chinese consumers has driven suppliers to invest more in the category," Zhu said.
"The sector is expected to become highly competitive, and retailers need to focus on increasing the quality of meals and build better reputations, and thus increase diners' stickiness with the brands," he said.
In addition, US retail giant Walmart has cooperated with a number of renowned Chinese restaurant chains and launched its bestselling ready-to-eat meals on its online shopping platforms and JD Daojia last year. The restaurants include Xibei Group, Cantonese cuisine Tang Palace and Shanghai Min.
Currently, annual sales revenue from semi-cooked meals is about 300 billion yuan in China and is expected to hit 1 trillion yuan in the next six to seven years. There are more than 20,000 firms involved in the making of ready-to-eat meals in the upstream part of the industry chain, but a leading brand with strong influence has not emerged yet, according to a research note by Guohai Securities.
Nationwide, more than 74 percent of restaurant chains have established their central kitchens, and more than half of catering brands are developing standardized cooked and semi-cooked meals, according to the China Chain Store and Franchise Association.