Video platform Bilibili confident of doubling user numbers in two years
Share - WeChat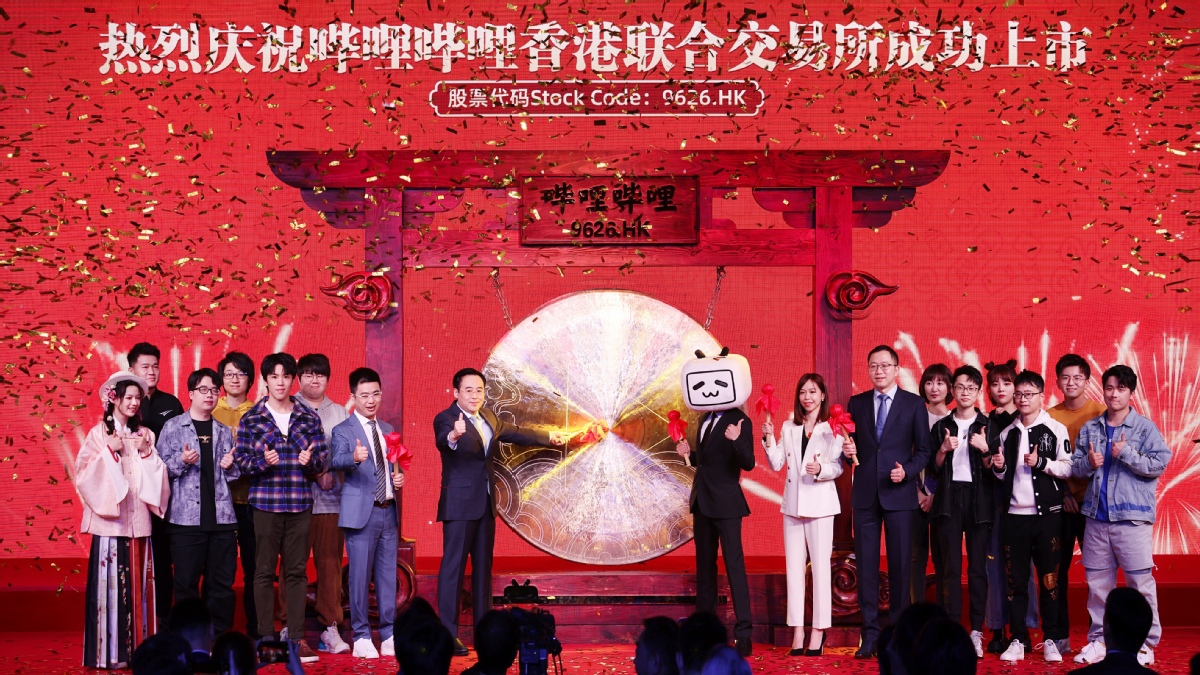 Chinese mainland video site Bilibili Inc is betting on the videolization trend, a growing army of professional content curators and a committed fan base to double its user numbers in two years, after its shares started trading on the Hong Kong stock exchange on Monday.
The Shanghai-based company had a lukewarm debut as its shares edged down by 0.99 percent to HK$800($103), compared with the offer price HK$808.00 per share.
Bilibili Chairman and CEO Chen Rui said the company is eyeing long-term gains. "I believe videolization will be a huge wave and an inevitable trend," he said during the listing ceremony in Shanghai.
"The entire video market is bound to more than double in the years to come, and given that premise, I believe our goal to double user base is reasonable."
Since the firm first floated shares on the Nasdaq in 2018, monthly active users have jumped from 71.8 million to 202 million, and the number of monthly active content curators has also surged from 200,000 to 1.9 million.
Some 86 percent of its MAUs are below the age of 35, according to its latest annual report released in January. The company is planning to lift user numbers to 400 million by 2023.
Calling the Hong Kong listing a milestone and a new starting point, Chen said video is set to become the mainstream form of internet content, and added that video creation is bound to change and influence every facet of the society.
The segment is expected to reach 1.8 trillion yuan ($274 billion) in revenue, generated by nearly 1.2 billion domestic video users by 2025, according to consultancy iResearch.
Rivals like Douyin and Kuaishou are ramping up efforts in recruiting content curators and enticing users through algorithms that push short videos to their interests.
Chen said the company's edge in a profound library of professional user-generated videos, an area he said "hardly has any direct competitors" provides ample space for user growth.
Chief Operating Officer Li Ni said bulk of the proceeds from the current fundraising will be used to incentivize content curators especially in professional fields, as well as beef up high-quality, indigenously-made dramas and TV series with the hope that loyal users would pay for them.
The site also prides itself on boasting a committed fan base. Bilibili users must pass a 100-item test covering online etiquette and other chosen topics to become official members who are eligible to comment on posts.
But such momentum has not kept the company from operating in the red, as fourth-quarter net loss more than doubled to 843.7 million yuan from 387.2 million yuan a year earlier. This was in part caused by surging sales and marketing expenses of 3.5 billion yuan last year, representing a 191 percent increase on a yearly basis.
Bilibili joined a string of US-listed Chinese companies such as Baidu Inc in filing for a secondary listing in Hong Kong amid rising China-US friction.
"We believed the US capital market was an open market,"Chen said of the decision to list on the Nasdaq three years ago. "So I hope it maintains such openness, which is an important source of competence."
Mandy Zhu, head of China global banking at UBS, said: "The advantages of a secondary listing in Hong Kong include relatively manageable regulatory process and time frame, ability to attract more Chinese mainland and Hong Kong investors as well as efficient capital raising process ... A secondary listing in Hong Kong could also represent an extra layer of financing channels."
Bruce Pang, Hong Kong-based head of macro and strategy research at China Renaissance Securities, believed these advantages will continue to make Hong Kong a magnet for overseas-listed mainland companies, especially large-cap stocks, seeking a secondary listing.
Bilibili's Hong Kong debut comes at a time when the US Securities and Exchange Commission is trying to remove foreign companies from US exchanges if they fail to comply with US accounting standards. The move triggered a sell-off in the shares of US-listed Chinese mainland companies last week.
Jiang Xueqing in Beijing contributed to this story.