Hong Kong set to grab historic opportunities
Share - WeChat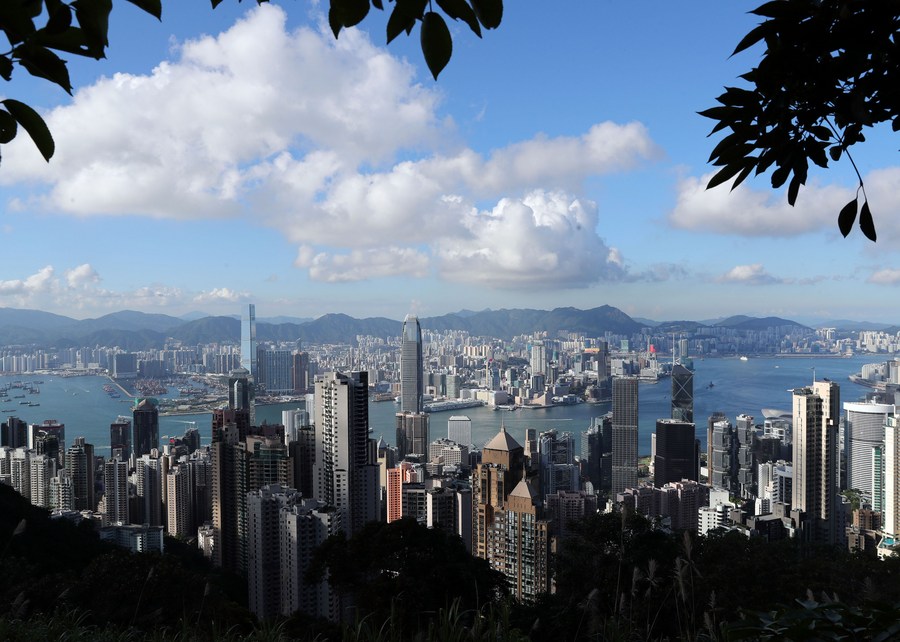 City now ready to take its place in motherland's promising future

With Hong Kong more relevant than ever in China's top development planning document, the city's top officials and leading experts have high hopes for historic opportunities as it makes a fresh start.
The 14th Five-Year Plan (2021-25), which sets out the nation's vision for social and economic development over the next half-decade, was approved at the fourth session of the 13th National People's Congress, held March 5 to 11.
After almost two roller-coaster years, Hong Kong has been reeling from a crisis of confidence. The much-awaited 14th Five-Year Plan (2021-25), which pledged to cement the city's strengths as a world-renowned financial center and liaison, is proof that the city's future is now secure, Hong Kong Chief Secretary for Administration Matthew Cheung Kin-chung told China Daily.
At a critical, historic juncture, the grand national economic and social development plan has more to offer. It offers unwavering support for turning Hong Kong into a global innovation and technology hub, enhancing the city's status as an international aviation hub and developing it into an exchange center for arts and culture between the Chinese mainland and the world.
"There're good reasons to believe Hong Kong now has a stake in the nation's future and shares the responsibility for great change," Cheung said.
The latest Five-Year Plan, in particular, underscores the country's commitment to the high-quality development of the Guangdong-Hong Kong-Macao Greater Bay Area.
Integration and collaboration are the name of the game. The Bay Area has what it takes to be an "entry point" for Hong Kong to become part of the next big story unfolding in the world's second-largest economy, Hong Kong Chief Executive Carrie Lam Cheng Yuet-ngor said in an interview with China Daily.
With a combined population of over 72 million, roughly twice that of Canada, the Bay Area is one of the country's most productive geographical areas, with a GDP of $1.68 trillion. It is on track to be comparable to that of the Tokyo Bay area.
The Bay Area spells potentially huge opportunities for those with the foresight to jump on the bandwagon. Those on the trail include Hong Kong youngsters, some of whom may find it harder to secure jobs or start their own businesses in the pandemic-torn local market. Yet they seldom think of setting their sights on the Bay Area, right at their doorstep, Lam said.
"Hong Kong youth can be certainly trusted with the nation and the city's future. The 14th Five-Year Plan (2021-25) gives them a stake, and a chance," Cheung said."But this calls for a change of mindset."
Cheung doesn't shy away from many young people in Hong Kong not having an accurate understanding of the Chinese mainland, be it the political system, national development or the way of living.
"They do need to head north to see for themselves and experience it on their own," said Cheung, who also chairs the Youth Development Commission, a high-level steering committee established in 2018 to enhance policy coordination within the Hong Kong Special Administrative Region government.
The Greater Bay Area Employment Scheme Online Job Expo opened on March 23, offering Hong Kong's new graduates more than 800 job vacancies across the region.
Some 30 organizations and enterprises, including Bank of China (Hong Kong), A. S. Watson Group, Shenzhen-based tech giants Tencent and Huawei, participated in the two-day event, organized by the Hong Kong SAR government.
As part of a package of initiatives to nurture ties with surging neighbors and better the mechanism of regional integration, the Hong Kong SAR government rolled out the Greater Bay Area Youth Employment Scheme in January and pledged to grant participating companies a monthly allowance of HK$10,000($1,286) for each graduate they hire for up to 18 months.
"Over recent years, there have been talks of including Hong Kong in the Bay Area's future. Yet, a journey of a thousand miles begins at the spot under one's feet. The 14th Five-Year Plan gives an impetus for change and action. Let's lose no time and get it started," Cheung urged.
Chan Ching-chuen, Hong Kong's first academician of the Beijing-based Chinese Academy of Engineering, lauded the national support for Hong Kong's new roles in areas including innovation and art as "a booster" in the city's economic transformation.
Chan said it will help the city to achieve its long overdue goal of diversifying its economic structure to be part of the nation's big bet on innovation and technology.
"It should be made clear that such a historic opportunity had never been possible until Hong Kong reunited with its motherland in 1997," he stressed.
In a broader sense, Hong Kong's high-tech vision adds flesh to the bone of a bigger plan to harness the Bay Area's finest minds and technological strengths for a global innovative powerhouse to come into being. This is also how Hong Kong positions itself in the Bay Area, according to Jonathan Choi Koonshum, permanent honorary president of the Hong Kong Chinese General Chamber of Commerce.
Better regional integration not only enables Hong Kong to give full play to its traditional strengths in financial services but also sharpens the city's edge as a hub balancing domestic and external markets, Choi added.