From piano stool to motorbike saddle: A 16-year-old racer takes on the world
Share - WeChat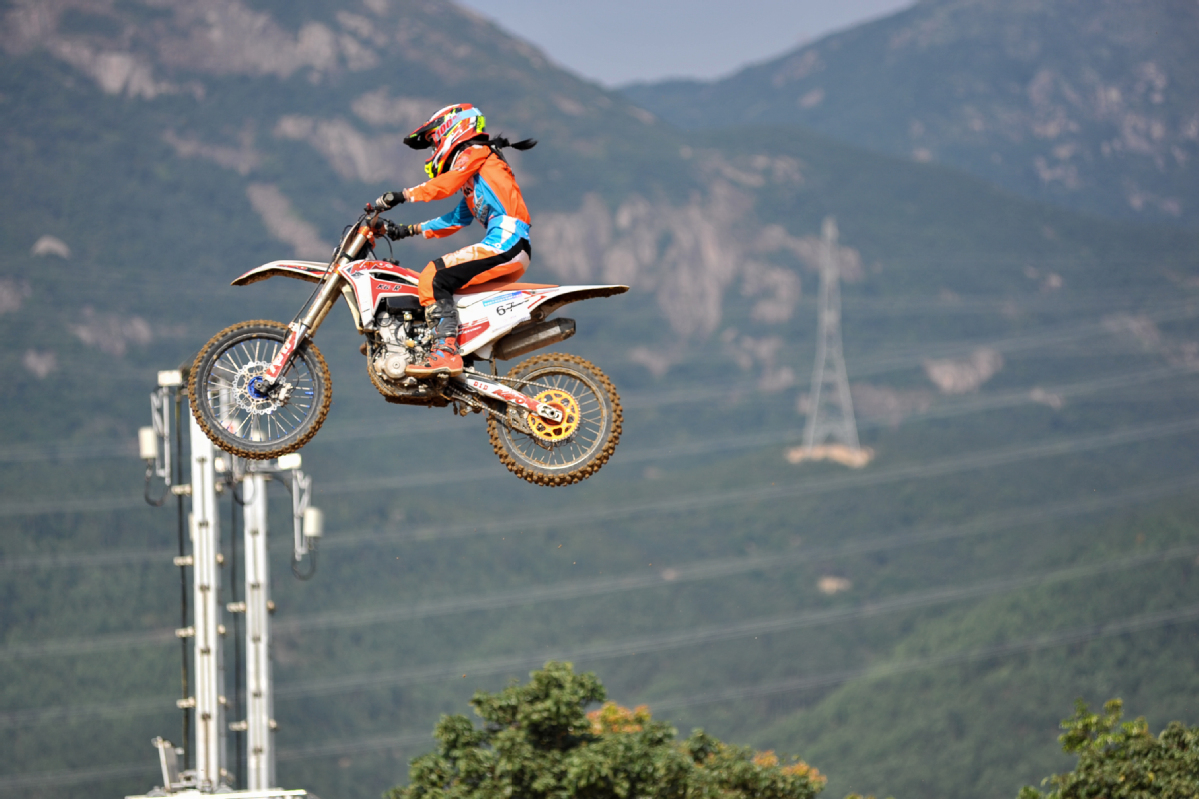 The day Li Lianyina navigated her 250cc dirt bike and focused on jumping, cornering and passing competitors she was racing with about 30 adult male riders on an off-road circuit.
The engine was roaring and the wheels were kicking up dirt. The 16-year-old rode over jumps, leaving taller and stronger male riders behind, and after a few laps she crossed the line in second place.
Lianyina looks decidedly skinny in a group of male motocross racers, but it is only when she takes off her full-face helmet and her long black braided hair falls out that it is readily apparent that this racer is a teenage girl.
She has got used to riding with man, she says.
"I've been racing with male motorcycle riders for several years, and I am usually the only female racer."
Female riders are few and far between in motocross racing, which only serves to reinforce the idea that this sport is a masculine preserve because it is rough and dangerous.
"But that's nothing but a stereotype," Lianyina says.
"After you put on that helmet, forget that you're a girl. It's a competition between proficient riders."
Though she is just 16, Lianyina is already a veteran of the sport, having had her first ride when she was 8.
She took up the sport after quitting playing piano.
While she was stuck in front of a piano and spent whole days practicing, her father would take her 3-year-old brother out to ride a self-assembled motorcycle at a course nearby that included mounds that provided jumping practice.
As Lianyina saw it, her father took her brother out so she could play the piano in peace, but it left her a little unsettled, curious about what her father and brother were up to.
"It can be very dull doing piano practice, and I was so envious that my brother could have all that fun out there without me."
Her parents eventually acceded to her pleas to be allowed to join her brother and bought her a motorcycle as well as all the protective gear.
"At the start I was really excited and had no fears of falling, and felt I was supposed to be in the saddle of a motorcycle rather than perched on a piano stool."
Riding a motorcycle gives her a sense of freedom, she says, feeling in total control when she bursts out of the blocks and is flying through the dirt.
Racing motorcycles comes with extreme risks, of course, especially for novices. That danger is magnified when the body having to wrestle with a heavy piece of high-speed equipment is light and fragile.
The first time she tried to ride over a jump, she failed. The motorcycle pitched into the air and crashed back to the earth, very heavily, with Lianyina's head hitting the ground, causing intracranial hemorrhaging, and she went into shock.