Hydrogen seen as green way forward
Share - WeChat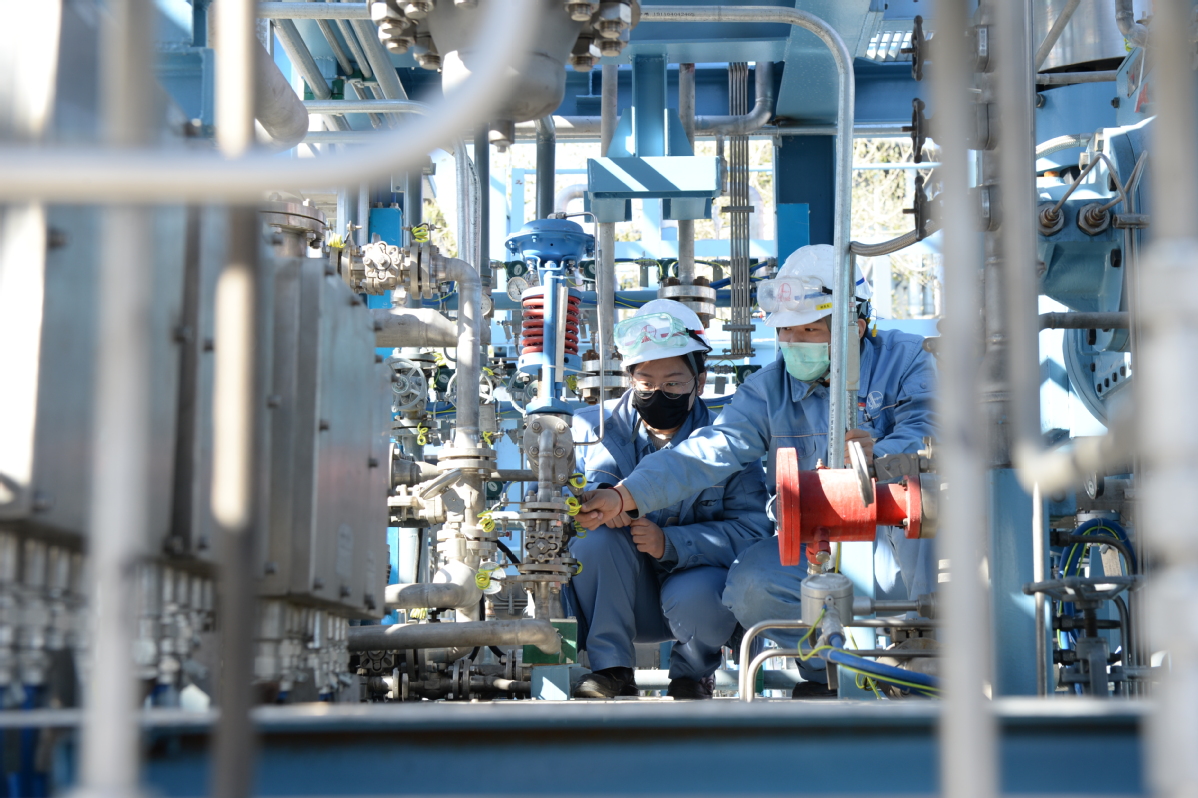 Demand for decarbonization tech set to drive large-scale deployments
Hydrogen is likely to play a more important role in cutting emissions in sectors including steelmaking, heavy-duty trucking, shipping and cement production in China, and the country's massive demand for decarbonization technologies is expected to drive large-scale deployments that will help cut costs around the world, insiders said.
China will become an important market for hydrogen, which is expected to become a key pillar of decarbonization strategies in the country, according to BloombergNEF.
"China's recently announced carbon neutrality pledge is urging major emitting sectors such as power, transport and industry to take serious action and thus we expect hydrogen will play a valuable role decarbonizing long-haul, heavy-payload trucks, which could be cheaper to run using hydrogen fuel cells than diesel engines, by 2031," said Mi Siyi, an analyst with BloombergNEF.
"However, the bulk of the car, bus and light-truck market sets to adopt battery-powered drivetrains, which are a cheaper solution than fuel cells," Mi said.
Wood Mackenzie also declared the 2020s the decade of hydrogen, despite the unprecedented disruption due to COVID-19, as low-carbon hydrogen has been a major component of many governments' post-COVID-19 recovery plans and their long-term climate strategies.
Mi said the fuel-cell vehicle industry will also be the most expensive sector to scale up, requiring hundreds of billions of dollars in subsidies globally.
Despite the challenges and difficulties, the Chinese government is determined to press ahead.
According to the New Energy Vehicle Industry Development Plan (2021-35) released by China's State Council-the country's Cabinet-in early November, the country will focus on building up the fuel-cell supply chain and developing hydrogen-powered trucks and buses as Beijing pledges to hit peak emissions before 2030 and achieve carbon neutrality by 2060.
China also plans to have 1 million hydrogen fuel-cell vehicles on the road by 2030, with at least 1,000 hydrogen refueling stations, according to an energy vehicle development plan drafted by the Ministry of Industry and Information Technology. While only less than 3,000 such cars were sold in the country in 2019, analysts believe the economics will improve as the supply of hydrogen generated by solar and wind power grows.
Support for fuel cell vehicles in the 15-year plan for NEVs is limited compared to battery-powered vehicles. This suggests that at the national level, policymakers are still deliberating over the role of hydrogen in China's energy economy and the country's goal of carbon neutrality by 2060, Mi said, adding that she expects hydrogen to play a more important role in some sectors like steelmaking and heavy-duty trucking that are more difficult to decarbonize.
Joseph Jacobelli, an independent energy analyst and executive vice-president for Asia business at Cenfura Ltd, said he believes China is a major driver in the global development of hydrogen, thanks to the country's extraordinary energy needs, massive energy mix shift toward low carbon energy supply, strong will to decarbonize and green hydrogen's energy storage capability.
Hydrogen at the moment is mainly produced industrially from natural gas and generates significant carbon emissions known as "gray "hydrogen. "Blue" hydrogen has its carbon emissions captured and stored, or reused, while "green "hydrogen is generated by renewable energy sources without producing any carbon emissions.
"Similar to Australia's and the EU's publicly declared ambitions, it is certain China also wants to become a green hydrogen superpower. Importantly, the size of the country's requirements and ambition mean that it will be key to drive down costs, the same way it drove down costs of solar and wind generation," Jacobelli said.
According to the China Hydrogen Alliance, 67 percent of the 25 million metric tons of hydrogen produced every year in China, the biggest producer of hydrogen worldwide accounting for 40 percent of the global total, is made from fossil fuels. Only 3 percent is made from renewable resources.
Xiao Ting, an analyst at BloombergNEF, said earlier that most of the announced new facilities for hydrogen generation are based on coal gasification, and will release more carbon dioxide compared with hydrogen generation facilities burning gasoline.