Big projects abroad progress on SOE push
Share - WeChat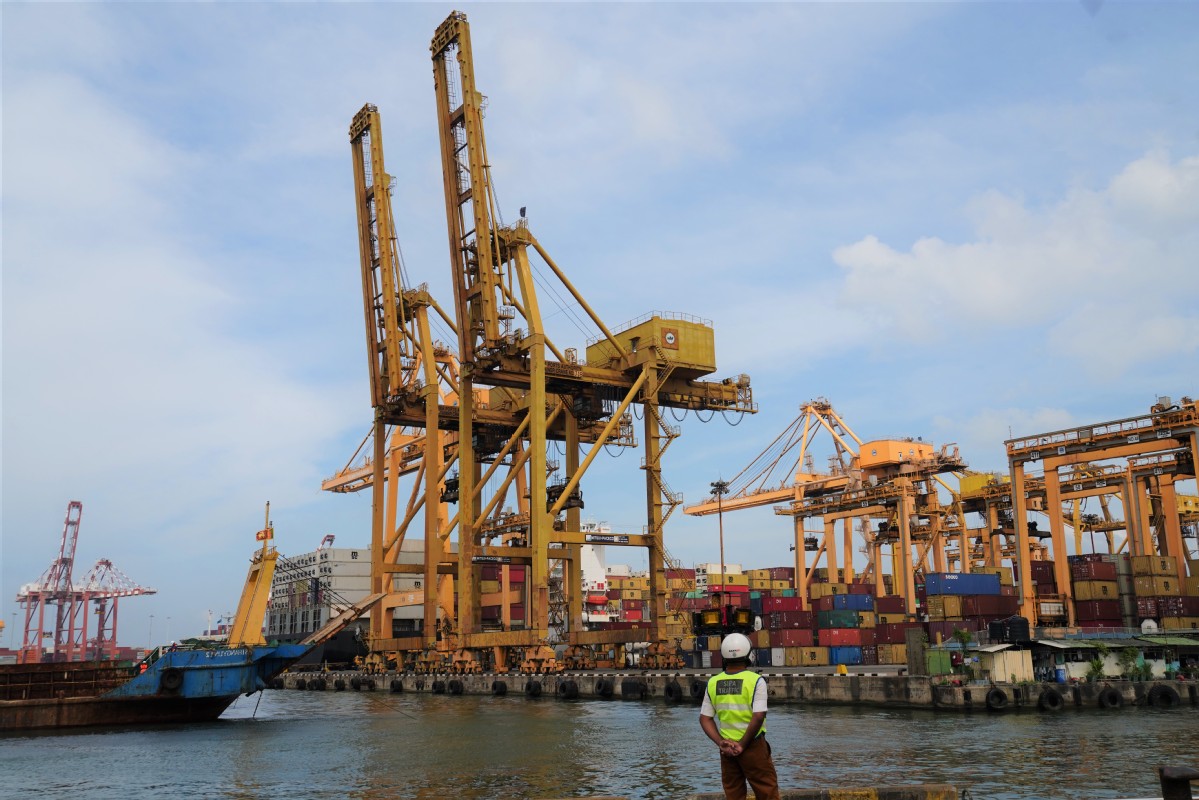 Reliable supply chains of Chinese firms and strong preventive moves boost recovery
China's centrally administered State-owned enterprises have either completed or made breakthroughs in a number of big-ticket projects in overseas markets in the fourth quarter of this year, thanks to their reliable supply chains and partner countries' better-than-expected performance in containing the COVID-19 pandemic and boosting the local economy, according to the country's State-asset regulator.
Supported by China's early recovery from the pandemic, central SOEs have become a vital force in many countries' fight against the pandemic.
SOEs have helped them to restore their growth power by adding investment in both the infrastructure and services sectors, said Ren Hongbin, vice-chairman of the State-owned Assets Supervision and Administration Commission of the State Council.
At a recent work meeting, Ren urged central SOEs to improve comprehensive opening-up and cooperation, leverage the strengths of China's mega-sized markets and prioritize the growth of the Belt and Road Initiative to boost SOEs'go-global efforts.
Central SOE's construction pace of the Jakarta-Bandung high-speed railway project in Indonesia and the Bulim Square industrial project in Singapore is being increased.
China State Construction Engineering Corp and China Communications Construction Co Ltd are executing the projects, respectively.
Last month, Central SOEs completed the construction of the first phase of the Khalifa Port freight terminal project in Abu Dhabi in the United Arab Emirates, the largest container freight station in the Middle East.
Located at Khalifa Port, the 274,000-square-meter project is to be built in two phases. The first phase just completed covers about 156,000 square meters and includes a 53,000 sq m steel-structured warehouse, six main supporting buildings, 12 interior supporting buildings for the warehouse and ancillary facilities, said Lin Yichong, chairman of China Harbour Engineering Co Ltd, the main builder for this project.
Once operational, the station will provide services like container transport and packaging.
By linking the container port with the industrial zones, he said the station will play a role in building a competitive regional logistics hub and a shipping service.
The executive said that continued foreign and domestic investment in infrastructure development such as ports, roads and airports will be key elements in supporting economic growth in many developing countries, especially those participating in the Belt and Road Initiative, at least over the next decade, creating better conditions to stimulate trade and people-to-people exchanges in this massive market.
Not far away from the UAE, the Karachi K2 generator unit in Pakistan, China's first overseas Hualong One nuclear reactor, began charging late last month, laying a solid foundation for reaching a critical state and operations.
China National Nuclear Corp or CNNC, the Hualong One technology's developer and constructor, said in a statement that the project is expected to produce nearly 10 billion kilowatt-hours of power annually after its completion, providing local people with safe and clean energy. It has driven growth of relevant industries and created more than 10,000 jobs in Pakistan.
The charging of the plant is a milestone for Hualong One, China's third-generation nuclear power technology with complete proprietary intellectual property rights, and will improve Hualong One technology's competitiveness in countries participating in the Belt and Road Initiative, the company said.
A major result of the nuclear power cooperation between China and Pakistan, the progress of the K2 generator unit lifted Pakistan-China all-weather strategic cooperative partnership to a new level. With a design life of 60 years, it is equipped with the special nuclear fuel assemblies developed by CNNC, setting the refueling cycle at about 18 months.
As its innovative security system also meets the highest international standards, the Chinese company said it is an iconic achievement of the innovative development of China's nuclear power industry. CNNC is currently building six Hualong One nuclear power generator units across the world.
China Railway Construction Corp (International) Ltd, an international arm of China Railway Construction Corp Ltd, or CRCC, also announced it completed the main body of the Cabinda water supply project in Angola, the largest of its kind under construction in the country in late October.
"We maintained its construction schedule while taking efficient measures to prevent and control the pandemic since the first quarter of this year," said Wang Wenzhong, vice-president of Beijing-headquartered CRCC.
Meantime, the company fulfilled social responsibilities by providing water-delivery vehicles to local water companies for free and offering about 6,000 jobs for residents in affected areas, he said.
"Angola has rich water resources that can benefit local people by building dams, water purification plants, reservoirs and irrigation systems," he said. "However, certain parts of the country don't have access to clean water because of low-efficiency water supplies. Providing sufficient drinkable water has become a priority for the Angolan government."
Unclean water supplies, caused by old pipelines and purification equipment, are a cause of cholera, dysentery and other deadly diseases prevalent in the country.
Upon completion, the project will improve the sanitary quality of the public drinking water in the region, benefiting about 110,000 Angolan residents.
"Some Western media said that Chinese companies in Africa have no interest in communicating and helping local people whatsoever, which is not true," said Wei Xiaoquan, a researcher specializing in regional economic development at the University of International Business and Economics in Beijing.
They have made a contribution to the local community with concrete steps, which are not included in the contracts, he said.