Energy SOE taps into Mexico, Russia
Share - WeChat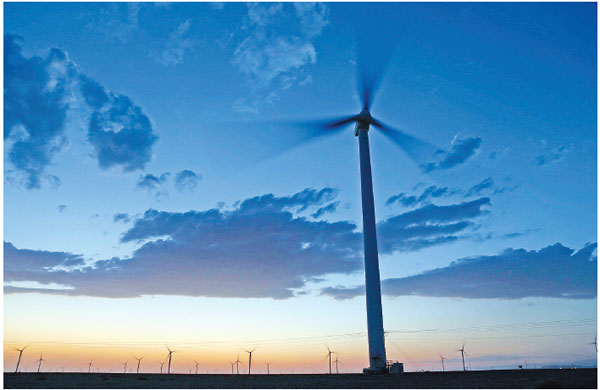 State-owned China Energy Engineering Group Co Ltd, or Energy China, signed a contract with Mexican energy company Aora Generacion Durango for a 154-megawatt wind project in Durango, Mexico, this month.
The project will help Energy China to further ramp up efforts to develop its overseas markets and exploit business opportunities offered by the Belt and Road Initiative.
The wind power project will be based on an EPC-engineering, procurement and construction-contract. It is Energy China's first wind project in Mexico as well as the central and northern American market.
According to the company, the Durango region has abundant wind resources and is capable of producing 400 million kilowatt-hours of power each year.
It will help reduce emissions of carbon dioxide by up to 300,000 metric tons each year while substantially improving local ecology, the environment and the overall energy structure.
Besides, the project will help Mexico to increase its new energy installed capacity, reaching 25 percent of the total by 2025.
Wang Ziyue, an analyst at research firm BloombergNEF, said Mexico is the second-largest wind power market in Latin America and enjoys abundant wind resources.
"In addition to constructing renewable energy projects overseas, domestic energy companies have been directly purchasing renewable energy assets in recent years," he said.
Guided by the State-owned Assets Supervision and Administration Commission of the State Council, Energy China functions as an energy engineering conglomerate with a presence spanning projects in fossil fuel power, hydropower, nuclear power, new energy and power transmission.
This month, Energy China has also signed an EPC contract with British energy company Green Oil Resources Ltd for the Bashkortostan oil sludge remediation plant project in Russia.
The project, located in Bashkortostan, enjoys a convenient geographical location, rich natural resources and abundant labor resources. The project will adopt domestically made equipment to recycle the polluted oil and silt to abstract the residual oil and have it refined into crude for sale.
The project, upon completion, is expected to improve the local ecology, environment and the energy structure, and will mark fresh inroads of Energy China into the Russian market, said the company.
Shanxi Electric Power Engineering, a subsidiary of Energy China, has also recently helped Thailand build a solar-powered parking lot to meet part of the electricity demand during peak times and provide power for the charging piles of new energy vehicles, it said.