Virtually famous in real life
Share - WeChat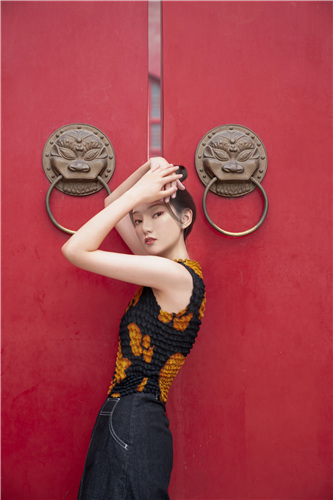 Computer-generated internet stars are gaining popularity as online influencers, especially among the youth.
It seemed like just another talent show when China Central Television unveiled photos of 36 contestants for Bravo Youngsters on Nov 19.But a closer look reveals one woman who's a bit different from the others.
The seemingly flawless 25-year-old Beijing woman, Ling, is a social media influencer, whose realistic appearance is computer generated.
She behaves like an actual human social media star. Her Sina Weibo feed is a mix of photos of her daily life, including attending fashion events and promoting designer clothes and brands.
She has attracted over 68,000 followers on the platform since her first post: "I'm Ling. I'm here."
She'll perform onstage at the show, which will be broadcast on CCTV 3 every Sunday.
"I love traditional Chinese culture, especially Peking Opera, calligraphy and tai chi. I hope that I can interpret these art forms in my own way on the stage," Ling posted on her Weibo account on Nov 22.
She explains that her name, Ling, comes from the feathered headdress worn in Peking Opera.
"Bravo Youngsters will provide a national stage to let more people know Ling," says Chen Yan, founder of Beijing Next Generation Culture Media, the company behind Ling.
Ling was created by Next Generation studio and Shanghai artificial intelligence startup Xmov.
Her voice in the talent show follows the school of the late Peking Opera master Mei Lanfang, Zhang says.
Xmov founder Chai Jinxiang told the media-technology site 36Kr that the company's artificial-intelligence animated-performance technology generates Ling's facial expressions and gestures.
Her participation in Bravo Youngsters has gone viral and has been viewed over 72 million times. Some netizens are curious about how and what she will perform, while some say the shape of her eyes feeds into stereotypes about Asian women.
Chen explains that her eyes are designed to look good while wearing Peking Opera makeup.
Most Popular